Yesterday I got my first ever pedicure. It was because of a gift certificate from a friend who had heard I had never had one. In. My. Life. "You need to do this," she told me.
So I decided to bite the bullet and not only did I get a pedicure, but I also got a manicure (I know, living the life of luxury.)
I posted a photo of my bright pink-nailed toes on Facebook, but in looking at the photo this morning, I wanted to use it to show exactly why I have so much trouble finding shoes that fit well.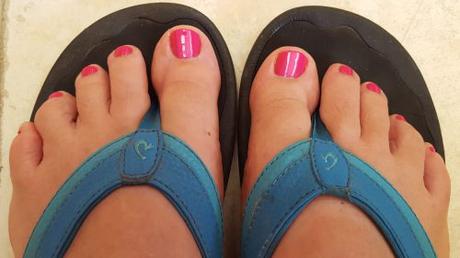 Not bragging but even when short, I think these pink piggies look cute.
First, I have short, stubby toes. I'll never be able to play piano with those little piggies.
Second (and I blame my 6 kids' pregnancies for this this) my feet have widened and stretched. I used to be a Women's US size 7 narrow pre-pregnancy and now I'm a size 9 – 9.5 wide.  Do you see the freakin' width of that toe area?
Third (and this is really beyond the scope of this discussion, but whatever) my pinkie toes don't have nails as much as they have teeny, tiny horns. Apparently it's genetic because both of my daughters have this cursed condition.
Now I'm not wide-shaming my or anyone's toes here. I happen to like my toes, they and I go places together all the time.
I'm just showing you why it's been difficult for me to find a really comfortable walking shoe. Wide toes and a slim heel (for some reason, my heel did not widen from all the kids) make for a tricky fit. I'm waiting for my insoles to be delivered but right now anyway, those Saucony trainers seem to be my best chance at surviving a 200 mile walk.
***
Wendy Thomas writes about the lessons learned while raising children and chickens in New Hampshire. Contact her at [email protected]
Also, join me on Facebook to find out more about the flock (children and chickens) and see some pretty funny chicken jokes, photos of tiny houses, and even a recipe or two.

Like what you read here? Consider subscribing to this blog so that you'll never miss a post. And feel free to share with those who may need a little chicken love.