Once in a while you get a gift that leaves you at a loss for words. I recently received such a gift from a Facebook friend whom I've never even met.
Glynnis is an artist. She produces some of the most beautiful pieces on her potter's wheel. I've long admired her work through the exchanges she shares on Facebook.
Last week I got a message from Glynnis – she had made me something for me as a surprise, but she sent it to the "Wendy Thomas who lives in Massachusetts" instead of *this* Wendy Thomas who lives in New Hampshire.
When *that* Wendy Thomas opened the gift and then read the accompanying note, she knew that she had to get it to the correct Wendy Thomas. Emails, confirmation, a clandestine meeting in a Macy's parking lot and I finally got the gift.
Glynnis who had been profoundly touched by our Zelda's life (and death) decided to immortalize her/him/her on a mug.
On one side of the mug is Zelda as she looked when she displayed female traits.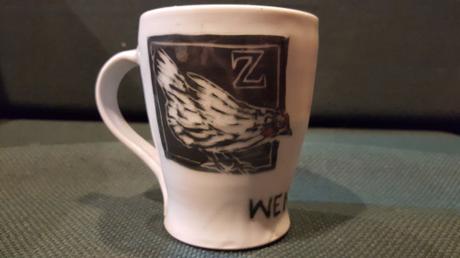 On the other side of the mug is Zelda as she looked when she displayed male characteristics.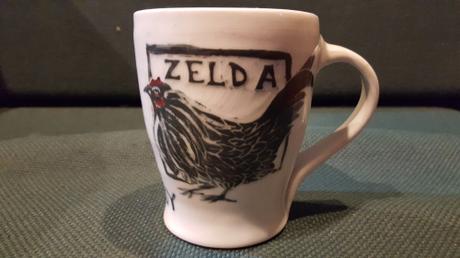 And in between the two of them is my name – forever linking me to this most extraordinary bird who taught me so very much.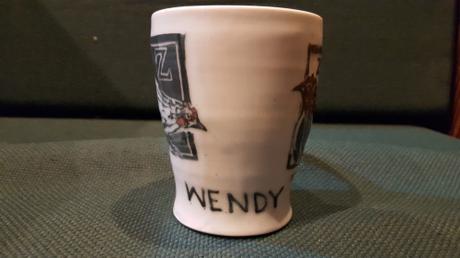 There are a few standouts that I've had in my flock throughout the years:
Morganne the puppy chicken who would run to me and sit in my lap until she fell asleep
Violet who taught me to baby proof chicken coops before putting chicks in
Rudd and Lilly – two adult Marans added to our flock one summer
Charlie who ended up living in our house for 6 months
Betty one of our early chicks who eventually turned into a rooster ("Bet he's a rooster") and who finally found a new home at a farm, and of course,
Zelda our alpha chicken, our first egg layer, and our wonderful flock member who in the touching words of Glynnis showed us how to accept changes with grace and dignity.
Thank you, thank you Glynnis (my never-met Facebook friend.) While you say that Zelda touched you, please know that you, with your beautiful gift, have profoundly touched my heart.
Merriest of Christmases and best wishes for a happy and healthy holiday season to all.
***
Wendy Thomas writes about the lessons learned while raising children and chickens in New Hampshire. Contact her at [email protected]
Also, join me on Facebook to find out more about the flock (children and chickens) and see some pretty funny chicken jokes, photos of tiny houses, and even a recipe or two.

Like what you read here? Consider subscribing to this blog so that you'll never miss a post. And feel free to share with those who may need a little chicken love.