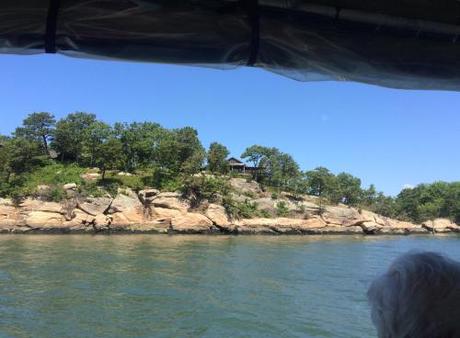 "Had a perfect day!"
My dad died a few months ago and just recently his brother, my uncle, died. It's been hard on everyone including mom. On the ride down to the funeral in Maryland I had a discussion with mom about having a bucket list (first I had to explain what a bucket list was) It's not about dying (like in the movie) it's about living, I told my mom, even my kids have bucket lists.
What are the things you want to do that would make you really happy, I coached her.
My mom thought and came up with 3 things to put on her list:
– A Thimble Island cruise
– An old fashioned root beer float
– A weekend in New Hampshire in the fall where she could see the leaves and eat pancakes with real maple syrup.
Yesterday mom called me and she was so excited. "I just did something on my bucket list!" she giggled (yes, she actually giggled.) The retirement home where she lives was offering a day trip to go on a cruise around the Thimble Islands (she lives near the shore in Connecticut.) My mom put her name on the list to go, then was frightened that she wouldn't be able to do it (she uses a walker) and she crossed her name off. But the other residents convinced her to go. She told me that she was still scared, but she decided to do it.
So she did. (ahem, that's my mom for you)
And she said she had a great time. The weather was perfect and she felt safe the entire time. "It was beautiful, Wendy!"
I was grinning. This was incredible. My mom's been struggling emotionally since dad died and for her to get out is FANTASTIC!!
Mom, really, that's something else. Have I told you lately that you're awesome?
And you want to know what else is incredible? They stopped at a restaurant on the way back to the home and my mom ordered a root-beer float.
More grins.
Mom, you've got to get to work on adding more to your bucket list. A bucket list is all about enjoying being alive and as long as you're breathing – no one, absolutely no one should ever have an empty one.
***
Wendy Thomas writes about the lessons learned while raising children and chickens in New Hampshire. Contact her at [email protected]
Also, join me on Facebook to find out more about the flock (children and chickens) and see some pretty funny chicken jokes, photos of tiny houses, and even a recipe or two.

Like what you read here? Consider subscribing to this blog so that you'll never miss a post. And feel free to share with those who may need a little chicken love.