It's a busy day for me and so I'll do a quick post with a few catch-ups in it.
First it's my birthday. At a certain point in your life, birthdays become more contemplative than celebratory (but that's not to say I am not grateful for every day I have on this earth.)
This is me as a (very) young chick. People think I have large cheeks because of my English background, but I know it's really because there wasn't a day that went by without at least 5 people pinching my cheeks.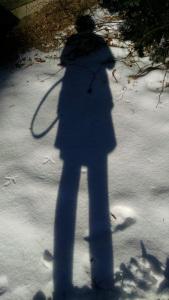 And this is me on my way to play tennis this birthday morning. The temps are frigid, but I donned my little tennis skirt and let people know that I still have it.
With regard to the cold and chickens – I addressed this in yesterday's post. I want to especially emphasize that heaters are NOT needed in a coop – even when it's bitter cold. Chickens know how to fend for themselves and it's too easy for a chicken to hop on the top of a heater, be startled by its heat and scurry off, knocking the heater off balance. Please, please, please, do not use heaters.
In our area, they are warning that exposed skin could get frostbitten in 15 minutes. While we can use mittens and scarves, chickens don't have that ability – their sensitive comb and waddle tissue *can* get frostbitten. If this happens, spots on the tissue will die and turn black. While this is a survivable situation, (I've yet to actually see a comb "fall off,") if you are very concerned about your chicken's tissue you can cover it with Vaseline or an ointment designed for protecting combs. These are usually very thick gooey or waxy concoctions. Applying them means that you need to catch the chickens and apply the ointment every few days. It's not an easy task, but if that's one of your worries, go for it.
Lastly, I posted this picture of a Coconut-curry soup I made last night (on my ketogenic journey) I was going to make myself a curry to maybe put on salad (really what was I thinking?), but ended up with a soup instead. No worries, it was actually delicious and it certainly filled me up for the night.
Here is the recipe (sort of, I didn't really measure anything.) This took a total of about 15 minutes to finish, making it fast food indeed.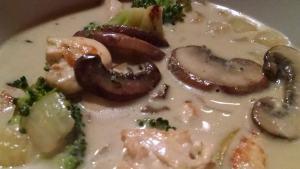 Chicken Coconut Curry Soup
Sauté a handful of mushrooms (portabella) and onions in a fry pan. (use olive oil)
Add some chicken cut into small pieces (I used about 3 "tenders" worth)
When the chicken is cooked, add a handful of the steamed broccoli you made for the kids' dinner.
Push the sautéed foods to the sides of the pan and put a tablespoon of curry paste in the middle of the pan. Cook the curry until you begin to smell its fragrance (about 1 -2 minutes)
Pour in an entire can of coconut milk (not the sweetened or low fat stuff – go for the real thing.)
Stir until curry paste is dissolved in the broth.
Pour into a bowl and eat.
I don't know the calorie content but the entire can of coconut milk (4.5 servings/50 cal) was 225 calories (and tons of good fat) and all the other ingredients combined couldn't have been more than a few hundred calories, making this a quick, filling, and very healthy dinner.
If you try this soup, let me know how it goes.
**
Lastly, I am appalled and deeply saddened by what happened in France yesterday. As a writer and journalist, my response is simple – #JeSuisCharlie I stand in solidarity.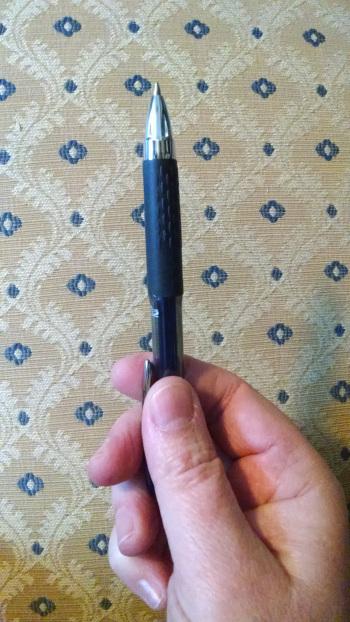 ***
Wendy Thomas writes about the lessons learned while raising children and chickens in New Hampshire. Contact her at [email protected]
Also, join me on Facebook to find out more about the flock (children and chickens) and see some pretty funny chicken jokes, photos of tiny houses, and even a recipe or two.

Like what you read here? Consider subscribing to this blog so that you'll never miss a post. And feel free to share with those who may need a little chicken love.