You'll be able to make this dish in under 10 minutes (provided you cleaned all the dishes from the last time you used them.) Yes, it's really that easy to make this incredible meal (and compare it to a meal of reheated burger and fries – really, there's no comparison.)
For this recipe, I purchased pre-made brown rice which is what makes it a little pricey (still less than a value meal.) I used it to show how you can quickly pull this meal together. In the future, to save money, you'll be cooking your own brown rice. It's not difficult and once you know how easy it is, you'll be making rice all the time.
One new ingredient that you'll need for this dish is a bottle of soy sauce (don't even think about using those small packages of "soy sauce" that come with Chinese take-out. I have no idea what is in those and I wouldn't trust them as far as I could throw them.)
Like your other ingredients, get the best quality you can afford. A bottle of organic Soy Sauce at Whole Foods costs $3.99 and that one bottle will go a long way. In short, it's a good investment (just remember to refrigerate it once you've opened the bottle.)
You might have noticed that I don't include drinks with your meals, that's because you shouldn't be drinking soda, energy drinks, or even milk with food. You want something to drink? Get some water – it's better for you anyway.
Pots and pans:
Pantry:
1 small bottle of organic Soy Sauce
Pulled Pork Fried Rice with Roasted Beet and Carrot Salad
(Cost of *prepared* food from Whole Foods was $3.96 for the hot food and $1.26 for the cold food – total $5.22)
Ingredients:
For fried rice: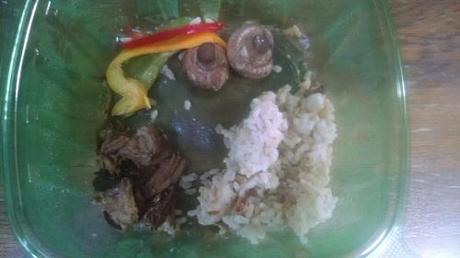 1 serving of brown rice (if you are cooking rice from scratch, this is ¼ cup of pre-cooked rice, if you are using cooked rice visualize a tennis ball size amount of rice for a serving.)
3 Tablespoons of smoked pulled pork
1 slice each of raw red, orange and green peppers
2 roasted mushrooms
For Salad: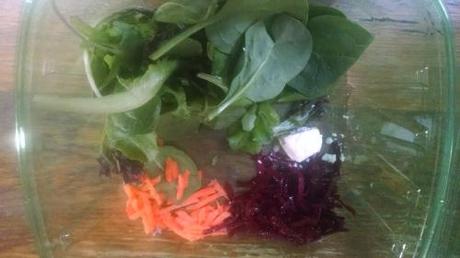 Small handful of mixed greens (include a few leafs of spinach – you know it's good for you)
1 tablespoon roasted beets
½ Tablespoon shredded carrots
1 small piece of feta cheese
Instructions:
Chop the peppers and mushrooms into confetti-sized pieces
Shred the pork as much as you can.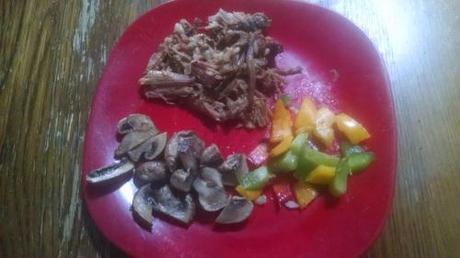 Heat a small fry pan to medium and add the vegetables and pork with a splash of olive oil.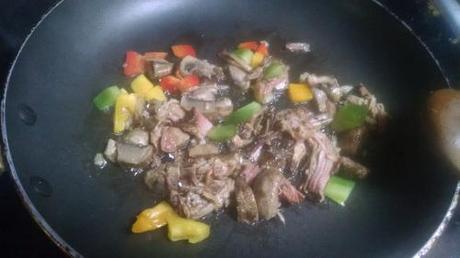 When you start smelling the vegetables (always a good indication that they are ready) add the rice.
Mix the rice with the vegetables, add another splash of olive oil, and just a shake or two of soy sauce.
Once rice is coated with oil and soy sauce and the vegetables are thoroughly mixed in, remove the pan from the heat and let sit.
Arrange the salad on the side of your real plate, greens first, then a nest of the beets, followed by a topping of carrots, and lastly, crumble the feta and place it on the very top. The beets have plenty of moisture in them, but if you want a dressing just drizzle some olive oil on the salad. (Drizzle means just a tiny, thin stream of oil, not much at all.)
Carefully plate the fried rice, (come-on, this is your dinner, make it look nice) alongside the salad.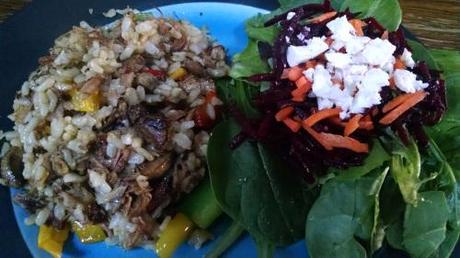 Put your phone away, and enjoy.
Notes:
Fried rice packs well for lunches. You can certainly make this at night (try doubling the recipe) and have it at the office the next day.
Speaking of packing food for lunches, now might be a good time to invest in a few good quality food storage containers. Check out the Tupperware and/or Rubbermaid selection the next time you go shopping. Being able to pack food will ensure that you are never caught in the dreaded situation of "I'm starving and there's nothing for miles but fast food." Don't get huge containers, a few small ones will do.
I didn't realize until the final picture that my lens needed to be cleaned. Oh well, even with hazy photos you should still be able to follow the instructions.
Next week: More rice and some soup

***
Wendy Thomas writes about the lessons learned while raising children and chickens in New Hampshire. Contact her at [email protected]
Also, join me on Facebook to find out more about the flock (children and chickens) and see some pretty funny chicken jokes, photos of tiny houses, and even a recipe or two.

Like what you read here? Consider subscribing to this blog so that you'll never miss a post. And feel free to share with those who may need a little chicken love.