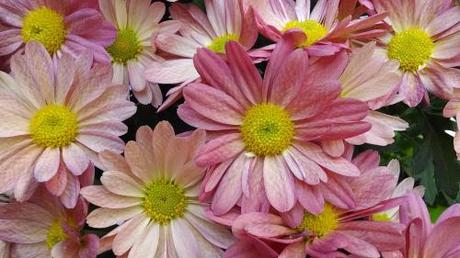 What a lovely Mother's Day I had. It was filled with flowers, thoughtful gifts (including a Jack Sparrow writing muse), books, chicken earrings, humor, and friends coming to visit. Basically it was everything I hold dear rolled up into one day (oh, did I mention coffee?)
In the afternoon, after Emma's soccer game, we took the chicks outside for some playtime.
At first we kept them in their crate out in the sun. There was a fair amount of interest from the flock as to what was making all that noise.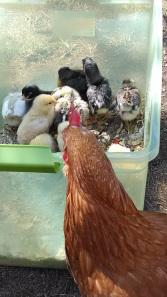 After a while we set up our baby gate-like corral that we use to keep chicks (and injured chickens) safe from the big hens. The chicks got an opportunity to explore a little (in packs) and I also saw them nibbling on some tender shoots of new grass. Pretty soon, we'll be able to move from Mash to crumbles.
We all played with the chicks, who could resist? (I think that Snapchat got a million pictures of chicks with chicks uploaded yesterday from our household alone.)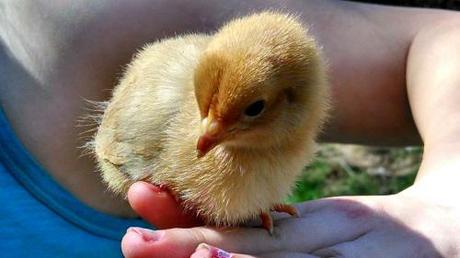 After a wonderful dinner (Salmon, broccoli, and salad) we gathered the babies and tucked them in for the evening back in our living room with the heat lamp set up in a corner.
Because while the day was warm enough to give me a tiny sunburn on my arms and legs at the soccer game, when the sun went down, we all ended up pulling out our sweatshirts to hold back the chill.
Warm days, cool nights. Perfection.
***
Hooray the mint is back again – Peas and mint in Cream Sauce Pasta
A reader requested this recipe from an earlier posting. This is a dish that reminds us what spring tastes like. It's one of those thrifty dinners that everyone looks forward to.
Ingredients
• 1 16-ounce package medium shell pasta
• 1 1/4 cups heavy whipping cream (I used a can of coconut milk)
• 1 16-ounce package frozen petite peas (do not thaw)
• 1/4 cup chopped fresh mint
• Salt/pepper to taste
Cook pasta in large pot of water until just tender. Drain. Return pasta to pot.
Bring cream (or coconut milk) to simmer in large skillet over medium-high heat. Add peas and simmer just until heated through, 1 to 2 minutes. Stir in mint. Pour sauce over pasta and toss to coat. Season to taste with salt and pepper.
Variations – you could also add crumbled bacon on top when done, and if you wanted a really thick and cheesy sauce nothing will make you happier than shredding a soft cheese (Gouda works about 2 cups) and adding it to the cream sauce in the pan. Wait until the cheese fully melts and then combine.
Note –
You want a thicker sauce for this dish, if the cream or coconut milk is not getting thicker go ahead and add a teaspoon to tablespoon of corn starch. (likewise if sauce is too thick either add more cream or milk or try putting in a splash of white wine.)
Do NOT skimp on the mint. Make sure you have enough in there so that there is mint in every bite.
The first time we made this we used spaghetti, shells are so much better so that they can catch the peas and mint.
***
Wendy Thomas writes about the lessons learned while raising children and chickens in New Hampshire. Contact her at [email protected]
Also, join me on Facebook to find out more about the flock (children and chickens) and see some pretty funny chicken jokes, photos of tiny houses, and even a recipe or two.

Like what you read here? Consider subscribing to this blog so that you'll never miss a post. And feel free to share with those who may need a little chicken love.