Friday's Quotes for the Chicks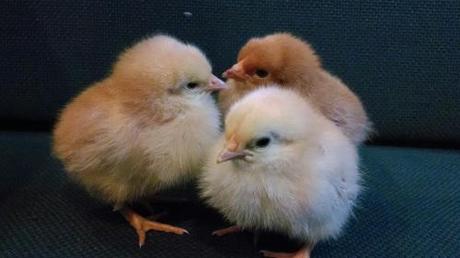 Little New Hampshire Red Riding Hoods
Grown means nothing to a mother. A child is a child. They get bigger, older, but grown? In a mother's heart each will always be her baby. Anon.
Last week I got 9 new chicks, a little earlier than I had expected, but welcomed none the less.
This week, I got the rest of my order, 3 teeny, tiny New Hampshire Reds. These little ones are just bitty, in fact, if you look at the photo, you can still clearly see their egg tooth. (Yes, chickens do have teeth, but really only one, and just for a short while.)
That makes 12. We have a dozen new chances to make friends and with which to have adventures. I see so much possibility in these chicks, just as I did when I first looked into the eyes of each of my children.
My son is back from his freshman year at Norwich, meaning all six kids are home for the summer, and we have babies in the house.
It's going to be a great Mama Hen's day this Sunday.
Happy Mother's Day to all the Mama Hens everywhere, cherish your chicks.
*****
 Be safe and see you all next week.
***
Wendy Thomas writes about the lessons learned while raising children and chickens in New Hampshire. Contact her at [email protected]
Also, join me on Facebook to find out more about the flock (children and chickens) and see some pretty funny chicken jokes, photos of tiny houses, and even a recipe or two.

Like what you read here? Consider subscribing to this blog so that you'll never miss a post. And feel free to share with those who may need a little chicken love.