Last Thursday I got a call. Our local feed store had gotten someone else's shipment of 900 chicks and because you can't return chicks in the mail, they had to move them out of the store quickly. I was on the list that was supposed to get 9 chicks the following week, could I possible come down and take some of these?
Does a chicken poop in the coop?
Apparently our feed store doesn't really know me (or maybe they do and that's why I got the call.) "How late are you open?" I asked. "For another half hour," was the reply. I grabbed Addy and Emma, a cardboard box and we got into the car to go save some chicks.
They had tubs and tubs of chicks. All full of fluff and all doing that baby chick squeaking thing. Originally I had signed up to get 3 Buff Orpingtons, 3 Bared Rocks, and 3 New Hampshire Reds. They had some that I had ordered and they also gotten other breeds that hadn't been listed in the order form.
We picked out 3 of the Rocks and 3 of the Orpingtons, the Reds were not in yet, and as a backyard flock owner in New Hampshire, I decided that I needed a few to round out my flock, so I decided to wait for those to come in.
I'd take 6 for now.
But then the girls went over to the Araucana tub. If you aren't familiar with Araucana chicks, they basically look like feathered chipmunks. We've had a few over the years and even I have to admit that they make adorable chicks.
Please mom. Please. Oh pleeeeeeeeeease.
If you've read more than two of the posts on this blog, you'll know where this is heading. I came home with 9 chicks (and I'm still waiting for the Reds.)
Right now they live in a tub in the middle of our den. Pippin, who, by this time, is an old pro at chicks, merely gave each chick a good sniff and lick and let her be on her way.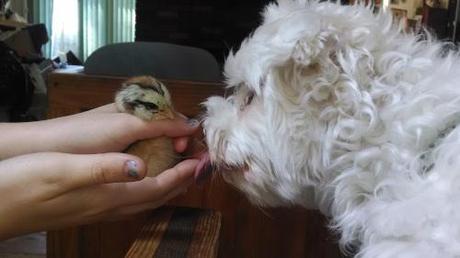 My girls on the other hand, had found new playthings. Nothing and I mean nothing will tear you kids away from the electronics like newborn chicks will.
Unfortunately I had to leave for the weekend but I left instructions for the girls and my husband to take photos. Lots of and lots of photos.
Chicks, they grow up so quickly.
At my conference, I kept getting pings of new photos (which I didn't mind a bit.) Trust me, you are going to be seeing a lot of cute pictures in some upcoming posts. For now, though, we'll start with this little beauty.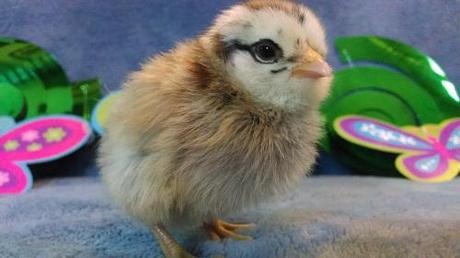 Oh, I do so love chick season.
***
Wendy Thomas writes about the lessons learned while raising children and chickens in New Hampshire. Contact her at [email protected]
Also, join me on Facebook to find out more about the flock (children and chickens) and see some pretty funny chicken jokes, photos of tiny houses, and even a recipe or two.

Like what you read here? Consider subscribing to this blog so that you'll never miss a post. And feel free to share with those who may need a little chicken love.