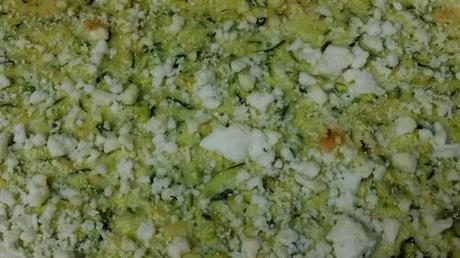 This is not a food blog but as a mom of 6 kids, like it or not, food is a big part of our lives – and when eggs start returning in the spring, we tend to celebrate with all things eggs.
I had had a very busy day planned (teaching and more than one writing deadline) and on Monday I asked Addy if she could make a recipe I had picked out from a cookbook. She's on school vacation this week and has tons of time and with minimal grumbling (she is a teenager after all) she agreed.
I had to change the name of the dish from Zucchini "Cheesecake" to "Zucchini Casserole" to appease those picky eaters who still, will not try cheesecake because of the name (fine with me, all the more for us who eat it) but it was a small concession.
This would be good served as a bunch dish or as a light dinner. Because we have to serve 7 people I had Addy add a bit more zucchini and an additional egg – all other measurements were used as directed. Be sure to use lots of fresh dill and serve this with a salad. If we had had fresh in-season tomatoes we would have also included tomatoes slices drizzled with balsamic vinegar.
Needless to say, this was a hit – a big hit that will be put in the rotation (although next time I'm going to experiment and add grated carrots, onions, and mushroom.)
Zucchini "Cheesecake"
from I Quit Sugar – Your complete 8-week Detox Program & Cookbook by Sarah Wilson
Ingredients
Coconut oil or butter for greasing
2-3 large zucchini
1 teaspoon salt
15 ounces ricotta
¼ cup of Parmesan
2 scallions, green parts only, chopped
2 cloves garlic, chopped
¼ cup chopped dill
Zest of one lemon
2 large eggs, well beaten
1/3 cup crumbled feta
Directions
Preheat the oven to 325 degrees F and grease a 9 inch cake pan or medium sized baking dish. Grate the zucchini – you need about 2 cups of grated zucchini. Combine the zucchini and salt in a colander and let sit for 15 minutes, then use your fingertips or a spoon to press out as much moisture as you can. Combine the ricotta, Parmesan, scallions, garlic, dill, and lemon zest then stir in the eggs and zucchini. Pour into the pan and bake for one hour. Sprinkle the feta and return to the oven for 25 minutes or until the cheese has melted. The cake is best when left to cool completely so that it sets properly. Serve at room temperature.
***
Wendy Thomas writes about the lessons learned while raising children and chickens in New Hampshire. Contact her at [email protected]
Also, join me on Facebook to find out more about the flock (children and chickens) and see some pretty funny chicken jokes, photos of tiny houses, and even a recipe or two.

Like what you read here? Consider subscribing to this blog so that you'll never miss a post. And feel free to share with those who may need a little chicken love.