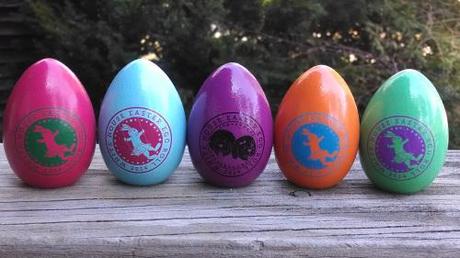 I'm not quite sure why I started collecting these eggs, but I think it was around the time when I gave up on my kids being able to join the annual Easter Egg Roll at the White House.
First, in order to attend the egg roll, we had to be entered into a lottery and if that hurdle was cleared, then we'd have to figure out a way to get 6 kids down to D.C. and back without losing them or our minds.
Seemed like a pretty insurmountable task.
I don't know whether it was good or bad that we never won the lottery.
So when I found out about the annual National Parks Wooden Easter Eggs (just like the ones used in the White House Egg Roll), I said why not. It was sort of the six degrees of Kevin Bacon mentality. If we couldn't attend the roll, at least we could see what the eggs looked like.
Sure enough, this year's eggs arrived right before Easter. The box they come in is made from Sustainable Forestry Initiative (SFI) chain of custody certified paperboard (whatever the heck that means.) Each souvenir egg is made in the U.S. from FSC-certified hardwood (that one is a little bit easier to grasp.)
The colors are gaudy and the imprints of exercising bunnies are suitably juvenile. The purple "bonus" egg shows the Obama's two dogs and is "signed by paw prints" on the back, the others are signed by Barack and Michelle.
To be perfectly honest, the eggs are just not that attractive.
My kids have gotten used to the annual arrival of these eggs. We look at them, note the differences from last year (usually color) and then leave them in their box to be put away after the holiday.
I suppose at some point I should stop ordering these. I'm quite certain that none of my kids will want these eggs once they leave the house. They will collect dust and will most likely end up in the giant yard sale my kids will have once I am gone.
For now, though, until I can let go of the guilt I carry for not getting my (now, much too old) kids to the White House for the egg roll, I'll guess I'll go ahead and keep ordering them as a reminder of what could have been.
***
Wendy Thomas writes about the lessons learned while raising children and chickens in New Hampshire. Contact her at [email protected]
Also, join me on Facebook to find out more about the flock (children and chickens) and see some pretty funny chicken jokes, photos of tiny houses, and even a recipe or two.

Like what you read here? Consider subscribing to this blog so that you'll never miss a post. And feel free to share with those who may need a little chicken love.