You know when a leaflet pops through your door that makes you think, oh yes, that is what I should do?  Well I received a Whichford Pottery through the post inviting me to an event and I decided it was time to visit again.  I first visited just over a year ago and immediately knew it was rather a special place.   It rather neatly puts together two of my main interests, a love of plants and a love of pottery.  Not just plant-pottery either, there is a very fine gallery selling the works of various pottery artists. 
 
I meant to visit for the bulb sale in September but life conspired against me and I did not manage to go.  Then the chance came up to visit again and it just felt churlish not to.  I had just spent a week off work which meant that my gardening was fairly up to date, well, except for mowing the lawn; it has been so wet this week that that has been out of the question.  The lawn is sitting there, looking at me, all shaggy-like.  The early part of the week decorating the spare bedroom, which meant I did not get outside much at all for about four days.  I was feel very couped up by the end of this and in need of a fun distraction.  So off to Whichford I went.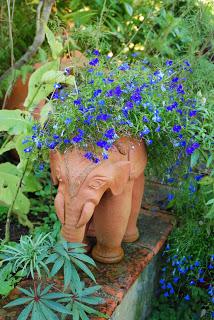 The afternoon involved tea and cake, as all good afternoons do.  There was also a short talk by Harriet Rycroft, the Head Gardener at the pottery about container planting.  Actually saying it was about container planting is a complete understatement of what Harriet does; anyone who has visited the Pottery will know what an amazing garden they have there.  It is visually exciting and knowing that it is all in pots makes it also a wonderment.  Then there was a talk by Jim Keeling (owner/Head Potter of Whichford) about their customer base in Japan.  It was one of those talks that you go to listen to because you do not know anything about it but think it might be entertaining and it turned out to be quite fascinating.   His talk contained some interesting thoughts, in particular the Japanese notion of 'beauty through use', it reminded me as similar to the William Morris quotation "have nothing in your house that you do not know to be useful or believe to be beautiful", it seems to encompass this idea well except I would swap the 'or' for an 'and'.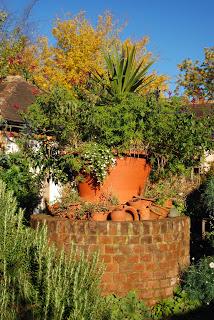 As usual I did my pilgrimage to see the Dalek pot, I love this pot and still aspire to own one (lets go crazy, lets get two!) of these one day.  I was a little distracted by the Peacock pot in front of it, what a marvelous pot it is.  Maybe when I have bought all the Dalek pots I will move on to Peacocks?  A lottery win and a larger garden (no, lets be clear, small estate) would be required first.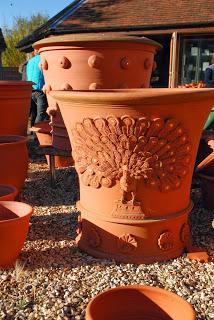 I was on a mission to make a special purchase on this visit.  I intended to buy a Green Woman wall planter.  I had been thinking about this since I had visited earlier in the year and I knew that if I saw one this time I would buy one.  Firstly though I wandered around the seconds field.  This strikes me as a sad sort of field really.

There they are, laid out in rows, awaiting their fate.  They have already been labelled as seconds, clear failures in their own pottery world, they are truly second class citizens.  Now they wait patiently in the cold bright sunlight for someone to take pity on them, someone to say 'never mind, I know you're not the full malarky, but you'll do for me'.  As the people walk around the field, picking up pots and putting them back I wonder if the pots get all excited when picked up and disappointed when replaced?  Do they live a life of constant rejection until the right person comes along to take them home and love them?  Probably.   So I wandered around the field, thinking these thoughts but not actually selecting any as the one for me, when I saw them, a small nest over by the hedge........ could it be?.............were my eyes deceiving me?.................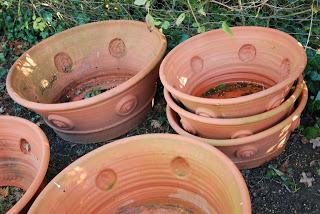 It was a small, but definite, nest of little dalek pots.  There they were, babies really, not fully grown like the big one in the main courtyard.  I looked through them and made my choice, I knew I had to take one home with me.  I wished I could have rescued more but finance dictated that only one could come home with me.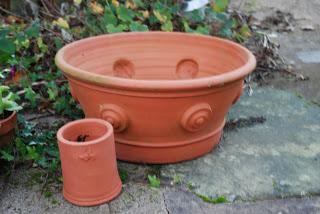 So there is my little dalek-squab, not a demi-dalek, but it might be one day!  I also bought a small butterfly pot and a new vase to keep Valerie company.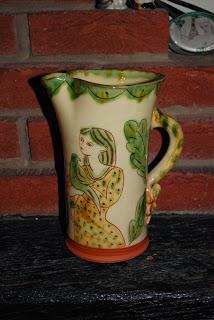 Its a lovely jug with a couple of bints holding birds on it.  Yes it is now named the Birdy-bint vase.
Just minute you say, what about the Green Woman planter?  Ah, well, yes, I got distracted by the dalek-squab and I could not have both, so the Green Woman stayed where she lay under the table in the main courtyard (presumably feeling rejected).  Maybe next time......?