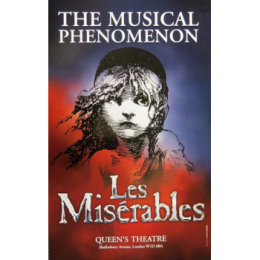 Cast
Peter Lockyear – Jean Valjean
Jeremy Secomb – Javert
Rachelle Ann Go – Fatine
David Langham – Thenardier
Katy Secombe – Madame Thenardier
Eva Noblezada – Eponine
Zoe Doano – Cosette
Chris Cowley – Enjolras
Craig Mather – Marius
Date: Wednesday 20th July 2016 (2:30Pm)
Venue: Queen's Theatre, London
Epic.
Unreal.
Incredible.
Yes, this really was my very first time at seeing Les Miserables on stage. I have no idea in all honesty why I had never made the effort before. I knew and loved so many of the songs for years and heard it was a truly remarkable piece of musical theatre. But for some reason I never got round to seeing this wonderful show. I don't think there are enough words to help describe the magic this show has, the amazing music, the acting, the singing, the trauma, the heartbreak, the tears and even a few laughs thrown in as well. Is this the greatest musical of all time?
The music is haunting the songs are full of meaning, with each one you feel this is the best song in the show. It really does have so many memorable moments and I quite honestly cannot praise it all enough. I have wasted so much time without seeing this show, I am sure I would have seen it many more times by now. I certainly plan on seeing it more in the future!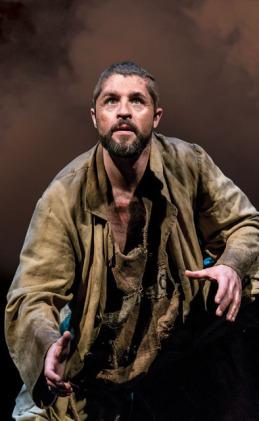 The story follows Jean Valjean who has served twenty years for a crime of stealing a loaf of bread. Javert the police officer on his release vows to always be watching him and ensuring he does not ever have a life. On this quest for a normal life Valjean is given a second chance thanks to a Priest and makes another life for himself. Everything is about to turn when he is partly responsible for Fatine's downfall so vows to protect and raise her daughter Cosette, whilst still running from Javert.
Everything about the story has you engaged and waiting for the next twist in the tale, as a cat mouse style chase is on between the pair. Then linking into the revolution from young men trying to take a stand to have a better life in France. This does create some brilliant moments around the barricade and really gets you thinking about the fight they are putting up. The gun shots really are piercingly loud! Just a small warning, they are deafening and create an extra mood around the theatre.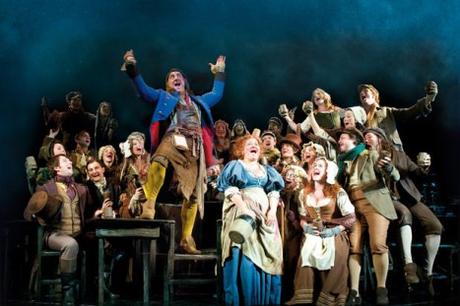 We are given some moments of light (and much needed) relief with Thénardier and Madame Thénardier who really are hilarious. 'Master of the House' really does lighten the mood and really help to get over those incredibly emotional moments and songs that have come previously. Luckily they feature at different times to really take the edge of it, this is a very serious and emotional show after all. With brilliant performances from the pair, a pleasure to watch. We certainly need characters like this to make the audience laugh. It is a very heavy going show, but believe it or not the nearly 3 hours (plus interval) really does fly over.
At least now a lot of the songs and things mentioned in Forbidden Broadway make even more sense. I totally understand any references about the stage spinning/moving around and I have to admit that it is used in an effective manner. Something that certainly gives the show that extra edge, especially when it comes to the barricade. The stage is very impressive because of this and it really does create so much depth for the show.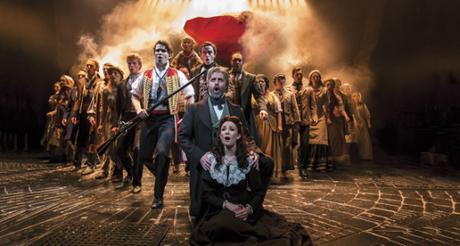 The performances were outstanding. Peter Lockyer totally blew me away as Jean Valjean I am pretty sure I fell in love with him from start to finish of the show, that is an impressive thing to be able to do when playing a character. The way he gets into it all, the raw and range of emotions he has to go through whilst singing and acting really is something else. Jeremy Secomb was a great pair up with such power and charisma in his voice and performance against Lockyer. It worked so incredibly well very impressive with it being a rather recent pairing.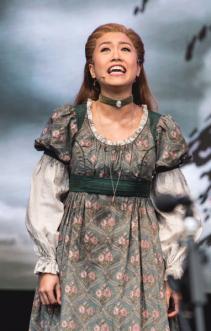 It was great to see Rachelle Ann Go on stage again, when I went to see Miss Saigon two years ago she was covering for the role of Gigi and she really stole the show. I was very excited to see her in the role of Fatine and she certainly did not disappoint, having all of the emotion for the tough role and totally nailing 'I dreamed a dream' which has to be one of the toughest songs in musical theatre. Great to see how well she is doing in the West End!
A stand out moment had to be Eva Noblezada belting out 'On My Own' in such incredible fashion. I was very impressed with her performance throughout and she really did give us such a treat with that song. So many incredible moments I am sure to miss something from this review. The whole ensemble were just fantastic, it really is such a special show. Has to have the largest cast in a show that I have seen. Was great to see Felix Mosse on stage in the West End a year and two days after seeing him in the Love Me Tender tour!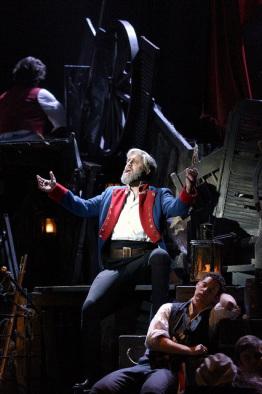 I really cannot wait to one day see this unique and special show again. It really is something else! I am so pleased to say I now understand why it has so much love and hype surrounding it, it deserves it all and more. So don't hesitate if you have not seen this before make an effort to see it, I really wish it hadn't taken me so long to catch up. 'One Day More' 'On My Own' 'I Dreamed a Dream' and every other song. With a special mention to the amazing 'Bring Him Home' which really does create even more magic. Honestly I don't think I have even managed to explain how incredible this epic show is! Do you hear the people sing?