There are 13,935 kms between Funston Elementary School in Chicago, USA and the Lajuma Research Centre in South Africa, but distance hasn't stopped two ambitious middle school students in Chicago from investigating leopard behavior in South Africa's Soutpansberg Mountains.
Anne Morrison, a teacher in the middle school science department at Funston Elementary School, joined an Earthwatch team at Lajuma in July 2012 thanks to a grant from Fund for Teachers. She used the opportunity to gain inspiration for new and exciting ways to get her students excited about science and the world. She came up with the idea to have her students do a project with the camera trap data collected by the Primate and Predator Project.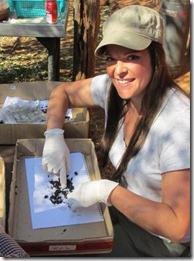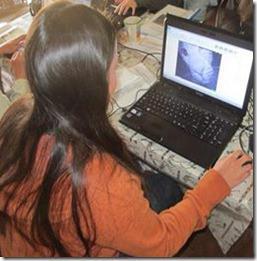 Anne helping with data collection and analysis during Earthwatch at Lajuma in 2012
We sent over a data set of leopard images and two of Anne's 8th grade students, Jocelyn Torres and Abigail Mata, designed a project and conducted the analysis. The girls, aged 14, investigated whether moon phase affect leopard movement and summarised their findings in a 21 page scientific report entitled 'Do full moons bring out leopards?'.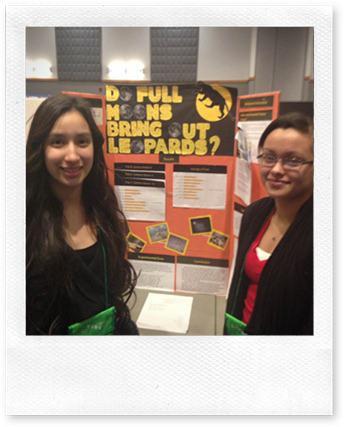 Jocelyn (left) and Abby (right) with their presentation board
Jocelyn and Abby hypothesised that full moons will affect leopard behavior and that there will be an increase in leopard sightings during full moons. They based this hypothesis on previous research they read which concluded that full moons  can influence human and animal behavior.With their hypothesis in place they set out to prove or disprove it!
The students used a large data set of photos taken from three different camera stations on Lajuma and neighbouring properties. They recorded the number of leopard sightings per hour during each moon phase. This information was used to determine the percentage of leopard sightings during each moon phase and to find an overall average.
Their research concluded that most of the leopard sightings occurred during the First Quarter and Waning Gibbious moon phases (16%). the Full Moon had a lower average of 10% of sightings, proving their hypothesis incorrect.
Jocelyn and Abby's report discussed factors that could have affected these results such as prey availability, weather, and habitat. They also included suggestions for further research.
On February 7th, the girls will be presenting their results at the Chicago Zoological Science Fair. We wish them the absolute best of luck! Everyone at the Primate and Predator Project thinks they deserve to be winners! We also wish them the best for the future.
Our congratulations also extends to Anne Morrison for initiating this project and for all her inspiring work.