Leo is related to the heart centre; it is the heart of Spiritual Hierarchy. In the Vedic symbolism Leo is called the dog, meaning the Dog Star, Sirius. Our planetary Hierarchy is a replica of the Great White Brotherhood on Sirius whose Lord is Dattatreya. He is the teaching principle in the universe.
The Eastern Puranas compare the space globes of the universe with the fruits of a banyan tree and the suns with the seeds inside the fruit. Many trees line the roads to the garden of God. This reminds me of the astronomical concept of superclusters of galaxies called Laniakea (Hawaiian 'immeasurable heaven') which look like flows or branches of huge trees.
In the background of the painting I put a clustered photo of the known universe and super-imposed on it the structure of a tree. I made a photo of the statue of Dattatreya on my meditation altar, depicted as a being with one body and three heads, symbolizing the divine trinity coming out of unity. He is always depicted with a cow, symbolizing the universe. In his six hands he holds various symbols representing cosmic dimensions. In the branches of the tree you see two galaxies and in the centre a star nebula also called the "eye of God". I placed a picture of Sirius into its centre.
In the foreground you see the symbol of the cosmic teaching principle, the triangle within a circle and the central point, which is placed at the heart centre of Dattatreya. The circle is surrounded by 12 stars, representing the twelve aspects of the zodiac or of the one original light, Aditi.
See more pictures on the site with my paintings. If you want to print the image, you can download the file in medium and high resolution format.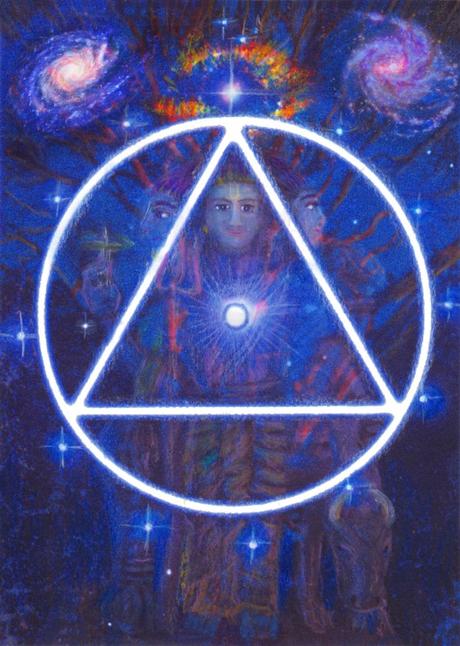 17 April 2015, pencils and photo work