In meditation, the awareness is raised from the heart to the head, linking the personality to the soul and finally the soul to the super-soul. The head center is the point of the highest illumination. A yogi meditates on the correspondences to higher centres: in relation to the planet, the head center corresponds to Shamballa; in relation to the sun it corresponds to the cosmic sun. The other dimensions of the sun are the heart of the sun and the physical sun. With the planet, the corresponding other dimensions are the Spiritual Hierarchy and the humanity.
For this image, I used the picture of the head of a Buddha statue as the head of a yogi. I placed the symbol of sun at the Ajna centre, which is governed by the sun. I visualised the meditative ascent with a stair leading to a gateway of light (using elements of a photo by Till Krech, Wikimedia) in the form of a lingam symbolising Shamballa. I fused two images of the planet, depicting the Himalayas and beyond, Shamballa. They are shining through the head of the yogi. The crown of hair of the yogi is like a receptacle for the downpour of light. I created the flow with a picture of the physical sun (photo: Nasa), visualising the heart of the sun and the cosmic sun with other photos of the sun.
To represent THAT which cannot be portrayed – the inexpressible Oneness expressing into trinity and multiplicity – I positioned the three heads of a statue of Lord Dattatreya at the place of the spiritual sun, at the top, and surrounded them with an array of multi-coloured rays on a starry background.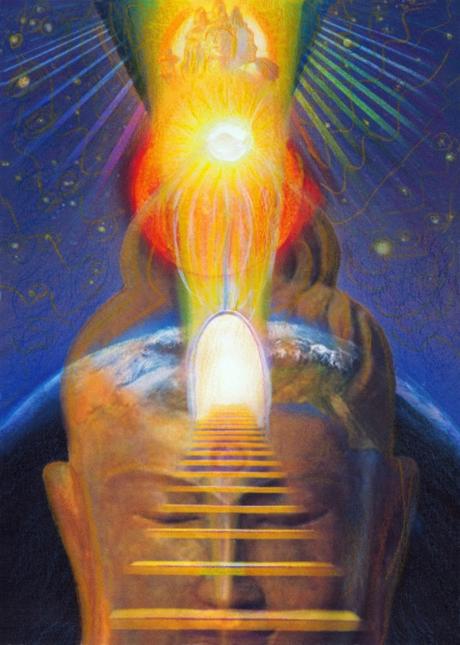 See more pictures on the site with my paintings. If you want to print the image, you can download the file in medium and high resolution format.
The different zodiacal signs are clustered in groups – you can see here all my Leo paintings.
The video: