Depending on who you are asking, this may or may not be a stretch.  But looking at Lionel Messi's International career, you could easily argue that him winning the Golden Boot award this Summer is a stretch and not necessary something you should bank on.  The way I see it is this Brazilian World Cup is the perfect stage for Argentina to come together and showcase their talents on the biggest stage.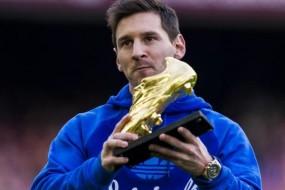 Messi has been breaking records for years, especially when it comes to club and league records as the star and main attraction for FC Barcelona.  At just 26 years old, he already holds the Barcelona record for most goals in all competitions.  He has scored the most goals by any Barcelona player in La Liga, the most in the UEFA Champions Leagues and the most goals in the Club World Cup. The Argentinian phenom set the record for most goals scored in a single La Liga season with 50 goal in his 2011/12 campaign.  This set him up to break the record for most goals scored by a single player in a single calendar year with 91 balls hitting the back of the net. The "Little Magician" has the record for most home goals scored in a single La Liga season, as well as most away goals scored in a single La Liga season. He has the record for scoring in consecutive matches with 33 straight La Liga matches where his name graced the scoring sheet. This month Lionel Messi officially became the greatest goal scorer in FC Barcelona history.  His next major milestone is going to be trying to track down the La Liga all-time scoring record, currently held by Telmo Zarra with 252. He currently sits at 237.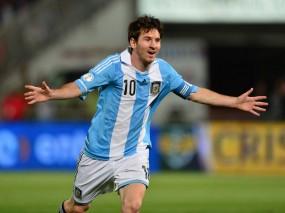 Can Messi and Argentina deliver this Summer?
When it comes to his international career, Messi has several accolades to his credit, including helping Argentina to win the 2005 FIFA U-20 World Cup. He became the youngest Argentine national to play and score in the FIFA World Cup in 2006 and he won Olympic Gold in 2008.
Even though Argentina's national treasure and hero Diego Maradona has declared Messi and his official successor, many will argue that Leo has yet to reach his potential on the international stage.  In South Africa, many touted Argentina as major tournament favorites, but they failed to deliver on the hype.  With only 37 goals in his senior international career, many are hoping that Messi will take his country to the next level and win this Summer's World Cup in their rivals back yard. If you ask me, this Summer is setting the stage for Argentina and all their talent to come together and deliver on all the potential they have to offer.  With a fairly weak group of Bosnia-Herzegovina, Nigeria and Iran, expect la Albiceleste to find their chemistry on the pitch and a more mature Lionel Messi to really grab the spotlight and shine like the star he really is.  He may not reach the Argentinian top scoring record set by Gabriel Batistuta with 56 goals, but I'm betting that Messi is a shoe in for the Golden Boot award this Summer. At this part, let us have a look on the match highlights from June 12-15 2014. •  06/12/2014    Brazil vs Croatia   Arena de Sao Paulo, Sao Paulo •  06/13/2014      Mexico vs Cameroon    Arena das Dunas, Natal •  06/13/2014      Spain vs Holland    Arena Fonte Nova, Salvador •  06/13/2014      Chile vs Australia    Arena Pantanal, Cuiaba •  06/14/2014      Colombia vs Greece       Estadio Mineirao, Belo Horizonte •  06/14/2014      Uruguay vs Costa Rica    Estadio Castelao, Fortaleza •  06/14/2014      England vs Italy    Arena Amazonia, Manaus •  06/15/2014      Ivory Coast vs Japan   Arena Pernambuco, Recife •  06/15/2014    Switzerland vs Ecuador    Estadio Nacional, Brasilia •  06/15/2014      France vs Honduras    Estadio Beira Rio, Porto Alegre •  06/15/2014      Argentina vs Bosnia    Estadio do Maracana, Rio de Janeiro For more updates on the World Cup 2014, check the site http://static.williamhill.com/world-cup-2014/.