Prayer
In some ways, this is the hardest of our four topics, since it is the best known, and most often taught. We started the evening with a look at the famous'graffiti' below. The Rotas-Sator square was a word game found in lots of places around the Roman world, from Syria to Manchester, and gives evidence of early Christianity, as it hid within its letters the 'Paternoster':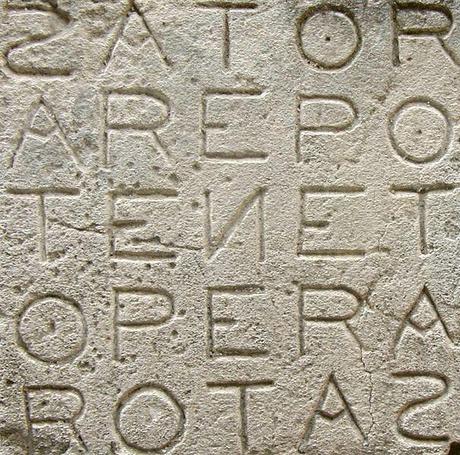 Image: wikimedia commons
We then had a quiz, in which people were invited to guess the identities of those behind ten famous prayer quotes. If you want to have ago, you can find it here. After this, we took a deep breath and watched the video below. In it a very angry man is praying. Taken from the West Wing, it shows President Josiah Bartlett railing at God after the funeral of a dear friend. Following the video, groups were asked to read Psalm 55, and to consider at what point honesty becomes disrespect in prayer.
After that, we looked at four areas of prayer: privilege, place, technique and discipline.
Privilege – prayer has been a privilege since the moment Gods first called Moses from the center of the burning bush, to the moment when Jesus assured that God would hear us when we spoke to him in our room all alone.
Under the discussion of place, we considered what kind of place it might be – from a chapel in the woods, to a seat on the train. People were also invited to choose one word as a description of the sort of place prayer is to them – such as 'broad', 'free' or 'open'. You can see my own here.
Technique – here we really got down to 'brass tacks', and looked at those things which may help us when prayer is tough. There is persistence, for a start – continuing to pray even when we feel like we don't mean it. Posture may help too – kneeling once in a while to remember who is boss. Having others pray for you when praying is tough is good, as is using written prayers, or writing them yourself.
Discipline – is an unpopular word, but may be the only way to progress in this area. We should allocate time to pray which is both regular and incremental (a bit like my #richard100 training). Having some accountability with a prayer partner can be really good too.Finally, we discussed keeping a journal in which both requests and answers are noted.
Over the course we had looked at: penitence not penance, fasting in a world of hunger, alms which go beyond money, and sustainable prayer habits. All six groups then wrote prayers around those themes. The prayer below draws from all of them, in their own words:
Dear Heavenly Father
Make us active and outgoing, prepared to give up things in ways which will help others. May our hands be more active in giving than grasping. Thank you that you forgive us even when we want to punish ourselves. When we give, cause us to be extravagant in our giving, and to look beyond our money to ourselves, our time, our gifts. Help us to refocus in order to reset the compass in our daily lives. Give us eyes to see you with, and ears to hear what your Spirit says. May the end of these words not be the end of our conversation with you.
Amen