Alms
In the third of this Lent series, we looked at the discipline of  alms-giving. As on other occasions, what follows give a fully clickable taster of what went on.
After an ice-breaker involving putting pictures of banknotes from obscure currencies on the flag of the relevant country, we set out the subject matter for the evening: alms-giving understood as generosity, hospitality, money….and more.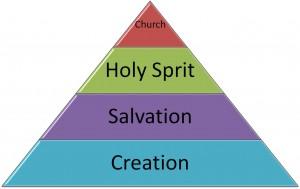 Generosity – we established a theology of generosity, which builds from God's generosity to us. We can see this expressed in the creation as a gift to us, salvation which costs us nothing, and the gift of the Holy Spirit without discrimination to every believer. The Christian church inherits the entirety of this theological foundation. For those who like a theological term, or two, we looked at the concept of 'kenosis', or the self-emptying of Christ.
Hospitality – the Christian church has always taken this seriously. The spread of the Gospel through the New Testament church would have been impossible without it. Monasteries provided help and succour in times of need, churches provided places of refuge, the Knights Hospitaller provided it for pilgrims on the route to Jerusalem, and the modern hospice movement has taken up the theme as it helps people on the last stage of their life's journey.
Money – here we looked in particular at the story of John Laing. Although a highly successful businessman, he lived a life of financial generosity, working out what he could live on, and giving as much of the rest away as he could. He was a great supporter  of Christian mission amongst young people, led the way in British industry by giving paid sick leave to his staff, and died with only £371 pounds in the bank despite millions he had earned. Groups were given the option of selecting one of four 'champions' of generosity, reading their story, and then 'selling' their champion to the other groups. (The four were David with Mephibosheth, Zaccheus, Dorcas and the Widow of Zarephath)
More – we looked at the 'Pay it forward' phenomenon, paused briefly with the Singapore Kindness Movement, and took some time to fill out a 'gift certificate' for someone we love. The 'from' and 'to' were completed there and then, but the description of the gift was left to be completed in private.  After this we headed over to fleshandblood. This scheme, the brainchild of the lovely Matt and Juls Hollidge, draws on the Christian tradition of generosity to encourage a whole new understanding of giving, as the video below explains. A faith founded by a broken savior with shed blood has a very particular perspective on holistic giving. This is kenosis indeed.
The evening concluded with an opportunity to worship and reflect on how holistic our giving might be.