Fasting
Last night I taught the second in a series of four multi-media, interactive sessions in a Lent course. As promised, I provide here an outline of the session, complete with clickable links. The subject on this occasion was fasting. People arrived to some appropriate music, including some by famous "foodie" Rossini – who once famously composed an aria whilst waiting for his risotto to cook. We then warmed up with a Bible food quiz, concluding with a question on which Bible verse can be found on any supermarket shelf. (Click HERE to reveal the answer)
My surveymonkey survey had confirmed what I thought to be the case, that  this is one of the Christian disciplines with which we are less familiar. In truth, people are a little afraid of it. This may be because of inexperience, or (as with me) owing to prior failures in this discipline. The session looked at four areas: who fasts, why we fast, how to fast, and the context in which we fast.
Who fasts is a question with many answers – Bhuddists, Jews, Muslims and Christians to name but a few. Groups looked at some Biblical 'poster boys' (and girl) for fasting to see why they did it: David, Nehemiah, Paul, and Esther. After answering some questions, they were invited to complete a poster slogan on why their poster boy/ girl would advocate fasting. My favorite was Paul saying that fasting is...'an opportunity to reflect on the truth'.
The reasons why we fast may be many, but we focused on three: a sharper focus on God, a softer focus on ourselves and a prompt to prayer.
To think about how to fast, we used the concertina below. This was completed alone, and then discussed with a partner. It offers a way to refine what might be an appropriate fast for you.
Payable cost – the fast must be doable, so saying that you will not eat anything for 40 days won't work!
Genuine impact – it must have a genuine impact, so saying that you will not eat anything blue for a week probably won't work.
A discreet campaign – your fast should not cause you to act in such a way publicly that it is 'in the face' of friends and colleagues.
A specific aim – this might be 'getting closer to God' or 'choosing between option A and option B'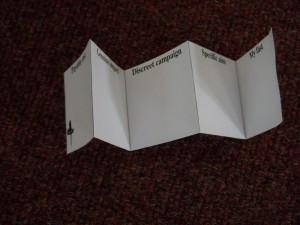 The context in which we fast is one where 6.7 million tonnes of edible food are thrown away every single year. Some of us throw food away through carelessness, whilst others starve for lack of it. The Hunger Games, written in 2008, sold in 38 countries,  and launched last year on the big screen, taps into our unease about it.

We thought about treating Lent as a season to address our wasteful food habits. Each group had to pick one main ingredient, one accompaniment and two sweet ingredients (blind) from the saucepan on their table and devise a meal.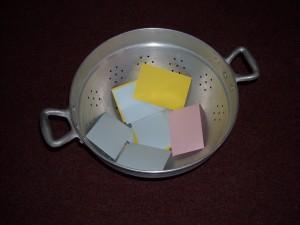 People enjoyed this so much that they did it several times. As the laughter died down, I directed them to resources for reducing waste at lovefoodhatewaste, and asked them to join the if campaign – a multi-faith, multimedia platform to address global poverty.
We concluded the evening with open questions and prayer together.