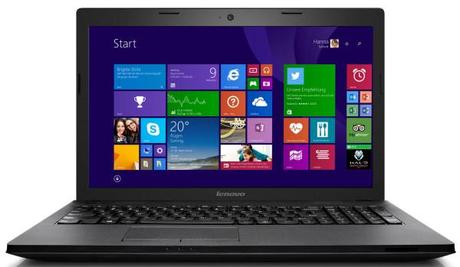 Lenovo G series was introduced with special features. Lenovo Essential G510 does have top-notch essentials along with latest processing power. It appears stocky at first sight, but is designed to be very sturdy.  It is indeed meant for everyday use.
The features are as follows:
Display: Widescreen 15.6" LED backlit HD display with 1366 x 768 resolution. The display gives clear pictures on screen. The LED Glare feature ensures no glare to viewers even under bright light.
Processor:  4th generation Intel core i5 processor works at 2.5 GHz. Can boost up to 3.1 GHz with Turbo Boost technology. 4 GB RAM is provided. Processor and RAM together are capable of fast working performance. Cache capacity is 3 MB.
OS: Windows 8 (64 bit)
Graphics: Intel HD Graphics 4600 for super rendering. Compatible with Windows 8.1
Battery: 6 cell battery is provided. Good enough to work for over 3 hours. When connected to mains, the laptop works with 48 watts AC adapter.
Connectivity: One USB 2.0 port is present. Additionally, two USB 3.0 ports are provided. USB 3.0 can execute data transfer 10 times faster compared to USB 2.0
This model supports Bluetooth and Wi-Fi. Additionally, HDMI port, VGA port, 2-in-1 card reader slot and RJ45 LAN are given. This fulfills all normal needs of connectivity.
Storage: 500 GB, 5400 RPM speed Hard Drive is provided. This is more than enough for storing OS, system files and multimedia files.
Memory: 4 GB. Memory can be increased up to 16 GB through two memory slots.
Webcam: 720p HD webcam ensures sharp images. This webcam id ideal for video calling.
Keyboard: Special design makes typing experience a pleasure. Multi-touch Touchpad offers full functionality.
Audio Devices: Inbuilt analog microphone is provided. Two 1.5 watts Dolby speakers serve well in digital playbacks. Good sound quality can be expected.
Optical Drive: DVD Writer. A useful device.
Comments on the features:
Lenovo Essential G510 is designed essentially for working professionals. Their most needs are fulfilled through careful combination of features. Its dimensions of 377 mm x 250 mm x 34 mm are optimum and weight of 2.6 kg is manageable. This product comes in black color. Its sophisticated chiclet keyboard or island style keyboard makes typing activity less cumbersome. The fan works noiselessly without causing disturbance to the user.
Lenovo Essential G510 is 15.6" Notebook has the ability to offer speedy actions due to combination of powerful processor and large RAM. Applications can be run very rapidly.  Users required to run higher configuration software like CAD can have effortless execution. Running several applications simultaneously does not hinder the performance. Playing songs or music, downloading movies, running programs, all in one go is very much possible.
Backing up data can be achieved through the use of DVD drive. Multi card slot provides for shifting and shuffling of data. Presence of HDMI port allows the user to watch photos, videos and movies by connecting to a compatible TV. Playing games also become a pleasurable experience due to powerful graphics processor. Analog microphone and built in speakers allows the user to connect to people around the world and chat with them or make video calls.
One year warranty on this product is given, which appears adequate. Users can feel safe and can approach the company in case of any problems.