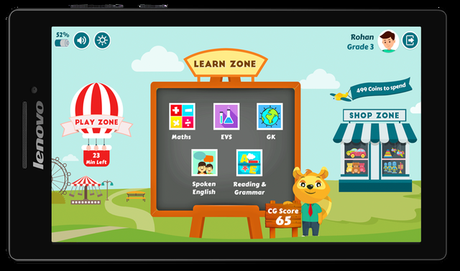 Everyone knows that kids love using smartphones and tablets. Keeping that in mind, ConveGenius and Lenovo have launched CG Slate, a tablet that teaches kids while keeping them entertained.
ConveGenius is India's leading Educational Technology Company. Their edutainment (Education and Entertainment) solution was so far available only to the B2B clients of ConveGenius like State Governments, large NGOs and other learning centers in countries like India, Singapore, Malaysia, and Indonesia. This solution follows a gamified approach to learning that seeks to teach children while making them feel as if they are playing. This is done through interactive games, quizzes, worksheets etc.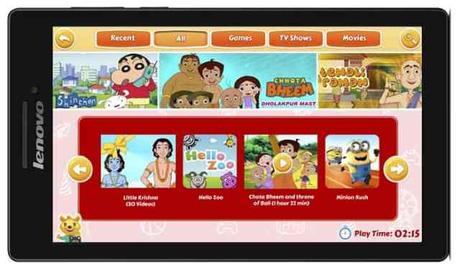 The same approach has been used in Lenovo's CG Slate. It follows NCERT curriculum of Kindergarten to class fifth students. It teaches them lessons through interesting and interactive ways like games, stories etc. To retain children's interests in the lessons, CG Slate also offers rewards in the shape of points. These reward points can be redeemed by buying goodies like key chains, pen drives, toys etc. Also, all through the lessons, kids are guided and encouraged by the mascot of CG Slate. This mascot is very cute and colourful and named as Titu. The toys and other goodies that kids can buy using their earned points are all adorned by this Titu.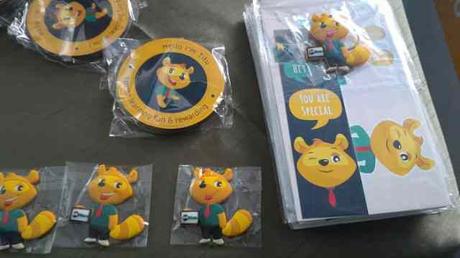 One useful feature of CG Slate is that it can keep parents informed about the progress of their kids. This is done through SMS and emails and is a great way for the parents to learn about the strengths and weaknesses of their kids. The Slate also allows multiple profiles so more than one kids can use it.
Talking about the CG Slate, Mr. Jairaj Bhattacharya, MD, ConveGenius Group, said, "We envision CG Slate to be every child's best friend for Learning, Entertainment, and Shopping. In this endeavour, we have partnered with best-in-breed brands such as Lenovo and Flipkart to ensure a seamless user and purchase experience, respectively. CG Slate is an affordable and comprehensive mobile learning solution, which uses the immense potential of gamification to personalise learning for kids, and supplements regular curricula taught in school with NCERT-mapped content. We are positive that CG Slate's interactive lessons, games, videos and movies will enrich the overall learning experience of the young generation, and would be a real aid for parents."
As mentioned earlier, CG Slate is a Lenovo tablet device. In the little time I had with it, I found it to be responsive, quick and smooth functioning. It comes in a colourful and attractive packaging. The tablet also has a camera so kids can have photography fun too.
The Key specifications of the Lenovo CG Slate are:
PROCESSOR: MediaTek® MT8127 1.3GHz Quad-Core™
OPERATING SYSTEM: Android™ 5.0 Lollipop
SOUND: 1x Front Speaker, Dolby® Audio, 3.5mm Jack
RAM: 1 GB
INTERNAL MEMORY: 8GB / 16GB eMMC
EXPANDABLE: Up to 32GB via microSD
BATTERY: 3450mAh, Li-ion
DIMENSIONS: 105 mm x 9.3 mm x 189 mm
WEIGHT: 269g (0.59 lbs)
SIZE: 0″ (1024 x 600) IPS, GFM Air bonding
Rear Camera: 2MP fixed-focus
Front Camera: 3MP fixed-focus
Price: INR 8,499 (Early Bird Offer for the first 1000 tablets: 7499/-)
Availability: Flipkart
Lenovo CG Slate is not just for kids. It can also be used by grownups as a normal tablet. It is affordably priced at Rs. 8,499 and is available on Flipkart. It is an interesting approach to encourage the kids to learn. However, I feel it might have been better had the software been available for download on any tablet. Like by way of series of applications. By bundling it with a specific tablet, the reach of the software has been restricted. Another thing is that while the gamified approach to learning is a good thing, doing it through smartphone and tablet is not quite the healthiest of ways for young children. Not something that eye doctors and child specialists will recommend.