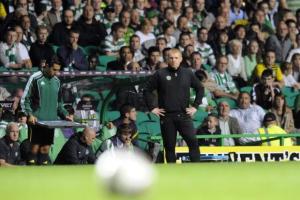 Lennon looks on bewildered following the late decision
Nearly came to fruition early this evening at Celtic Park on a night when three changes from Saturday's side put up an energetic and gallant performance against one of Serie A's top sides. Let it be said though, that a few of Udinese's main players were left in Italy and the young group that remained struggled to cope with Celtic's relentless early pace.
As I predicted early yesterday(http://thebhoymcclay.wordpress.com/2011/09/28/celtic-attack-only-form-of-defence-against-udinese/), the Bhoys needed to do two things :- start the game brightly by taking the game to the Italians & avoid conceding at this juncture in the match. You can combat the second problem by utilising the first and Celtic did so with a great gusto that has been missing in many games so far this campaign. Neil Lennon reiterated my wise words in pre match comments, urging his team to start the game well and put the pressure on Udinese and not on our own toes. Two minutes in Hooper turns and is brought down in the opposition box, Ki slots home a confident spot kick – the oracle that is I also suggested this last month following the Bhoys penalty hoodoo(http://thebhoymcclay.wordpress.com/2011/08/22/penalty-points-missed-for-bhoys/).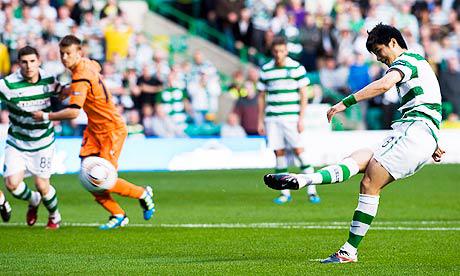 Ki Sung-yueng slots home a great penalty to open the scoring
Another penalty cost Celtic all three points and the altercation was fairly soft compared to our own award – Gary Hooper learned a harsh lesson here, don't give the officials an opportunity to give a decision, even if the contact is minimal and the subsequent fall suspect. Bar that, Celtic can be proud of their efforts – standing toe to toe with a team climbing the summit of one of Europe's best divisions and giving a confident team performance.
Team defending was something Celtic have been culpable of so far this year, but with Victor Wanyama in a defensive midfield role, the Bhoys at the back were more assured and protected. The Kenyan's imposing stature and ball winning made him a popular choice for man of the match with the fans.
Mohammed Bangura got the nod from the boss early evening and took his starting bearth with a great fervour and desire throughout. He was a willing runner in the channels and looked an assured foil for Hooper with some nice trickery and knock downs for the Englishman. Time will tell if Larsson's predictions for the Sierra Leone hitman will come true but although some supporters are unsure I think the early indications are positive. Celtic's participation in this tournament means Lennon can afford to tinker with his team selection and give new signings such as Victor & Mo game time, this also gives the manager a different dimension in which to judge the acquisitions away from Lennoxtown.
The performance should give Celtic confidence in this group, a batch of clubs who I think are capable of beating each other home or away, can be dispatched at Paradise in the coming months. The experiment also further reiterates one passing fad has had its day, #teamsamaras is well
& truly over.
55.804039
-4.191882