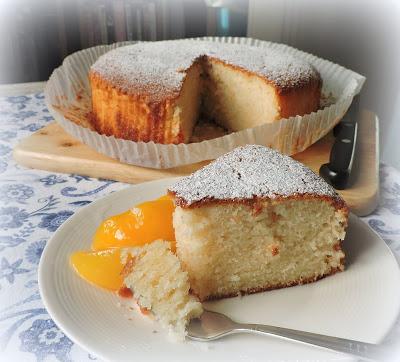 I usually like to bake us a cake at the weekend.  Something for Todd to enjoy with a hot drink.  Cakes and weekends are beautiful partners.  I confess I do like a little sliver of cake myself every now and then.  In my experience yogurt cakes are beautiful and simple cakes.  Just the kind for relaxing with.  Perfect weekend cakes.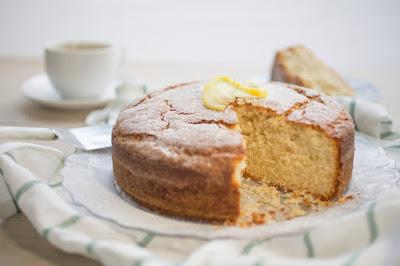 I had seen this cake recipe on the
Lancashire Farm
site the other day and it looked magnificent so I thought I would give it a go!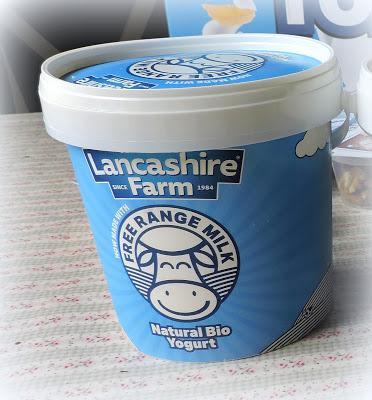 It uses about 1 cup of their natural bio yogurt.  If you can't get this because you live in an area where its not available then you can use any other good quality natural bio yogurt.  I like theirs because it is thick and delicious!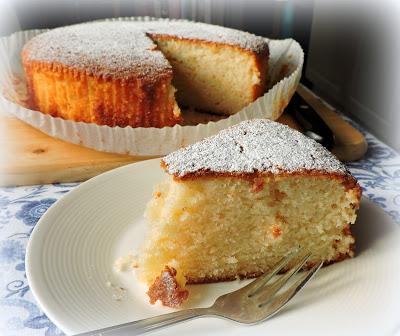 I was really pleased with how the recipe worked out.  Their recipe on site gives a 30 minute bake time, but when I checked at 30 minutes, it was still quite wobbly. It took mine about 45 minutes to bake and then it was PERFECT!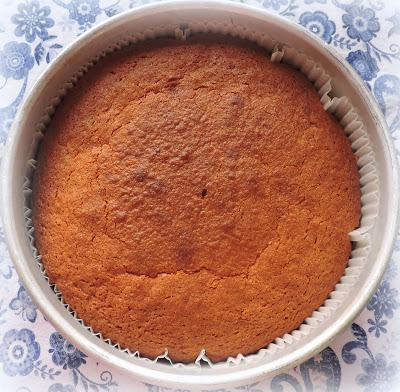 You can also bake it in a ring tin, but I baked it in my 8 inch round  cake tin.  I used a paper liner.  You don't need to do that, you can simply butter it, but I like to use a liner if I can for ease in removing the cake from the tin.  There is a lot of sugar in the cake and I find  that cakes with a high sugar content tend to stick.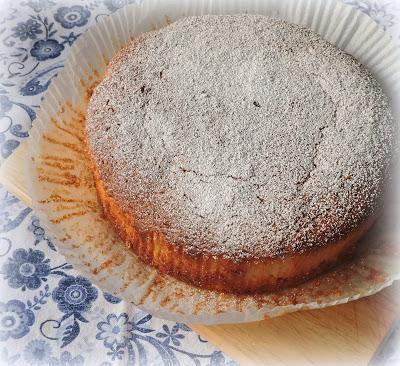 I used Dorie Greenspan's trick of rubbing the lemon zest required for the cake into the sugar first.  Oh boy but it smells so heavenly when you do this, and rubbing it with the sugar really releases all of the lemon oils and gives you even more of a beautiful lemony flavour!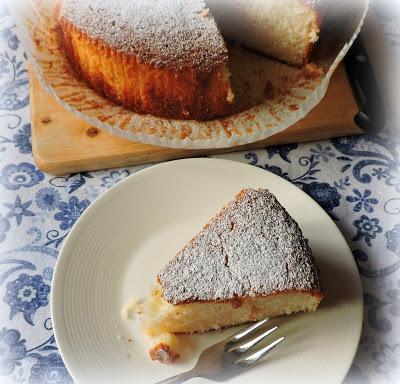 This beautiful cake stands on its own.  No need to ice it, simply dust it with a light snowfall of icing sugar.  Just enough . . .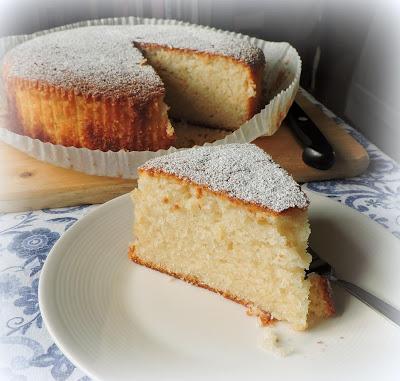 You can see how moist it is.  And it cuts beautifully.  This is not long since I took it from the oven.  It was still slightly warm . . .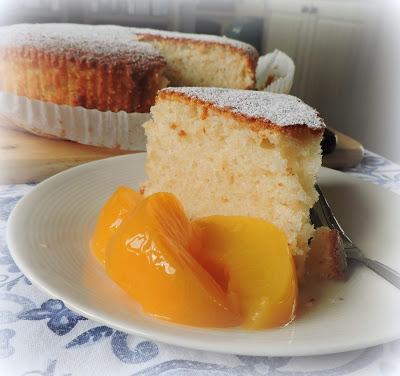 I served it to Todd with some tinned sliced peaches . . .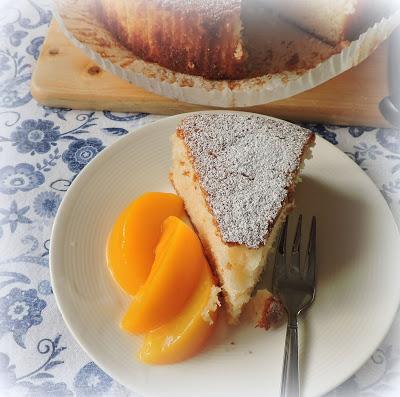 If you are doing a cake like this for dessert, then a bit of fruit goes very nicely.  Peaches are lovely, but so are pears, berries, etc.   I think a dollop of whipped cream would also be nice.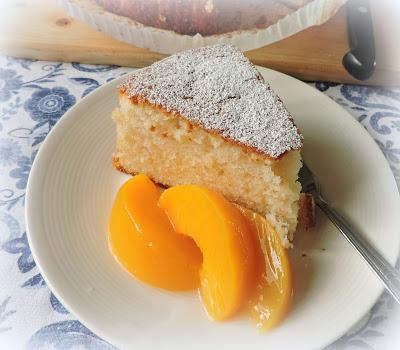 There were no complaints . . .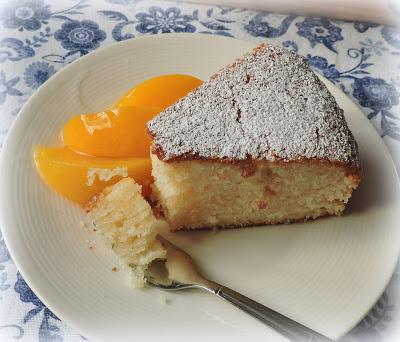 Our friends Tony and Tina happened by, not long afterwards.  I said to them, "How did you know I had baked a cake!"  This happened last week as well when I had baked the Boston Cream Pie.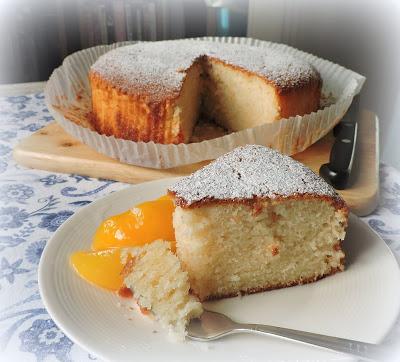 I didn't have to ask them twice if they wanted a slice!  They were quite happy to tuck in!
Yield: 8 inch cake
Author: Marie Rayner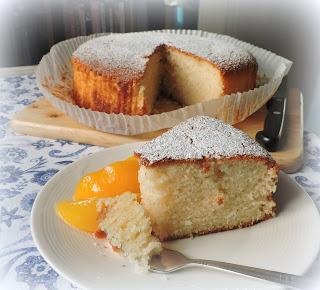 Lemon & Yogurt Cake
prep time: 10 mins
cook time: 45 mins
total time: 50 mins
A delicious moist cake adapted from a recipe on the Lancashire Farm Dairy page.  Quick and easy to make, I served it with some slices peaches and it was fabulous!
ingredients:
350g sugar (1 3/4 cup + 2 TBS)2 large free range eggs1/2 tsp salt3 tsp fresh lemon juicethe finely grated zest of 2 lemons180ml sunflower oil (3/4 cup)250g Lancashire Farm Natural Non Bio Yogurt (1 cup)260g self raising flour (2 cups, minus 1 1/2 TBS) Icing sugar to dust when ready to serve
instructions:
Preheat the oven to 180*C/350*F/ gas mark 4.  Line a 9 inch round baking tin with baking paper. Alternately grease a ring tin.
Measure
 the sugar into a bowl. Add the lemon zest and rub until very fragrant.
Add the salt, lemon juice, eggs and oil.  Beat together with a fork to
combine well.   Add the yogurt and flour, mixing well together and then
pour the batter into the prepared tin.
Bake in
the preheated oven for  45 minutes until well risen, golden brown
and a toothpick inserted in the center comes out clean.  The top should
also spring back when lightly touched.  Leave to cool in the tin and
then turn out and dust with icing sugar to serve.Created using
The Recipes Generator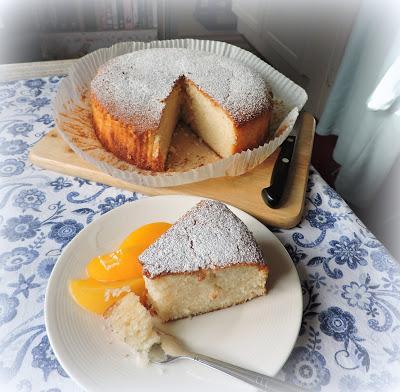 This really was/is  a beautiful cake.  I don't think you can go wrong with a yogurt cake like this!  Bon Appetit!