This post may contain affiliate links. Please read my disclosure.
These healthy mini lemon tartlets have a crunchy, nutty crust, and a sweet lemon curd filling. They're a simple handheld dessert perfect for special occasions!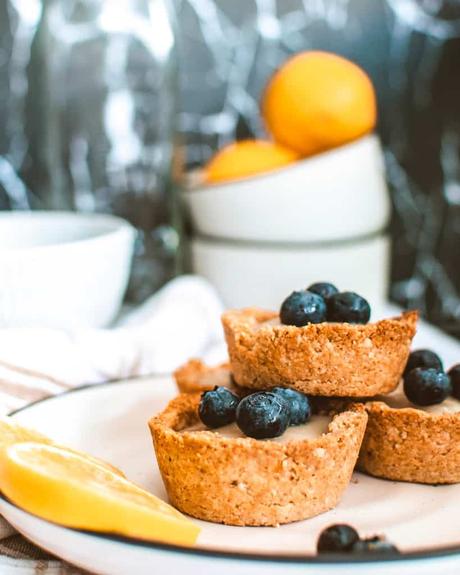 I absolutely love these lemon tartlets. They're like mini bite sized lemon pies made for one!
But the best part is that they're made with all natural healthy ingredients! So enjoying one or maybe even two won't leave you feeling guilty.
With a crunchy and nutty crust made from crushed almonds, cashews, and coconut and held together with maple syrup, these easy lemon tartlets are naturally sweet and full of nutrient rich ingredients.
The lemon curd filling is made with a good dose of freshly squeezed lemon juice whisked into coconut milk, making these beautiful handheld bites both vegan, gluten-free, and dairy free!
These lemon tartlets are the perfect dessert to bring to a special occasion celebration. Made in individual servings, everyone can enjoy them, and nobody will know they're a healthy, vegan, gluten-free dessert!
Tools and Equipment You'll Need
Recipe Ingredients and Notes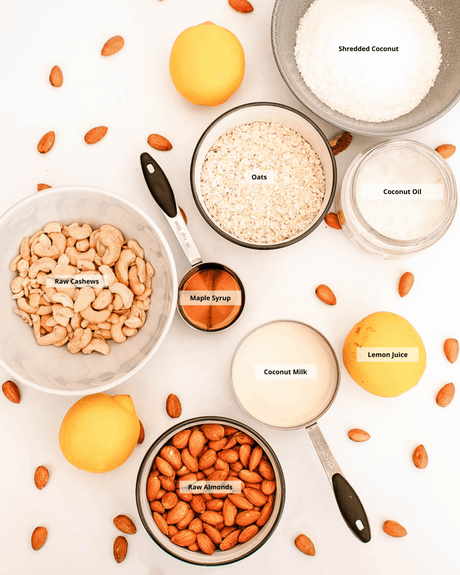 For the Crust: The crust for these tartlets is made by combining raw nuts, coconut flakes, oats, maple syrup, coconut oil, and water to create a paste that is easily moldable.
For the Lemon Curd: You'll need freshly squeezed lemon juice, coconut milk, and corn starch to form a thick custard like texture. Maple syrup is added for sweetness.
How to Make Lemon Tartlets - Step by Step
Step 1: Add almonds, cashews, coconut, oats and salt to a food processor. Pulse until its a rough flour consistency. While blending, slowly add coconut oil, maple syrup and water. A thick paste will form.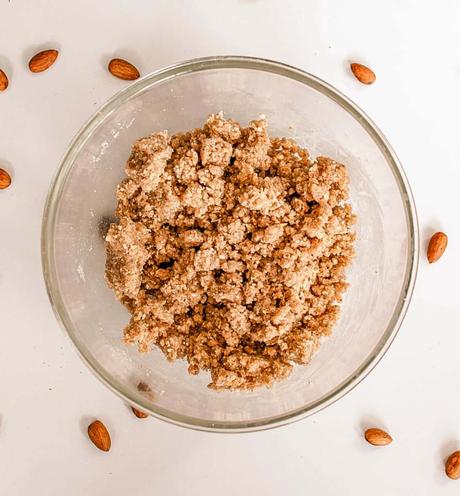 Step 2: Press the dough into silicone or regular (lightly greased) muffin molds, forming cup shapes with fingers. Bake at 350 F for 10-12 minutes or until golden brown. Leave to cool completely before removing from the molds.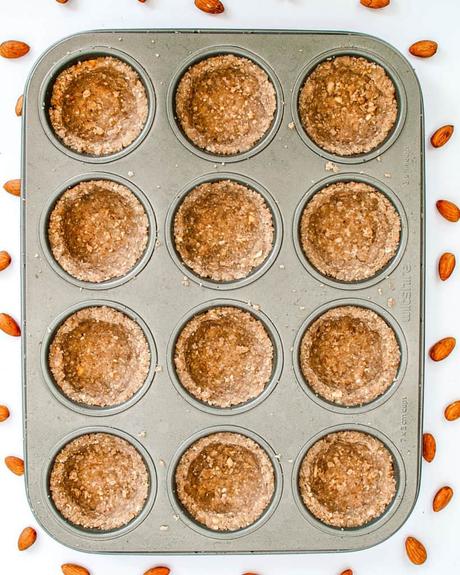 Step 3: Add all curd ingredients to a saucepan and whisk well. Bring to a simmer and let cook over low heat for 2-3 minutes or until thickened, whisking continuously.
Step 4: Let the curd mixture cool before transferring to the baked crusts. Transfer to the refrigerator and allow to set for at least one hour. Top with fresh berries of your choice!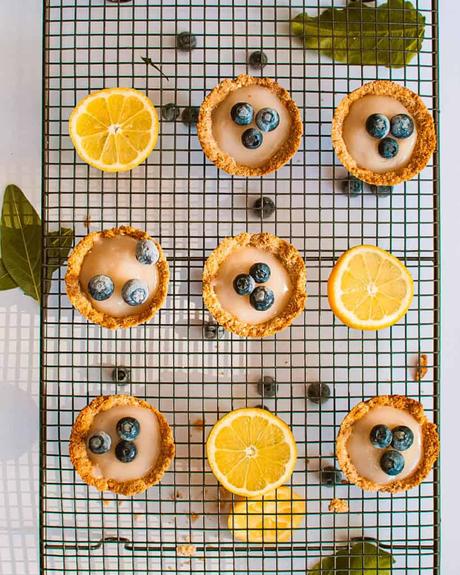 What Makes These Lemon Tartlets Healthy?
All Natural Ingredients: This dessert is made with all natural whole food ingredients. The crust consists of raw crushed nuts, and the custard is made with lemon juice and coconut milk. It's lightly sweetened with maple syrup, making this dessert refined sugar free.
Healthy Fats: Instead of using butter, and refined flours to create the crust, these tartlets use raw nuts and coconut oil to hold everything together. The fats in nuts consist of monounsaturated fat, omega-6 and omega-3 polyunsaturated fat.
Low in Sugar: One of these tartlets has only 8 grams of sugar. Most lemon tartlets run about 15-20 grams of sugar per serving!
Will Kids Enjoy These Lemon Tartlets?
Kids will love these lemon tartlets! They're not too tart, and lightly sweetened with maple syrup. Your kids will probably want more than one, but this is a dessert after all, so one will be plenty for little tummies!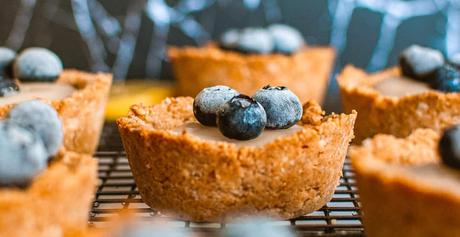 Recipe FAQS
Do these need to be refrigerated?
Yes, I recommend refrigerating these vegan lemon tartlets for at least an hour before serving to allow the curd to firm up. Allowing it to cool completely and chill will give the curd a nice thick and luscious texture.
How Do You Make Homemade Vegan Lemon Curd?
Vegan lemon curd is so easy to make at home! You just need 4 simple ingredients: full fat coconut milk, maple syrup, lemon juice and cornstarch.
To Make The Lemon Curd: Add all curd ingredients to a saucepan and whisk well. Bring to a simmer and let cook over low heat for 2-3 minutes or until thickened, whisking continuously. Let cool, and either add to baked crusts or transfer to an airtight container and place in the fridge. You can make this up to a day in advance before you make the tartlets.
How To Decorate Lemon Tartlets
There are many ways to serve and decorate these vegan lemon tartlets, but here are a few of my favorites:
1) Top with a dollop of vegan whipped cream
2) Top with fresh berries: I used blueberries, but any berry would work well!
3) Top with some lemon slices or candied lemon
How to Store and Keep
Store in the Fridge: After serving, transfer any leftover lemon tartlets to an airtight container, and store in the refrigerator. They will keep for 3-5 days.
Freeze: Another option with these vegan lemon tartlets is to freeze them! First be sure that you've allowed them to cool completely, and firm up in the refrigerator. Then, wrap each tartlet tightly in saran wrap to ward off any freezer burn. Then transfer all of them to another freezer safe container. They will keep in the freezer for up to one month.
Defrost: When ready to defrost, take as many as you like out of the freezer, and transfer to the refrigerator. Allow them to defrost in their saran wrapping overnight.
Top Tips for Making Lemon Tartlets
When pulsing the ingredients for the crust be sure to get it to a fine consistency before adding the wet ingredients.
Make sure your heat is low enough that the curd is simmering but not boiling.
Continuously whisk the curd ingredients over medium heat until it thickens. You do not want to walk away and have the curd come to a boil. It may take a bit longer for the curd to thicken. Be patient and continue to whisk.
Using silicone muffin molds makes it really easy for these tartlets to pop out to be served. If you don't have a silicone muffin mold, you can gently slide a toothpick between the edge of the crust and the pan to help you get it out.
Make sure the crusts are completely cool (and the curd is cool) before taking the crusts out of the pans and adding the curd to them.
To change things up, try using Meyer lemons which are slightly sweeter than regular lemons!
Feel free to adjust the amount of sugar in this recipe to suit your taste preferences!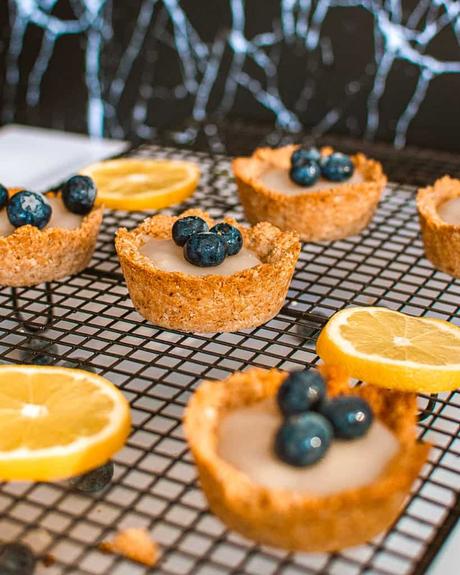 Check Out These Other Healthy Dessert Recipes!
If you have tried this Lemon Tartlets recipe or any other recipe on my blog, then please rate it and let me know how it turned out in the comments below! You can also FOLLOW ME on
FACEBOOK
,
TWITTER
, INSTAGRAM, and
PINTEREST
to see more delicious, healthy, family friendly food!
Lemon Tartlets