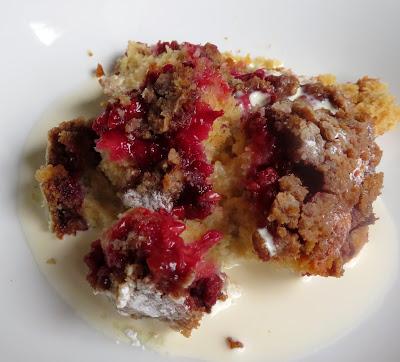 My favorite kinds of desserts are the old fashioned ones. Crisps, Cobblers, Buckles and Brown Betties. These are the kinds of desserts which have stood the test of time. There is nothing fancy about them and yet they are some of the most delicious desserts you can bake. Lemon Raspberry Buckle is a real favorite of mine.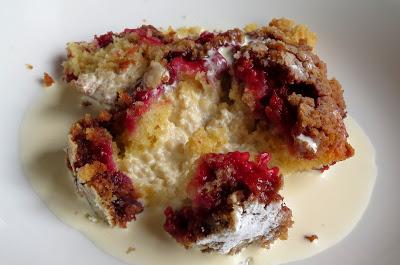 What is a Buckle you ask? Well in this case it is not a shoe or belt fastening, but a fabulously rustic cake type of dessert,  with a lemon batter studded with plenty of fruit and topped wih a crisp crumb topping.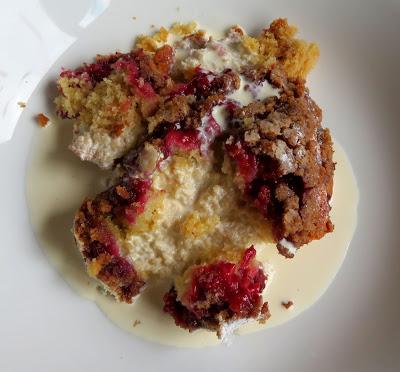 In this case the fruit is raspberries, but you can easily substitute chopped strawberries, blackberries, blueberries, any kind of berry for them if you wish.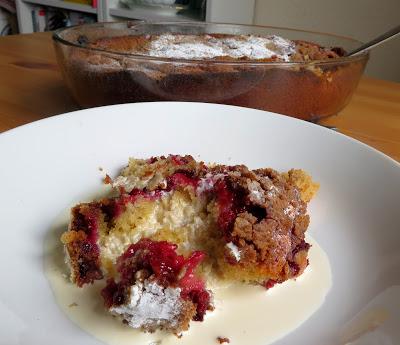 A Buckle is cakey and fruity both at the same time and incredibly moreish, especially when you top your serving of it with lashings of cold cream or ice cream  . . .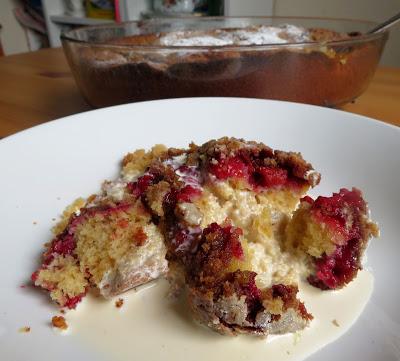 They are not the most beautiful dessert, no matter how you try to dress them up, but whatever they lack in beauty they more than make up for in taste!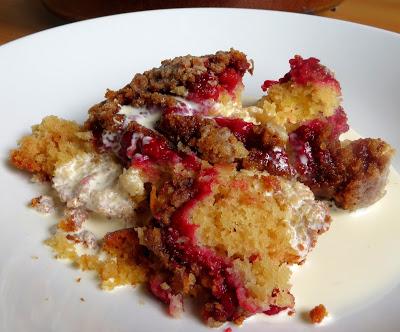 I have a memory to share here. When I was ten years old we found our family moving into new house. Our father was in the airforce. We had been living in an apartment atop my grandfather's house for about a  month or so waiting for our furniture to arrive.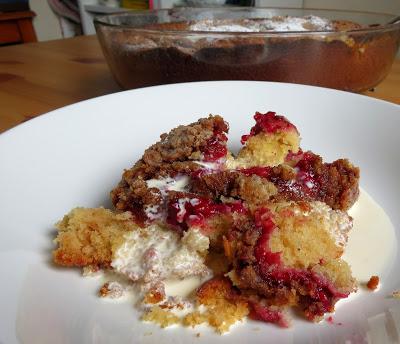 On the day of its arrival my father went to await for the truck with the instructions that as soon as it arrived he would come back for us.  My mother didn't feed us lunch, thinking my father would be back any minute.  We were starving.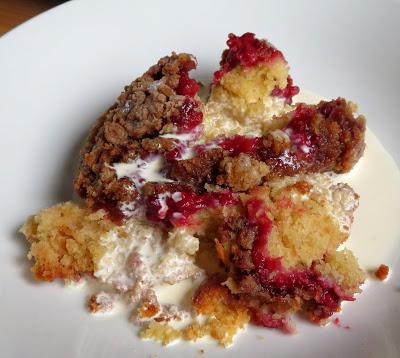 My sister and I found some raspberry bushes and we gorged ourselves on them.  (I am sure the owner of the bushes must have been quite annoyed.) My father finally did show up mid afternoon and we set off to the new house.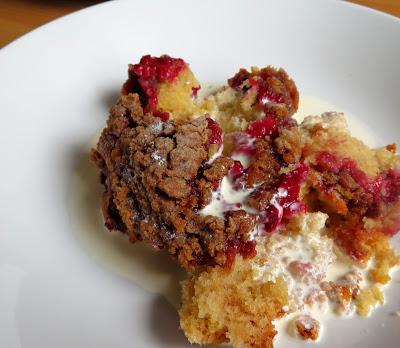 Have I ever mentioned that I get incredibly sick in the car?  And never more so than when I was a child.  I was sick, sick, sick  . . .  raspberries all over the carpet in the back of the car before my dad could get the car stopped and let me out.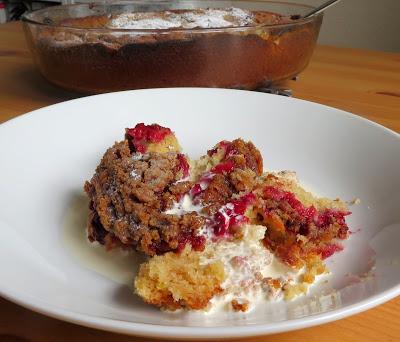 My mother was hoovering raspberry seeds from that carpeting for a very long time and it was years before I could look at a raspberry without feel queasy.  YEARS!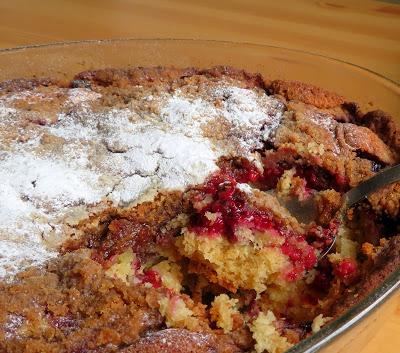 Happy to say that is no longer the case.  I adore raspberries now.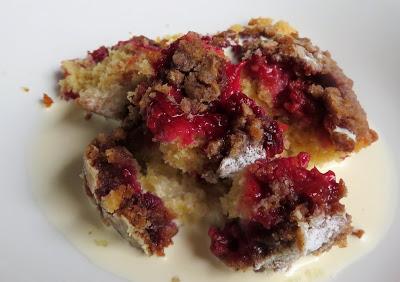 Today I used the last of our frozen ones from last year to make this buckle, in preparation for getting in a new year's crop.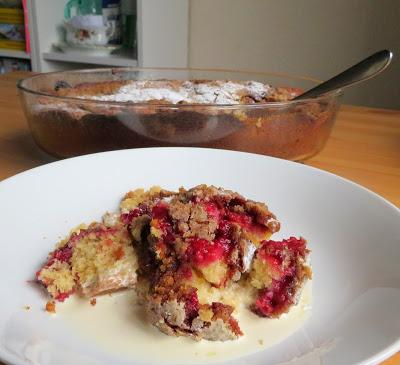 Too much for the two of us of course, so my next door neighbor was the happy recipient of at least half of it, if not more.  Have I ever told you how delicious something like this can be for breakfast?  Beats the heck out of oatmeal . . . .  
Lemon Raspberry Buckle
Print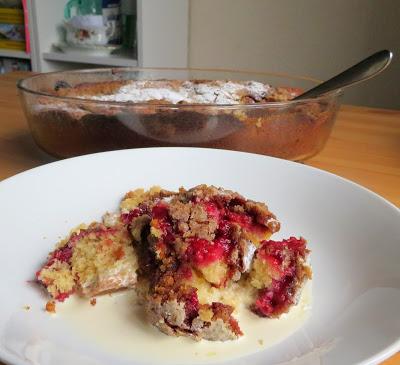 Yield: 10
Author:
Marie RaynerFruity and cakey at the same time. Serve warm with cream or ice cream. Delicious!
Ingredients:
For the topping:
100g soft light brown sugar (1/2 cup packed)
50g plain flour (1//3 cup)
1 tsp ground cinnamon
3 TBS cold salted butter, cut into small cubes
For the cake
8 TBS salted butter, sofened
145g granulated sugar (3/4 cup)
315g plain flour (2 1/4 cups)
1 1/2 tsp baking powder
1/2 tsp baking soda
1 1/2 tsp fine sea salt
240ml buttermilk (1 cup) (see note)
1 large free range egg, at room temperature
the finely grated zest of one lemon
2 1/2 cups of fresh or frozen (unthawed) raspberries
Instructions:
First  make the topping. Put all of the ingredients into a bowl and cut them together using a pastry blender or two knives. The mixture should look damp with no pieces larger than the size of a pea.  Chill until ready to use.
Preheat the oven to 180*C.350*F/gas mark 4.  Butter a 9 by 13-inch baking dish. Set aside.
Rub the sugar together with the lemon zest until really fragrant. Add the butter and cream together with an electric whisk until light and fluffy.  Sift together the flour, soda, baking powder and salt.  Whisk togeher the buttermilk and egg in a measuring cup.  Add one third of the flour mixture to the creamed mixture, mixing briefly. Add 1/2 of the egg/ buttermilk mixture.  Blend. Add another third of the flour mixure, and then the remaining egg/buttermilk mixture.  finish with the remaining third of the flour, stirring all together just until combined.
Spread into the buttered baking dish. Sprinkle the raspberries evenly over top and then sprinkle the chilled crumble topping over all.
Bake until golden brown and the sides are just beginning to pull away from the pan.  A toothpick inserted in the center should come out clean.  This will take 35 to 40 minutes.  Cool on a rack for about half an hour and then spoon into bowls and serve warm with  pouring cream, ice cream, custard sauce or clotted cream.
notes:
If you have no buttermilk, add 1 TBS of lemon juice or white wine vinegar to a measuring cup and add milk to the measure you need. Let stand ten minutes in order for the milk to clabber.
Did you make this recipe?
Tag @marierayner5530 on instagram and hashtag it #EnglishKitchenCreated using
The Recipes Generator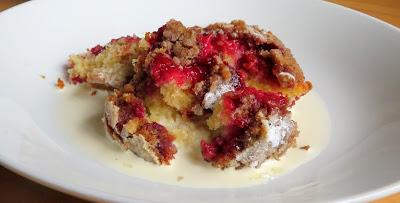 If you have never made a Buckle before, nows your chance!  Once you taste this version you will become a fruit Buckle Convert. You could seriously use any fruit in this . . . peaches, pears, apples, cherries, plums . . . or even a combination of fruits. The important thing being to make sure there is no more than 2 1/2 cups fruit. Chop the larger ones and stone fruits into 1/4 inch bits. Let your imagination run wild. Deliciously wild!   (Mmmm . . . peach and raspberry!)

Follow my blog with Bloglovin