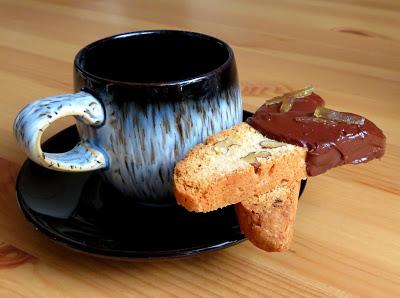 Lemon Ginger Biscotti.  If you love Biscotti, these fabulously flavoured Biscotti are destined to take place as one of your favorite versions!!  I confess, I have had a long-standing love affair with Biscotti since the 1980's!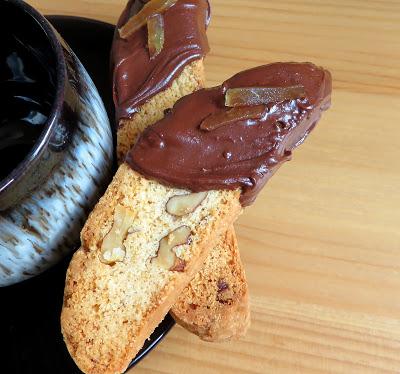 True Biscotti, or "Twice Baked" biscuits, in their very primitive and un-fettered state, are also known as Cantucci. Italian Almond biscuits, originating in Prato, Tuscany . . . they are twice baked, oblong shaped, and beautifully dry and crunchy. Meant for dipping in sweet wine or coffee.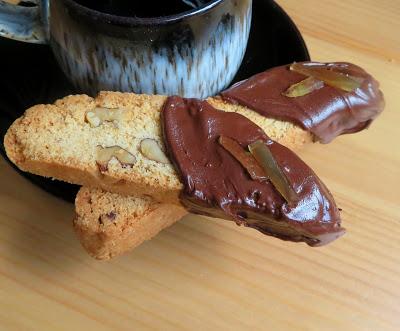 There are of course many versions now, in just about every flavor you can imagine . . .  each one as crisp and delicious as the next.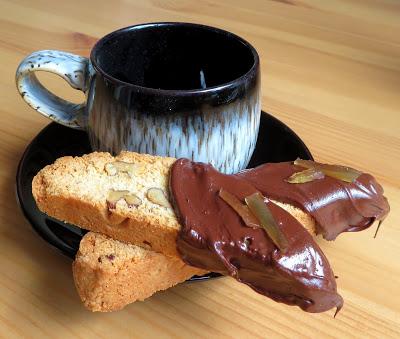 My first experience with Biscotti was in a coffee-shop on the ground floor of my ex SIL's luxury apartment on Young Street in downtown Toronto.  She had given it to my husband and I to use for the weekend. Oh, but didn't we feel special staying overnight in an apartment that overlooked Lake Ontario and which boasted a swimming pool and personal gym.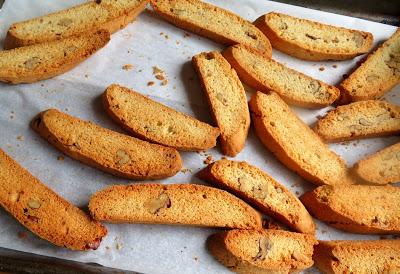 Not that we used either thing.  I was far too afraid of breaking anything or putting a foot wrong. There were incredibly famous people living in that building and we were country yokels from hicksville!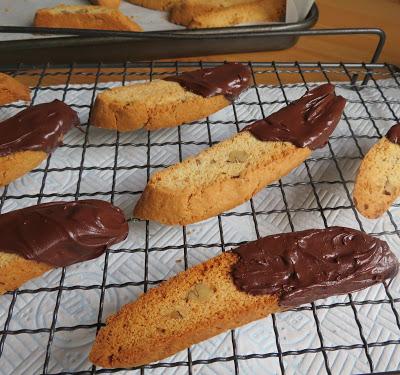 We did, however, decide to enjoy a coffee in the coffee shop the next morning and I spied these things called biscotti standing in jars next to the cash register. The cost of each was more than our usual Egg McMuffin from our local Golden Arches, but such was the longing on my face to try something new that my ex bought me one to enjoy with my coffee.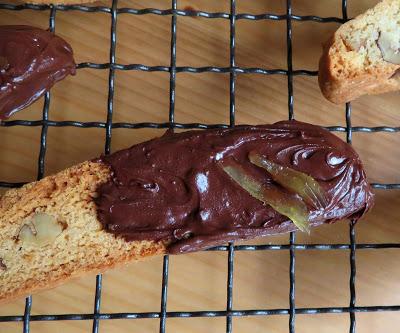 Love at first bite. It was a very simple Almond one, very traditional.  I have loved them ever since.  Of course back then I had no idea that you could make them very simply in the comfort of your own home and enjoy them every time you wanted to.  Progress . . .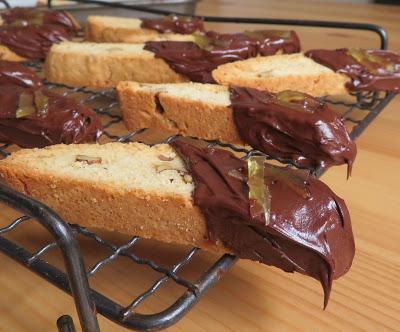 These beautiful crisp biscotti are flavoured with plenty of lemon beginning with rubbing lemon zest and sugar together to release the natural oils of the lemon zest. (A trick I learnt from Dorie Greenspan.)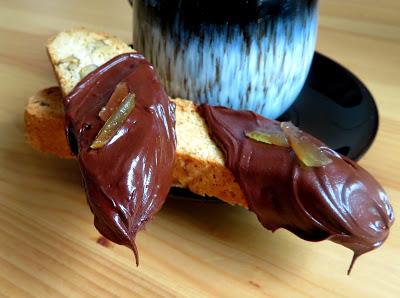 More lemon flavor comes from the use of Lemon Extract, as well as vanilla. Vanilla and lemon are perfect partners . . .  but . . . . add ginger to the mix, and you have a true marriage made in heaven!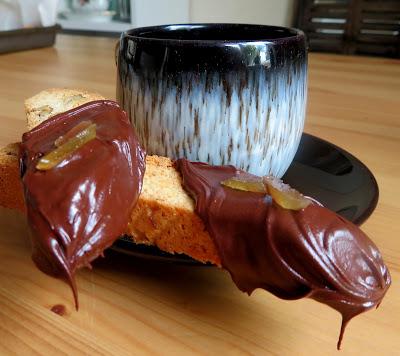 There is plenty of lemon zip from the use of chopped candied ginger in the cookies themselves as well as powdered ginger.  Add to that the nutty moreish crunch of toasted walnuts . . .  and yes, do toast your nuts before baking.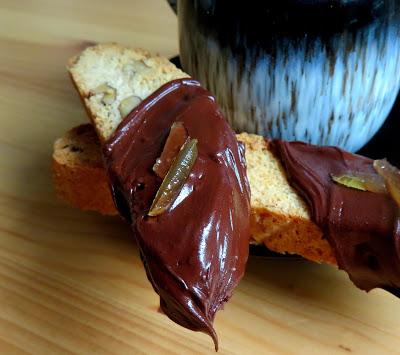 I always toast my nuts before baking with them.  This simple singular step enhances the nuttiness of any nuts in your baked goods. Unbelievable that such a small act would make such a big difference, but trust me on this. Not necessary, but once you have tasted the difference, you will always be toasting your nuts first. Trust me on this.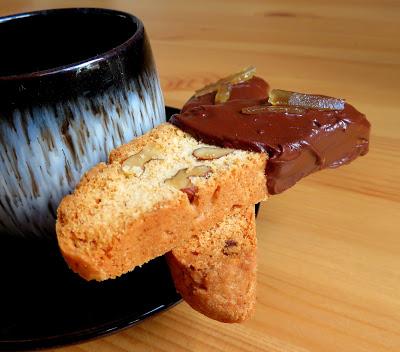 The original recipe comes from a little book I have entitled "The 50 Best Biscotti Recipes," by Barbara Karoff.  Its not an expensive book and is filled with many gems worth baking. If you love Biscotti, you need this book. Its been around since 1995.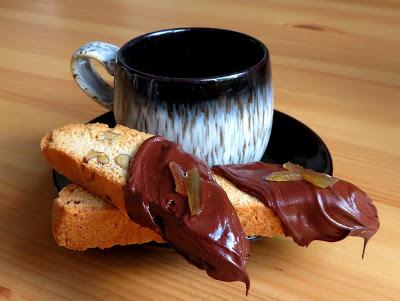 The melted semi-sweet chocolate dip and tinly accent of a thin sliver of perserved ginger are my own idea and finished these beautiful biscotti off beautifully.
Lemon Ginger Biscotti
Print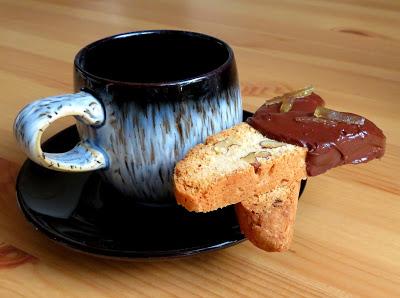 Yield:
24
Author:
Marie Rayner
prep time: 10 M
cook time: 35 M
total time: 45 M
Crisp and moreish with plenty of lemon and ginger spark!
Ingredients:
95g sugar (1/2 cup)
60g butter, softened (1/4 cup)
1 tsp vanilla extract
1 tsp lemon extract
1 tsp finely grated lemon zest
1 large free range egg
125g chopped candied ginger (1/2 cup)
115g chopped toasted walnuts ( 1 cup)
210g plain flour (1 1/2 cups)
3/4 tsp baking powder
1/2 tsp ground ginger
Optional finish:
Melted semi-sweet chocolate
finely slivered pieces of preserved ginger
Instructions:
Preheat the oven to 180*C/350*F/ gas mark 4.  Line several baking sheets with  baking paper.  Set aside.
Rub the sugar together with the lemon zest until very fragrant. Cream together with the butter. Stir in the lemon and vanilla extracts and then the egg. Stir in the crystallized ginger and nuts. Sift ogether the flour, baking powder and ginger.  Add to the creamed mixture mixig all well together.  Divide in half and shape into two logs about 1 inch in diameter and 8 inches long. Place onto one baking sheet. Leave plenty of space between and flatten slightly unil it is 2 inches wide.
Bake in the preheated oven for 15 to 20 minutes until golden brown and firm.  Remove to a rack to cool for about 5 minutes.  Cut into diagonal slices, 3/4 inch thick.
Place onto both baking sheets, cut sides down,  leaving plenty of space between each biscotti.  Return to the oven and bake for a further 10 to 15 minutes, until golden brown and crisp. Cool completely on a rack.
If desired dip one side in chocolate and lay a thin sliver of preserved ginger on top.
Did you make this recipe?
Tag @marierayner5530 on instagram and hashtag it #EnglishKitchenCreated using
The Recipes Generator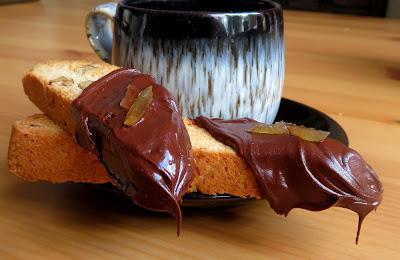 Aside from the gorgeous moreish crunch of biscotti, another thing  which I love about Biscotti is that they are so simple to  make and bake.  Two logs, bake, slice and bake again until crisp . . .  couldn't be simpler or tastier.

Follow my blog with Bloglovin