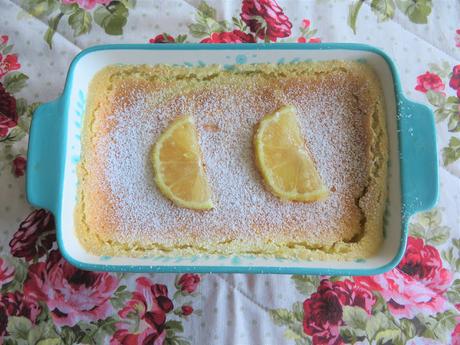 Lemon Delicious.  This is one of my favorite desserts.  You may also know it as Lemon Pudding Cake. Lemon Puddle Cake, etc.
A rose by any other name and all that!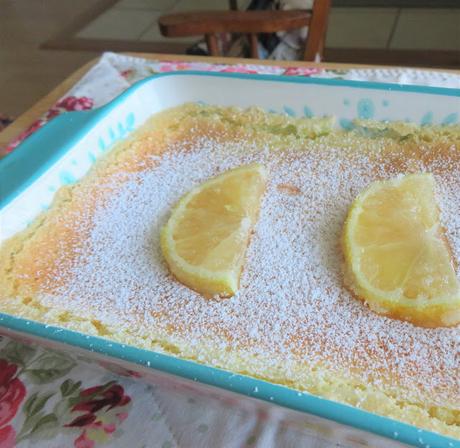 What it is is a magical dessert where the batter splits into two discernable elements, with a delicious light and airy cake on the top and a rich indulgent lemon curd pudding on the bottom.
It is basically a very simple dessert which uses simple every day ingredients in a most delicious way to create something ethereal and wonderfully whimsically magic.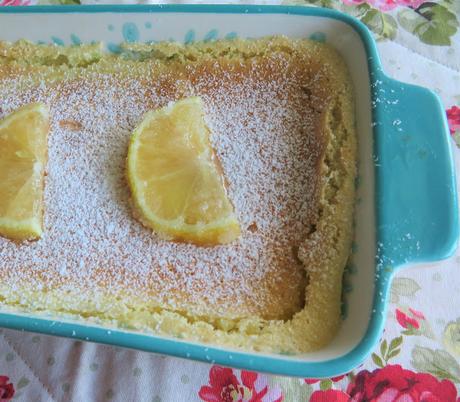 There is nothing out of the ordinary or unusual in it ingredient wise.  Nothing magical.  Just simple things. 
A lemon, butter, flour, milk, sugar, cornstarch.  That's all. Simple.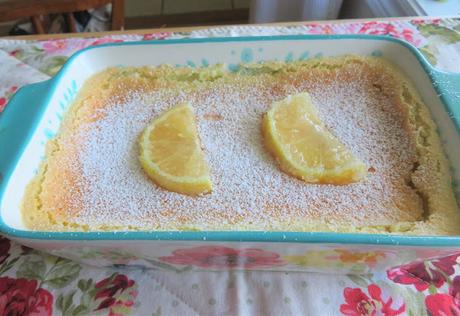 You may even think that if you are a singleton or a couple/smaller family, that this dessert is out of your reach unless you are having company.
You are wrong, if that is what you are thinking.  Totally and completely and utterly wrong.  Prepare to indulge yourself to the nth degree!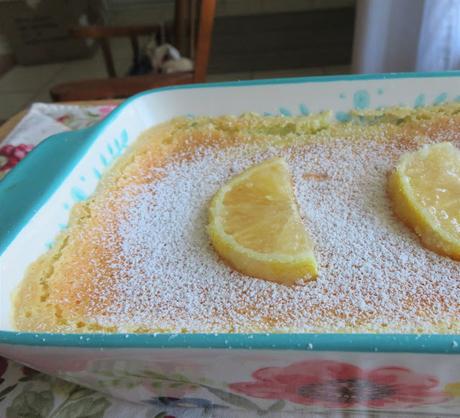 The version of that simple dessert I am sharing with you today is perfectly sized for just two people, or one with leftovers. (And who wouldn't love these leftovers!)
Small in size, yes, but not lacking any of the largesse when it comes to flavor of the larger original sized dessert.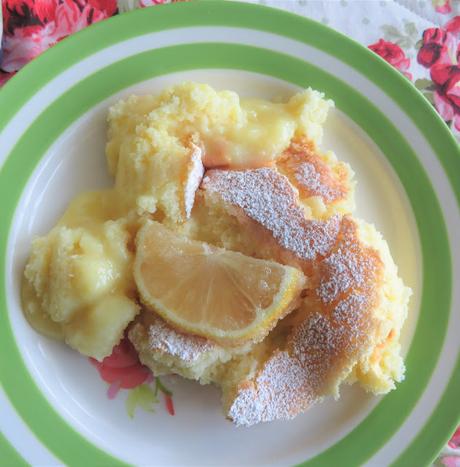 That magical cake topping is perfectly light and airy, beautifully lemony.
A wonderful sponge as light as an angel's wings . . . a delicious angel. A lemony angel.  A wickedly delicious angel . . . but that's not all . . .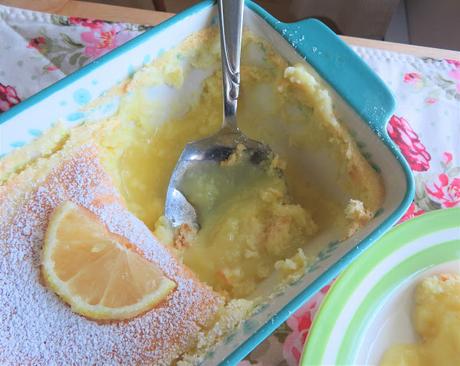 You have that same beautifully, delicious, rich and lush lemon curd filling on the bottom.  Oh my so yummy.
Indulgent and lemony. Not too sweet. Just tart enough.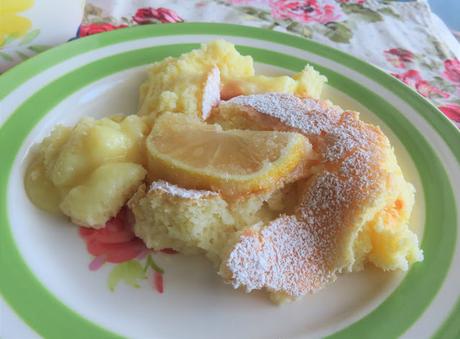 It goes together quickly and easily.  The most difficult part is waiting for it to cool down when it comes out of the oven.
But trust me when I tell you it will be more than worth the wait.  You may think that it is something which you couldn't possibly make, but let me assure you it is incredibly easy to make.  Just follow my handy tips.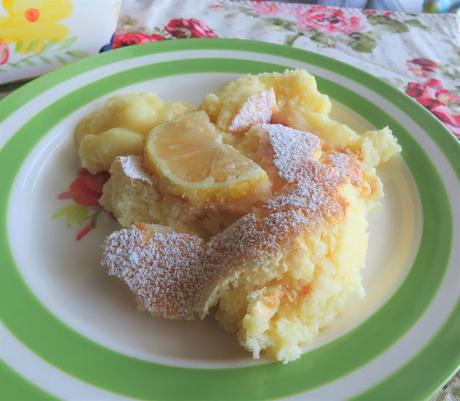 First you will need to create a water-bath to bake the pudding in. This is nothing fancy, just a baking tin large enough and deep enough to accommodate your pudding dish with a bit of space surrounding it.
I used a small casserole dish for my pudding, approximately 7 1/4 by 5 1/4 inches in size.  I set the pudding into my 9 by 13 inch cake tin.  You then just carefully pour in boiling water to the depth of half the height of your pudding dish.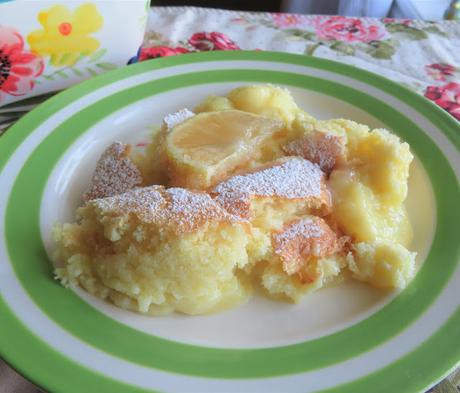 Just be very careful not to get any of the boiling water into the pudding itself (pour it in from the side of the cake tin) and careful not to splash any of the boiling water onto yourself as you put the whole thing into the oven.
I use oven mitts to transfer the pans and pop them onto the top rack, set in the middle part of my oven.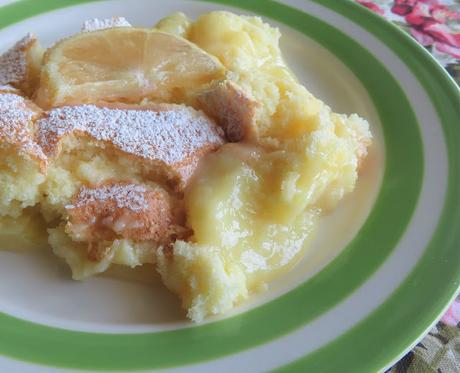 Another thing you will want to do is to ensure that the bowl you beat your eggs whites in is scrupulously clean. You don't want to be using a plastic boil with any film of fat or oil in it from past baking/desserts.
I always use a glass bowl for beating my egg whites. ALWAYS!!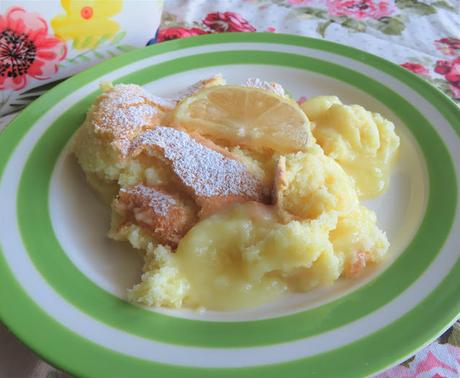 Whisk or sift the flour and corn starch for the cake together. I know they are only small amounts, but you still want everything evenly distributed. 
Its a simple thing really. Just measure them into a small bowl and whisk together with a small wire whisk or even a spoon if that is all you have. You want them evenly combined.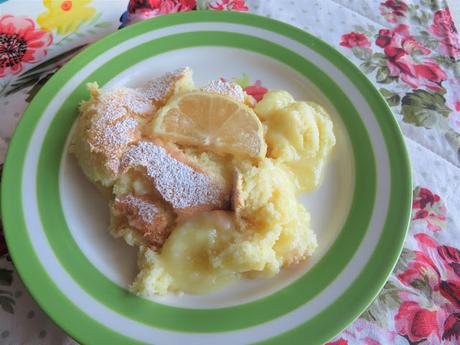 Have all of your ingredients at room temperature for the best results.  Very easily done. The amounts are so small, you can just measure them out and walk away for half an hour before beginning to actually make the cake.
This is for a few reasons.  Room temperature egg whites give much more volume when beaten.  Also if you make sure all of your ingredients are the same temperature, you can be assured of a much better result or finish.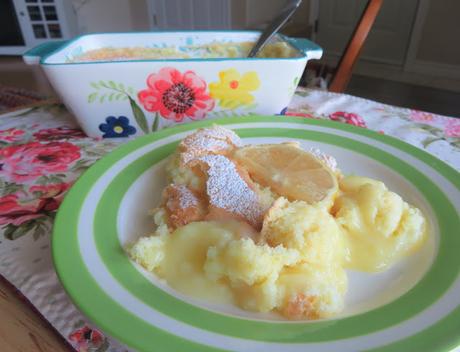 Don't panic if your mixture splits after you add the milk and the lemon juice.  This is completely normal! 
You will still end up with a perfect pudding. Trust me on this.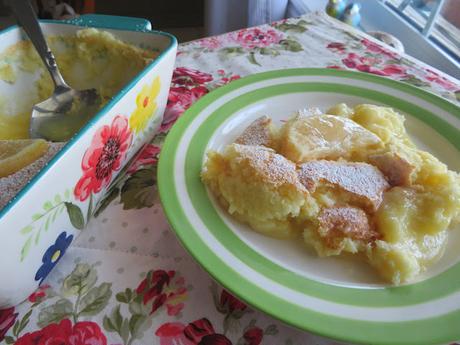 Size doesn't matter all that much, just so long as your dish holds three cups.  My baking dish is a bit on the deep side, but you could use one that is shallower with a larger surface.
The larger dish will cook quicker, that's all.  And the pudding won't be as deep. I find that the size I used for this today is the perfect size. You could even use a small loaf tin.  Just make sure you butter it well so that the pudding doesn't stick to it too much.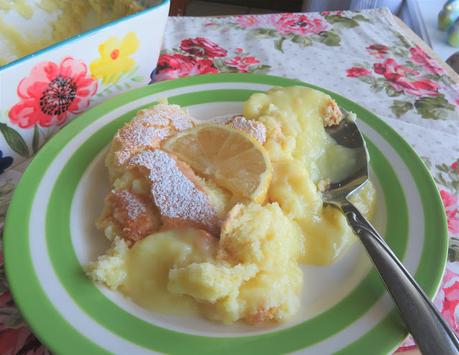 Above all have fun. Enjoy the experience of making this and enjoy the experience of eating this!!
Maybe you are lucky enough to have a grandchild stay over night.  This would serve three alright, because the servings for two people are very generous. I have to say.
You may want to serve it with some pouring cream or some whipped cream on top and that would be really delicious.  Enjoy!  Enjoy! Enjoy!
Also if you are more than two and wanting to cook a larger version, you can access my full sized version here.  Its tasty tasty too! 
It serves four to six depending on how greedy you are! No judgment here.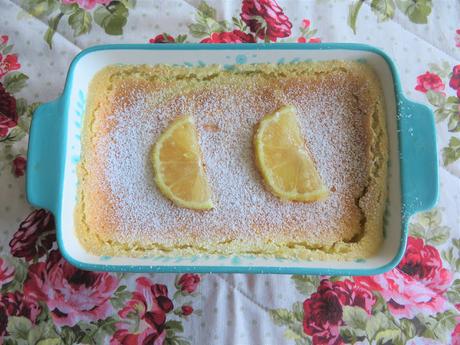 Lemon Delicious for two
Yield:
2
Author:
Marie Rayner
Prep time: 15 Min
Cook time: 1 Hour
inactive time: 30 Min
Total time: 1 H & 45 M
Somewhere between a cake and a custard, this simple dessert separates into two delicious layers when it bakes. Soft, light and airy lemon cake on top. Lush, creamy lemon pudding on the bottom. Perfectly sized for two people.
Ingredients
2 large free-range eggs, at room temperature (yolks and white separated)
1/2 cup (95g) finely granulated sugar 
4 tsp plain all-purpose flour
1/2 tsp cornstarch (corn flour)
2 TBS butter, at room temperature
2 tsp finely grated lemon zest
1/4 cup (60ml) fresh lemon juice
1/2 cup (120ml) full fat milk, at room temperature
Instructions
Preheat your oven to 325*F/160*C/ gas mark 3. Have ready a well buttered 7 1/4 inch by 5 1/4 inch baking dish. (should hold 3 cups).  Also a 9 by 13 inch cake tin, large enough to hold the baking dish with some space around it.
Using a hand held electric mixer beat the egg whites until foamy on medium low speed. Increase the speed to high and begin adding 6 tablespoons of the sugar, one at a time.  Beat until the mixture doubles in size and has stiff glossy peaks. Set aside.
Beat the butter, lemon zest and sugar together until light and fluffy.  Beat in the egg yolks, one at a time. Scrape the sides of the bowl periodically.
Sift together the flour and cornstarch.  With the beaters on low, slowly add the flour mixture until combined. Add the milk and lemon juice.
Stir in 1/3 of the beaten egg whites, using a rubber spatula.  Fold in the remaining egg whites until no white streaks remain.  Scrape this batter into the prepared baking dish, smoothing over the top.
Place a folded clean dish rag in the bottom of the larger baking tin. Place the dish with the pudding in it on top.  Carefully pour boiling water into the larger dish around the smaller dish to come halfway up the sides.
Bake in the preheated oven for about an hour. When done it should be golden brown and set with a slight jiggle in the middle.
Remove from oven and carefully transfer the baking dish to a wire rack to cook for half an hour prior to serving. Delicious warm or at room temperature.
Did you make this recipe?
Tag @marierayner5530 on instagram and hashtag it #TheEnglishKitchen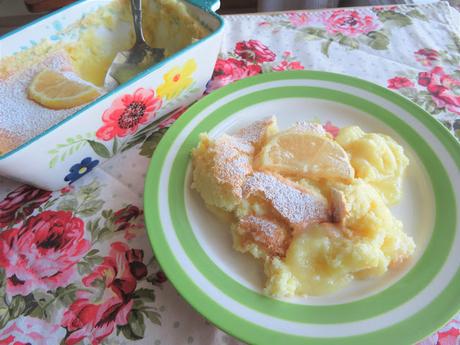 This content (written and photography) is the sole property of The English Kitchen. Any reposting or misuse is not permitted. If you are reading this elsewhere, please know that it is stolen content and you may report it to me at: mariealicejoan at aol dot com 
Follow me on Bloglovin