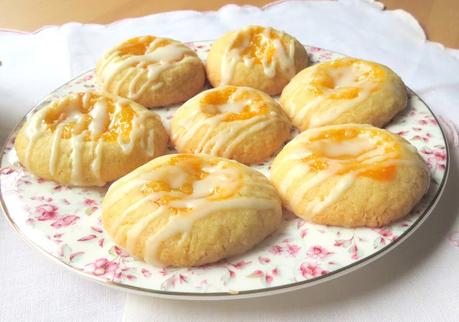 Lemon Curd Cookies.  There lush and buttery shortbread cookies are flavoured through and through with lemon from the inside out. Crispy edged and dimpled with lemon curd centres, they are real lemon winners! 
These delicious lemon cookies are the lemon lover's ultimate dream!  If you love lemon as much as I do, you are sure to love these!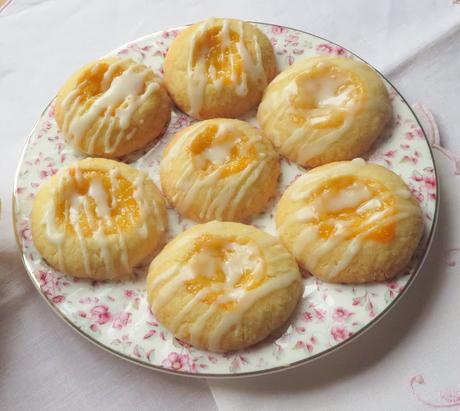 This is citrus season right now.  The perfect time of year to be cooking with and baking with citrus fruits. Lemons, limes, oranges, etc.  If I was in my own place right now I would be making marmalade.
Once you have tasted orange marmalade made from scratch you won't quite ever settle for anything else. Its quite labor intensive, but worth all of the effort.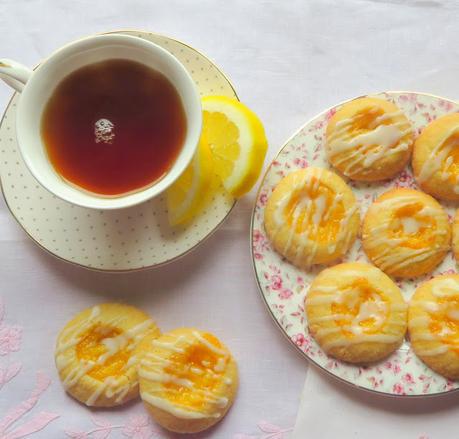 This is also the time of year to be making your own from scratch Lemon Curd!  I love lemon curd. You can
find my easy recipe here
. Homemade Lemon Curd is the best.  I could eat it with a spoon.
Its fabulous on toast, or crumpets. Or crackers. Scones.  In between vanilla cake layers and yes, it is perfect in these delicious shortbread cookies!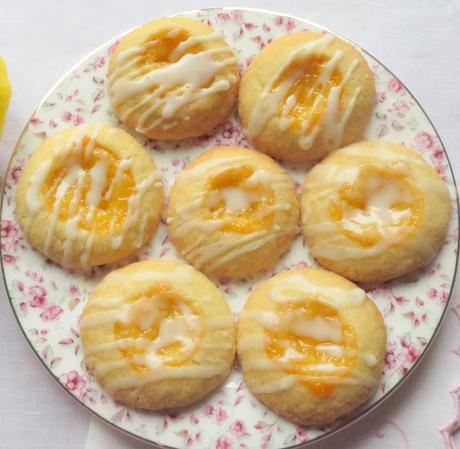 You can of course use any good store ready prepared lemon curd as well, obviously. They will still be very delicious.  I was just thinking since this was citrus season there was no time like the present to make your own curd. 
Shortbread cookies. Of all the cookies in the world, next to chocolate chip cookies, shortbread cookies are my absolute favorite kind of cookie.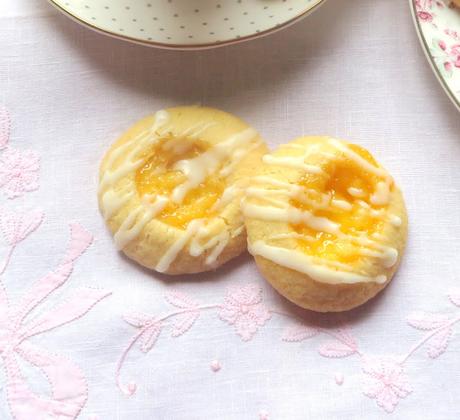 A good shortbread cookie should be nice and buttery of course, but never greasy. They should be crisp edged and they should melt in the mouth.  These are all that and so much more.
These are lemon flavoured shortbread cookies.  There is lemon juice and finely grated lemon zest right in the dough itself, giving you a double blast of lemony tastiness.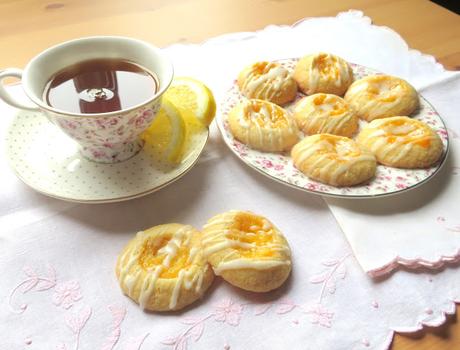 Then of course there is that little dimple of lemon curd which gets baked right into the center. You may be tempted to add more than 1/2 a teaspoon of the curd, but don't. 
1/2 teaspoon is the perfect amount of lemon curd. Any more than that and it will overflow the dimples and burn on the baking sheet.  What a waste of deliciousness.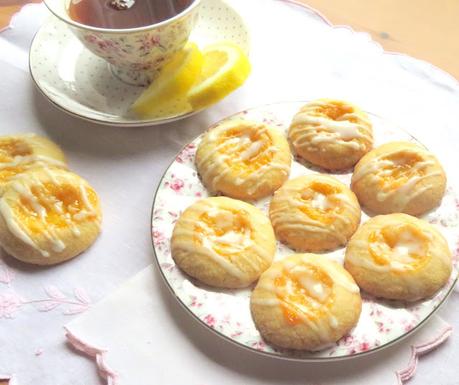 So now you have a "hat trick" of lemony tastiness, but the lemon favour doesn't end there.  The finishing touch of lemony goodness is that drizzle icing on top.
And such a simple touch to add. Just lemon juice and icing sugar whisked together until you have a smooth drizzle icing.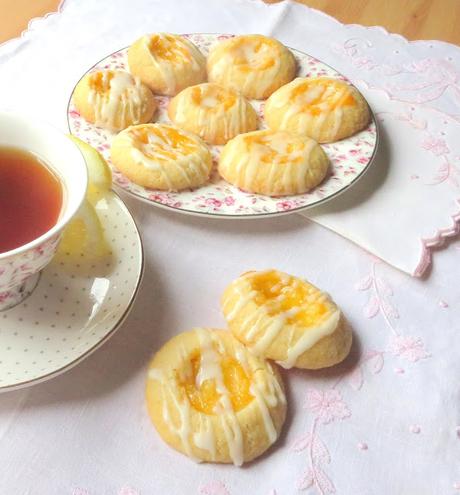 Flicked over top it is the perfect finish for the perfect cookie.  Just look at how pretty they are and how lemony delicious they look. 
Sinking your teeth into one of these is sinking your teeth into lemony bliss. OH MY GOODNESS!  Let me repeat. OH MY GOODNESS!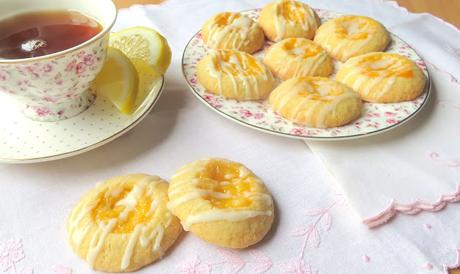 Sorry for shouting but these lemon curd cookies are so dang good you just want to shout it to the rafters and beyond. There is no way you want anyone you care about to miss out on one of these, or maybe  . . . 
There is a risk that the inner glutton will take over and you won't want to share.  Either way these cookies are worth shouting about!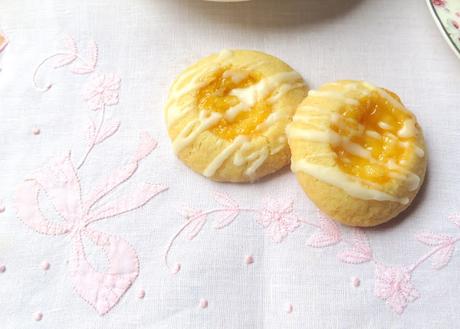 These are pretty enough and delicious enough to serve at a ladies' Tea party. So dainty and pretty.  With your best linens and tea cups. Not that many of us are having tea parties with our friends at the moment, but we can live in hope, surely! 
I believe that one day we will be able to meet again and what a celebration that will be.  We can raise our tea cups together in salutations to each other, pinkies uplifted like the mucky mucks do in them fancy places.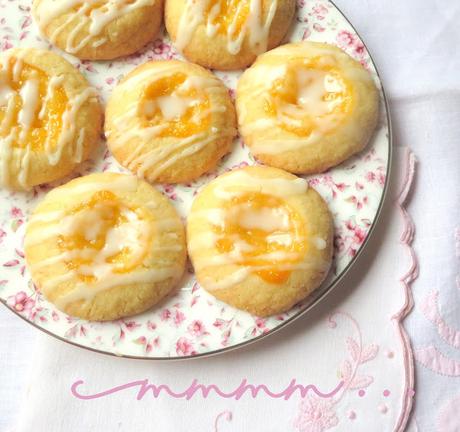 Seriously tasty.  Will that be one lump or two in your tea?  Sugar lumps that is. I have always wanted to make my own fancy sugar cubes, pressed into flower shaped molds.  Perfect tea party additions.
Do you like lemon in your tea?  I do.  I don't drink black tea but I do love herbal infusions.  I especially like the fruity ones, with lemon ginger being a real favorite of  mine.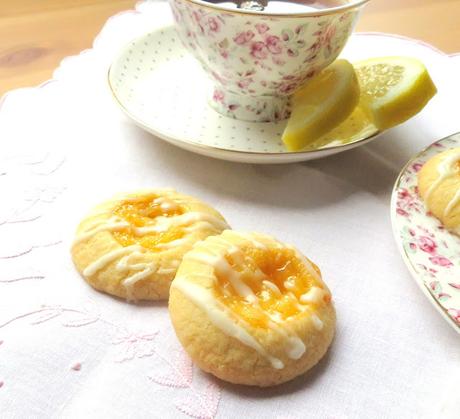 Surely dainty little morsels like these are deserving of your best linens and china.  I am trying to remember if I packed my Katie Alice plates and cups in my boxes I was able to bring. I surely hope so, but I cannot be for certain.
I don't think I was exactly thinking straight. I only had three days to get myself out of Dodge.  Not near enough time to really plan properly.  When I finally get to the point I can open my boxes I may be really surprised at what I did choose to pack.  I dread to think about it really.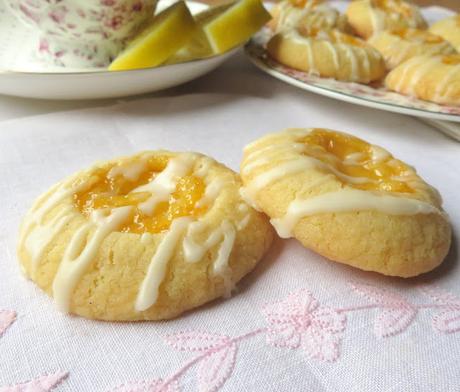 I do so love pretty linens and pretty tea things. I am a girly kind of a girl. I just like pretty things and I love, LOVE these cookies!  You will too! 
I can almost guarantee it!  Well, why not bake them for yourself and see what lemon deliciousness is all about!  I
double
triple dog dare you!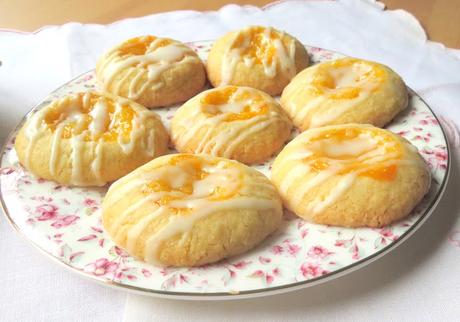 Lemon Curd Cookies
Yield:
makes 42 cookies
Author:
Marie Rayner
prep time: 1 H & 10 M
cook time: 15 Min
inactive time: 5 Min
total time: 1 H & 30 M
Crisp, short buttery shortbread cookies, infused with lemon zest, filled with lush lemon curd filling and a lemon drizzle glaze. Seriously moreish!
Ingredients
For the cookies:
1 cup (240g) butter, at room temperature
2/3 cup (130g) granulated sugar
1/2 tsp vanilla extract
the juice of 1/2 fresh lemon
the finely grated zest of one lemon
pinch salt
2 cups + 2 TBS (280g +2 TBS) plain all purpose flour
lemon curd to fill
For the glaze:
1 cup (130g) icing sugar, sifted
the juice of 1/2 lemon
Instructions
Cream the butter, sugar, vanilla, salt, lemon juice and zest together in a bowl until creamy with an electric whisk, scraping down the sides of the bowl periodically. Add the flour in 3 parts until well combined. Cover and chill for 1 hour in the refrigerator.
Preheat the oven to 180*C/350*F/ gas mark 4. Line several baking trays with baking paper.
Shape the chilled dough into 1 inch balls. Place 2 inches apart on the baking sheets. Make an indention in the center of each, using the end of a wooden spoon. Don't try to push it in too deeply, only about halfway down. I rotate it a tiny bit to make the hole about 1/3 inch in diameter. Fill each hole with heaped 1/4 tsp of lemon curd.
Bake in the preheated oven for 15 minutes, until puffed and the edges are golden brown. Leave to rest on the trays for a few minutes before removing to a wire rack to finish cooling.
Whisk the icing sugar and lemon juice for the drizzle icing together until you have a smooth and drizzleable mixture. Flick over the cooled cookies and allow to set. Store any leftovers in an airtight container.
Did you make this recipe?
Tag @marierayner5530 on instagram and hashtag it #EnglishKitchenCreated using
The Recipes Generator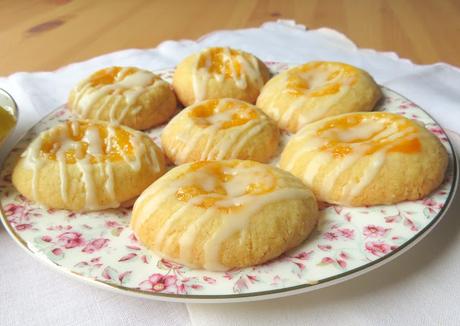 This content (written and photography) is the sole property of The English Kitchen. Any reposting or misuse is not permitted. If you are reading this elsewhere, please know that it is stolen content and you may report it to me at: mariealicejoan at aol dot com Thanks so much for visiting. Do come again!