These Lemon Cream Pie Bites may be tiny, but they're bursting with bright lemon flavor. Lemon curd and whipped cream are the stars of these bite-sized pies – no baking required!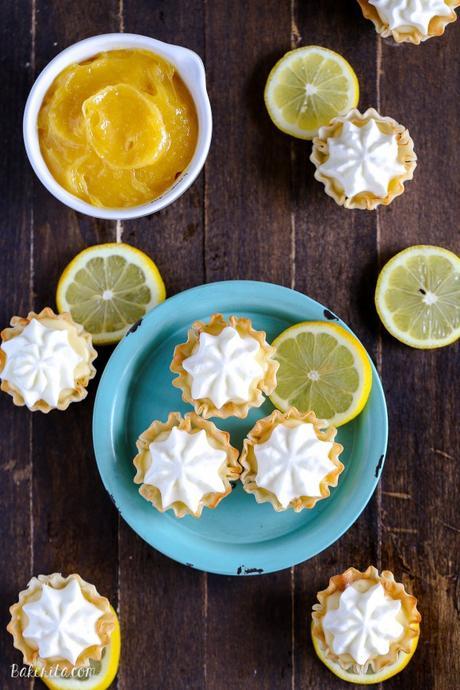 We've having a big celebration today! What's the occasion, you ask? Well, three of my best blogging friends are having babies, and if that's not worth celebrating with a big blog bash full of bite sized desserts and appetizers, I don't know what is.
I could go on and on about how much it means to have great blogging friends when you're a blogger, and I'm sure every blogger reading this is nodding their head in agreement. Blogging is a solo activity, but when you have like-minded bloggers to chat with, they become your coworkers.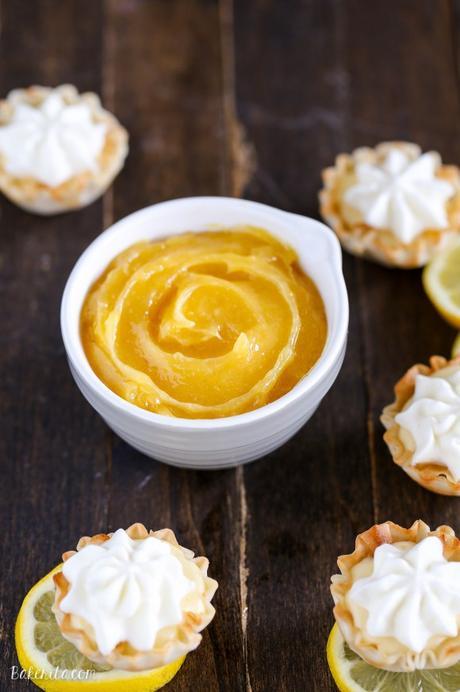 A few years ago, one of my blogger friends started a Facebook group with some food bloggers to be a space for us to ask each other questions and chat about blogging. Now? These girls are my blogging lifeline! We share in each other's successes, pick each other up during a hard day or rough patch, and spend hours laughing and discussing the ridiculous meals that food bloggers actually eat. I don't know what I'd do without these women in my blogging life!
So, when Natalie from Tastes Lovely announced she was having a baby boy, and then Jessica from Flying on Jess Fuel AND Isadora from She Likes Food followed suit with pregnancy announcements, a triple baby shower was definitely in order! Although, we are a little late for Nat – her baby boy Josh was born early, and he's three months old now! He's also the cutest darn thing ever – if you want to get teary eyed, you can read his birth story here.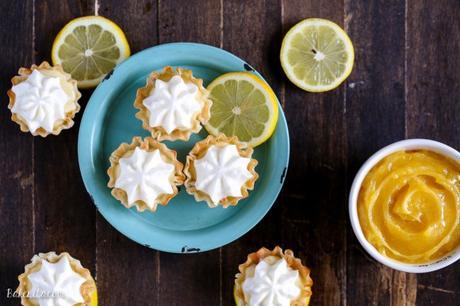 Natalie, Isadora, and Jessica – I know you will all be the best mommas that a child could ask for! Your little ones are going to be some lucky kids, and especially well-fed. Jess & Izzy, I can't wait to see tons of pictures of your babies as soon as they join your families.
For the big baby shower, we decided to keep it bite sized! I'm usually not huge on lemon desserts, but for some reason, lemon was calling to me as I brainstormed for a bite sized recipe. Usually what deters me from lemon desserts is that they're too sweet – I want to taste the tartness of the lemon!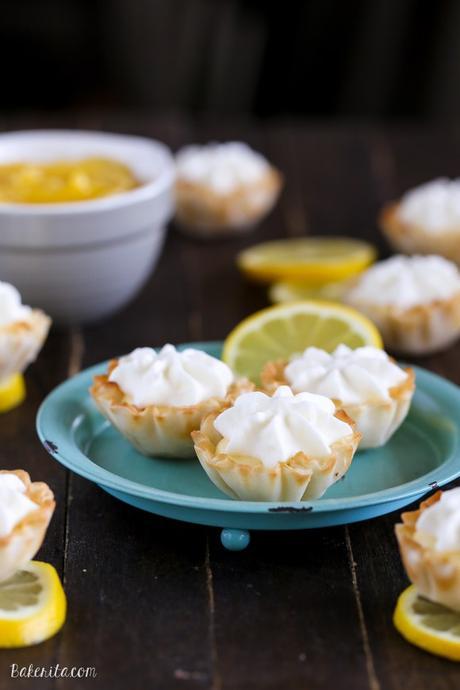 To achieve keeping that tart flavor, I made my own lemon curd. This lemon curd is sweet, but definitely keeps that strong, tart lemon flavor. Of course, if you want to make this an easy peasy 4 ingredient recipe, buy a jar of curd from the store and call it done – no judgment from me!
When it comes to putting these tarts together, it's pretty much as easy as making some whipped cream. The recipe is super simple, but one big recommendation is to assemble these pretty close to the time you're serving them. Otherwise, the phyllo shells have a tendency to get unpleasantly soft and bready.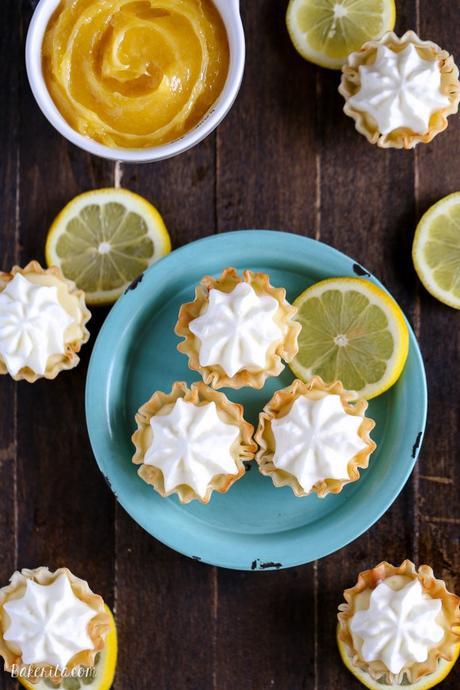 When you bite into one, you get that crispy shell with a burst of super lemony cream, which is cut by the lightly sweetened whipped cream. These little guys are not too sweet, not too tart, and the perfect size to devour in a bite or two. These are great party food, and I wish we were having a for-real baby shower so I could share these and eat all the other goodies that were made! For links to all the irresistible bite sized goodies made for the baby shower, scroll below the recipe. Enjoy!
Remember to #bakerita if you try the recipe!
Lemon Cream Pie Bites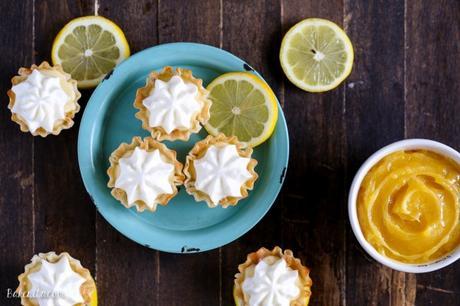 Save
Print
Prep time 40 mins Cook time 15 mins Total time 55 mins   Author:
Rachel Conners
Serves:
15 bites
Ingredients For the lemon curd
5 tablespoons unsalted butter, softened
¾ cup granulated sugar
1 tablespoon lemon zest
5 egg yolks
¾ cup fresh lemon juice
To assemble
15 phyllo shells
½ cup lemon curd
¾ cup heavy whipping cream
2 tablespoons powdered sugar
Directions For the lemon curd
In a mixing bowl, beat together the butter, granulated sugar, and lemon zest until light and fluffy. Add the egg yolks one at a time until completely combined. Mix in the lemon juice and lemon zest - the mixture may look curdled, but don't worry, it will smooth out on the stove.
Transfer the mixture to a medium heavy-bottomed saucepan and cook over low heat, whisking constantly, until it is thick enough to coat the back of a wooden spoon, about 10-15 minutes. Do not let the mixture boil. It will register about 170ºF on a thermometer when it's done. If desired, you can strain out the lemon zest now in a fine mesh strainer for a completely smooth curd. I always prefer to do this.
Pour into a glass jar or container to cool. Press a piece of plastic wrap directly on top of the curd to prevent it from forming a skin as it cools and place in the refrigerator. Store in the refrigerator for up to 1 week. This makes about 1 cup of lemon curd.
For the mini lemon cream pies
Prepare a piping bag fitted with a star tip to pipe the whipped cream. You can also use a Ziplock bag, or just spoon on the whipped cream.
In a chilled metal mixing bowl, whip the heavy whipping cream and powdered sugar until medium-stiff peaks are formed.
Place half of the whipped cream in the piping bag. Add ½ cup lemon curd to the remaining whipped cream, and mix until smooth and combined.
Spoon the lemon cream mixture into the phyllo shells. Pipe the whipped cream on top of the lemon cream. Serve immediately.
Notes Lemon curd recipe method inspired by
Ina Garten
. 3.5.3208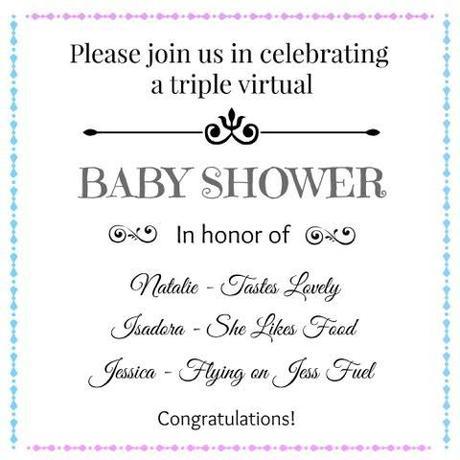 Caprese Cups – Pumpkin 'N Spice
Almost No Bake Pineapple Squares – The Recipe Rebel
Key Lime Cheesecake Bars with Coconut Macadamia Crust – Flavor the Moments
Lemon Macarons – Life Made Sweeter
Lemon Lime Bars – Bake. Eat. Repeat.
Chocolate and Salted Caramel Swirled Meringues – Floating Kitchen
Prosciutto-Wrapped Avocado Crostini with Balsamic Glaze – My Sequined Life
Mediterranean Stuffed Mini Peppers – Kristine's Kitchen
Mini Chocolate Bundt Cakes – My Kitchen Craze
Pepper Jack and Bacon Stuffed Cherry Tomatoes – A Latte Food
No Bake Baileys Smores Mousse Cake – With Salt and Wit
Strawberry Shortcake Bread – Maebells
Banana Cream Pie Dessert Nachos – Whole and Heavenly Oven
Lemon Cream Pie Bites – Bakerita
Balsamic Strawberry Wonton Bites – Sweet Peas & Saffron

There's more where that came from!
Lemon Meringue Pie Parfaits
Frozen Lemon Cream Tart with Browned Butter Crust
Mini Lemon Blueberry Bundt Cakes
Berry Rhubarb Pie
Banana Layer Cake with Chocolate Cream Cheese Frosting
White Chocolate Oreo Ice Cream