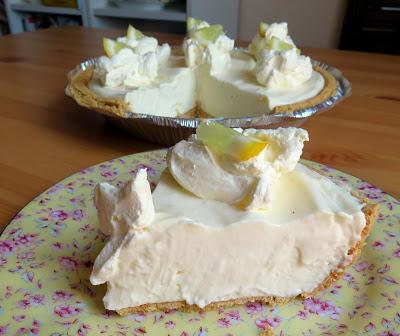 If you are on a diet you might want to look away now!  Lemon Cream Pie is definitely not diet food that's for sure!  You cannot however, ask for a better summer dessert.  This Lemon Cream Pie comes together in mere minutes and is extremely delicious and light in texture.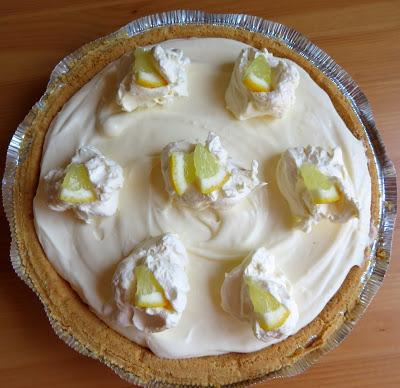 Don't ask about the calories. I DO NOT WANT TO KNOW!  Some things are just better left unsaid or thought about, lol.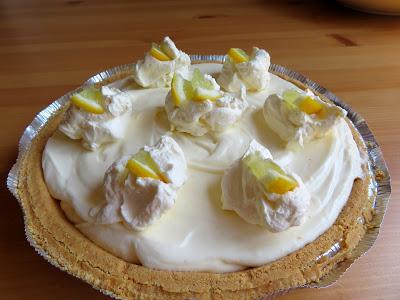 This is the perfect summer dessert and pie. There is absolutely no cooking or baking involved, which means your kitchen stays cool, cool, COOL! If you don't count the crust, you only need four ingredients, and if you are making your own crust that ups to six, which is still not bad!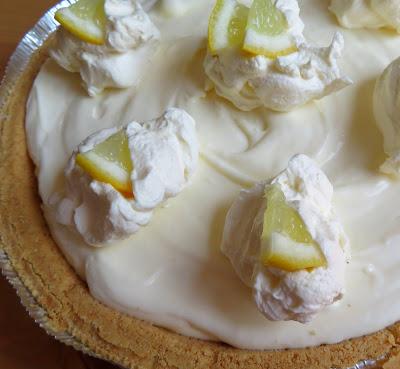 I splurged and bought myself a ready made graham cracker crust from
SKYCO
this time. Quite simply it is my go-to for Canadian and American ingredients. I have been using them since I worked a the Manor, so you know that is a very long time.  They have never let me down.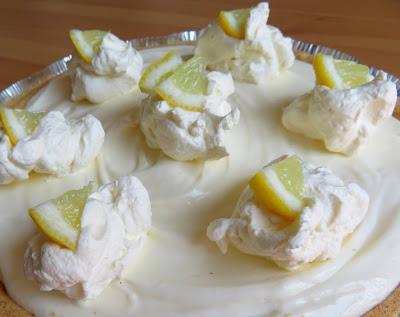 I was a little worried that the crust might arrive crushed, but they have the art of packing and delivery down pat!  My crust arrived in perfect condition. It was wrapped in bubble wrap! If you are looking for these types of things I highly recommend them!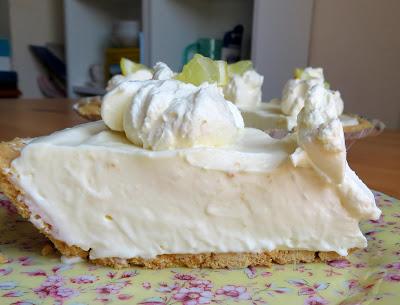 Back to the pie  . . . yes, I cheated this time and used a ready made crust, but it is also very simple to make your own with melted butter and either graham cracker crumbs or digestive biscuit crumbs. Both work well. Just make sure you crumb them to almost a powder.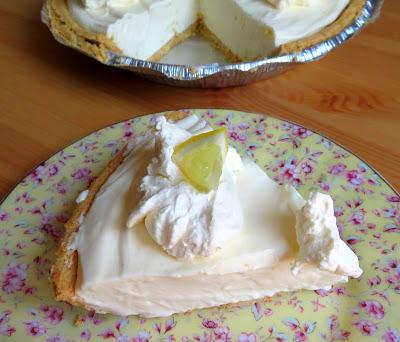 The filling for this pie is rich and silky smooth. You could use Philadelphia Cream cheese instead of the mascarpone, but why not use the best, which is quite frankly mascarpone cheese. It creates a filling that is totally velvety . . . plush and indulgent . . .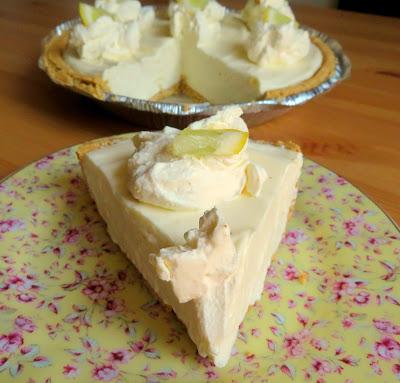 It is the perfect dessert for the summer months when the temperatures are so high and none of us really want to heat up our kitchens overly much.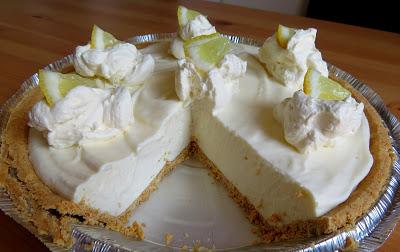 I love the ease at which the filling goes together. If you can operate a electric hand mixer, you can easily do this. Everything comes together like magic.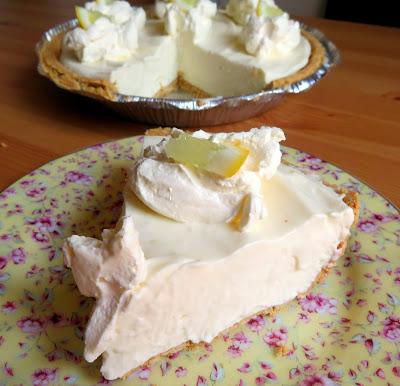 Did you know that when you mix lemon juice with things like cream and cream cheese, it works a miracle and thickens things??? (Think Lemon Possett here.)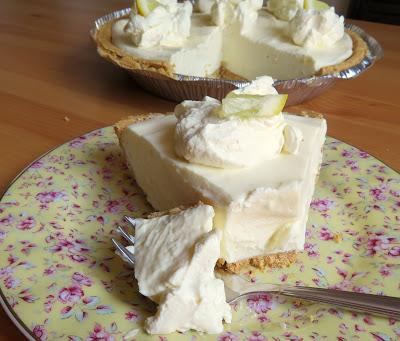 I did not bother to sweeten the cream for the garnish. I figured there was enough sugar in the filling with the sweetened condensed milk. By the way
don't
use Evaporated milk. They are just not the same thing.  Sweetened condensed milk is milk that is mixed with sugar and then heat treated and condensed down to a luxurious sweet thickish mixture.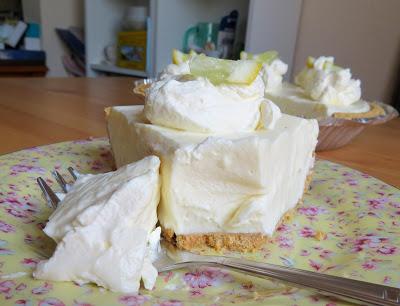 If you are looking for a rich, indulgent, easy, cool and luxurious dessert this weekend, make this Lemon Cream Pie. You can thank me for it afterwards, cos you are simply going to love it!
Yield:
12
Author:
Marie Rayner
Print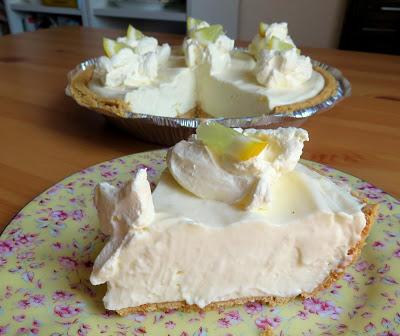 Lemon Cream Pie
Quick, easy, no bake and delicious. The longest part of this fabulously tasty pie recipe is waiting for it to chill!  You can make your own crumb crust, or use a ready made crust.
prep time: 20 M
cook time: 6 hour
total time: 6 H & 20 M
Ingredients:
For the crust:
60g butter (1/4 cup), melted
160g digestive or graham cracker crumbs (1 1/4 cups)
For the filling:
1 (397g) tin of sweetened condensed milk (14 oz)
225g mascarpone cheese (8 ounces)
180ml heavy cream (3/4 cup)
120ml fresh lemon juice (1/2 cup)
To garnish:
whipped cream
lemon slices
Instructions:
If you are making your own crust you will need a 9-inch pie tin. Mix the melted butter with the crumbs until evenly distributed.  Press into the bottom and up the sides of the tin. Press down firmly. (The back of a metal spoon or measuring cup works really well.)
Place in the refrigerator to chill while you make the filling.
Put the mascarpone cheese into a chilled bowl. Beat until smooth with an electric whisk. Slowly beat in the sweetened condensed milk until completely incorporated and smooth, scraping down the sides of the bowl as needed.
Add the heavy cream and combine.  Slowly add the lemon juice, beating it in thoroughly at a low speed.  The mixture will thicken and get really creamy.
Spoon into your prepared chilled crust.  Cover lightly and place in the refrigerator to chill for at least six hours, or overnight until it is completely set up.
Garnish with dollops of whipped cream and bits of lemon.  Cut into wedges to serve.
Did you make this recipe?
Tag @marierayner5530 on instagram and hashtag it #EnglishKitchenCreated using
The Recipes Generator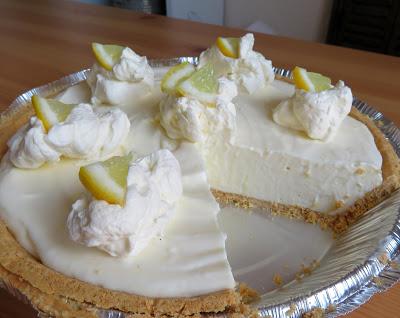 You can see how nicely it cuts once it is set up. If you wanted to you could top it with fresh berries as well. All would work beautifully!!  Happy weekend! (Its only the last weekend in June and it feels like the dog days of August! Phew!) 
Follow my blog with Bloglovin