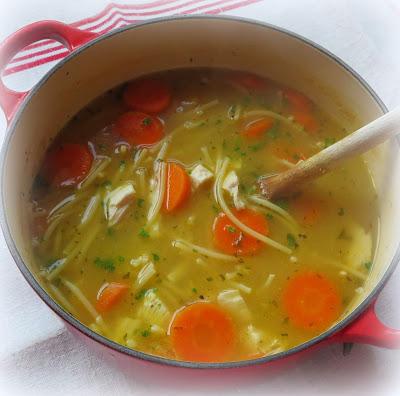 Ahhh . . .  Winter.  That time of year when the heart and belly long for warming, comforting, sustenance food.  Foods like stews and soups . . . Soups like this fabulous Lemon & Chicken Soup, that are not only delicious but also simple and quick to put together. To be honest, I am not overly fond of tinned soups and only use them when I have no alternative.  Most often I like to make my soups from scratch. My mother always made delicious homemade soups when we were growing up.  This spoilt us a bit for tinned soup, with the exception of Tomato Soup. I have always enjoyed tinned tomato soup.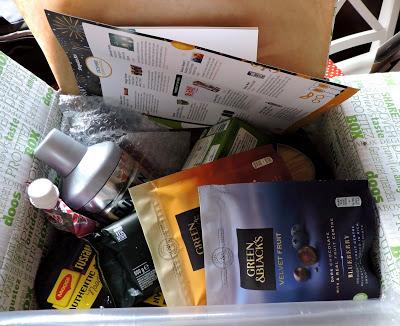 Every month I am the lucky recipient of a Degustabox.  Once a month, around the middle of the month, I am sent one of these lovely boxes which contain a delicious assortment of all things foodie.  I just love these boxes. Opening each one is tiny a bit like opening a Christmas gift. Always a surprise, and always filled with things that pique my interest and desire to try.
Degustabox
is a monthly foodie subscription service that sends out a range of 10 to 15 specially selected foodie products.  There's always a great mix of new products that I haven't tried before, as well as plenty of treats from more established brands. Quite often you will have the opportunity to try  new products before they arrive in the shops, so it can be a bit of a sneak peak! Each Degustabox costs only £12.99, delivery costs are included in the price, and there is no fixed contract involved - you can cancel at any time. I love getting these boxes! They are great value for money spent.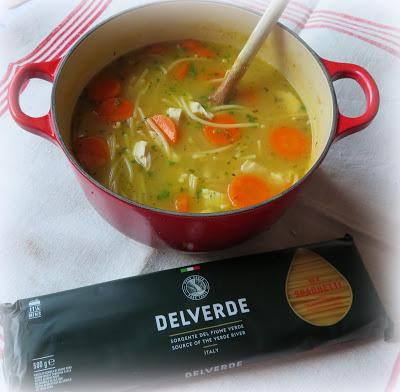 I also enjoy the challenge each month of creating a recipe using at least one of the products included in the box. Sometimes they immediately jump out at me, and sometimes I need to chew them a bit in my head.  When I saw the Delverde pasta in my December box, I knew it was something that I wanted to use in a recipe, but it took me a few days to decide what to do with it.  Lemon & Chicken Soup is what I came up with, but more about that later. First I want to share with you what all came in my December box!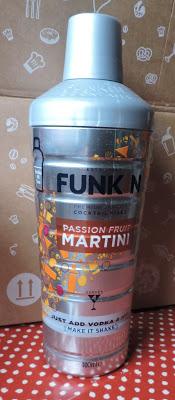 Funkin Cocktails
Funkin Passion Fruit Martini Shaker 1 X £4.00
Funkin Cocktails exist to shake up the ordinary making great tasting cocktails available to all. Simply add spirit and ice and make it shake to create four delicious cocktails. Available in a range o classic flavours such as Mojito, Pina Colada, and Espresso Martini. 
We don't drink alcohol, but our neighbor and her son were really pleased with this.  It kept them company on NYE!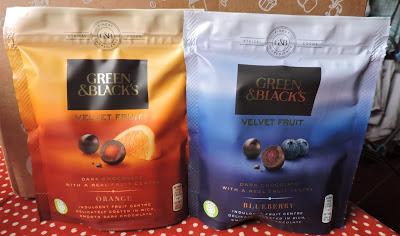 GREEN & BLACK'S
Blueberry Velvet Fruit & Orange Velvet Fruit 2 X £3.29
Indulgent fruit centres, delicately coated in rich, smooth dark chocolate. Discover a new indulgent chocolate experience.
I love Green & Black's anything. These were no exception.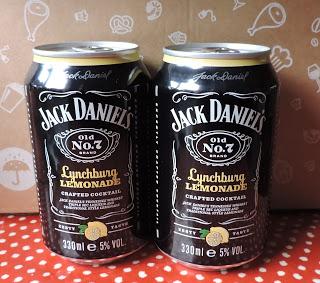 JACK DANIEL'S
Lynchburg Lemonade 2 X £1.80 
Jack Daniel's Lynchburg Lemonade combines the distinctive character of their fine Tennessee Whiskey. a dash of triple sec and a measure of zesty lemonade for an expertly crafted drink.
Again, we don't do alcohol, but they were enjoyed very much by a friend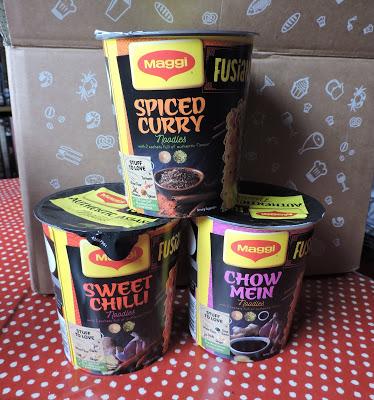 MAGGI FUSIAN
Noodle Pots/chowmein/spiced curry/sweet chilli 3 C £1.15 
Take the taste of Asia with you wherever you go with the new Maggi Fusian Noodle Pots.  Each pot included premium noodles and sachets of spices and veggies, so you can enjoy Asian flavoured noodles which are ready in just four minutes!  
These are always handy to have in the cupboard when you are starving and just want something quick, quick to eat!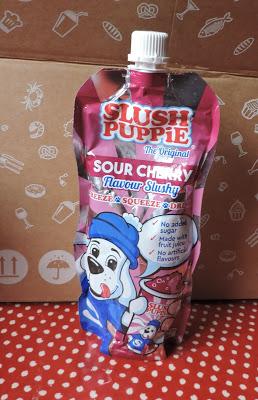 SLUSH PUPPIE
Sour Cherry 1 X £1.29
The iconic Slush Puppie is now available in convenient, resealable pouches  The brand new range contains the original Slush Puppie taste but with no added sugar.  Available in Sour Cherry Blue Raspberry and Strawberry. Each pouch contains just 95 calories. Simply freeze, squeeze and drink!
This was the product of the month and is available now as Multi packs of 3 for £3 at Tesco.  I like that there s no sugar in them.  These are refreshing.  I also like that they are resealable! Now you CAN take the pooch home!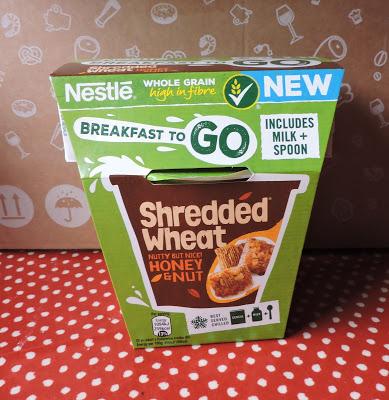 NESTLE
Shredded Wheat Breakfast on the Go 1 X £1.99
Made with just one natural ingredient, 100% wholegrain wheat, which is crafted into deliciously crispy biscuits for a mouthwatering good breakfast cereal for the whole family  Their wholegrain wheat is sown, grown and ripened in Britain, using a recipe unchanged since 1893.
I love shredded wheat and love the portability of this.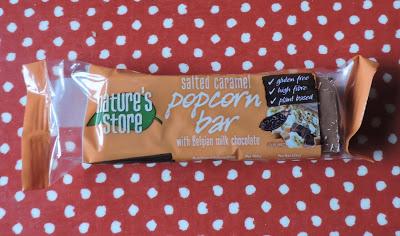 NATURE'S STORE Salted Caramel Popcorn Bar
New Popcorn bars from Nature's Store are a super healthy, free from way to snack. They contain popcorn, seeds, dates and gluten free oat with no added sugar Belgian Chocolate.  With four high fibre, nutrient rich seeds and at less than 150 calories per bar, they're the perfect healthy and delicious snack  Soon available in major supermarkets.
Delicious!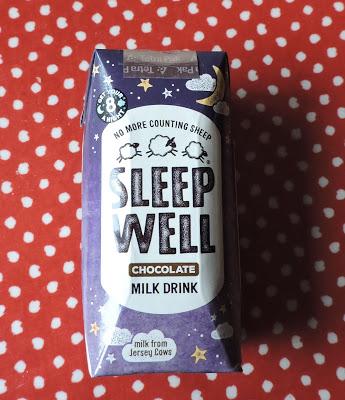 SLEEP WELL
Chocolate Milk 1 X £125
Sleep Well is the new, natural milk drink that helps you relax and get a better night's sleep. A gorgeous tasting, long life drink for the whole family made with whole Jersey milk, honey and Valerian, the herb that's been helping people relax and sleep for 2000 years.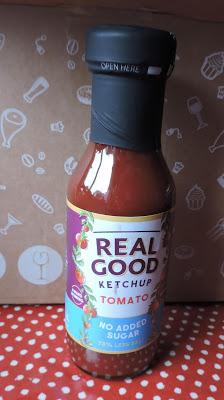 REAL GOOD
Tomato Ketchup  
Real Good Ketchup is an awesome range of Award Winning, No Added Sugar ketchup's made with rich Mediterranean tomatoes, allergen free & plant-based ingredients – nothing artificial. Winner of the Best New Sugar Reduced or No Sugar Product & The Food Talk Clean Eating Gold Award. Deliciously tomatoey!! 
This was actually very nice.  I am not surprised it has won an award.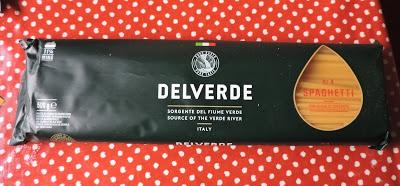 DELVERDE
Pasta 1 X £129
Delverde Pasta is made with the best durum wheat and the water from a very special place; the Verde river, which flows through the Jarella National Park, in the Abruzzo region of Italy. Made using traditional bronze dies and slow dried to preserve its wonderful flavor. Available as Festonati, Spaghetti or Penne Zita Regate.
This is the product I decided to highlight with a recipe this month and what a recipe it is!  The perfect recipe to use with the perfect pasta!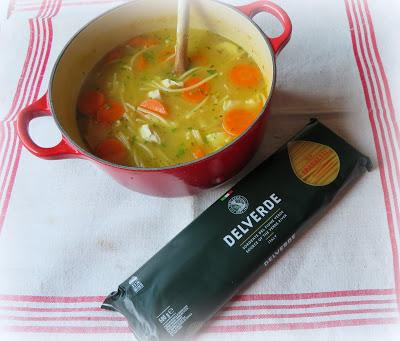 This is a soup you won't want to make too far ahead of time because of the pasta in it.  The pasta will swell up, having absorbed all the liquid if you do.  So do plan on making it right before you go to eat it.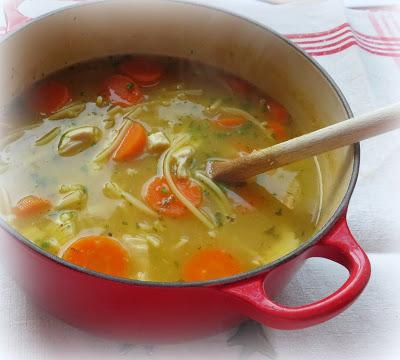 That's not a problem really because it is so quick and easy to make. If you are really keen on making it ahead, you can get the stock ready, squeeze the lemon juice, peel and slice the carrots, cube the chicken and break up the spaghetti ahead of time, but that's about all the ahead of time that I would recommend!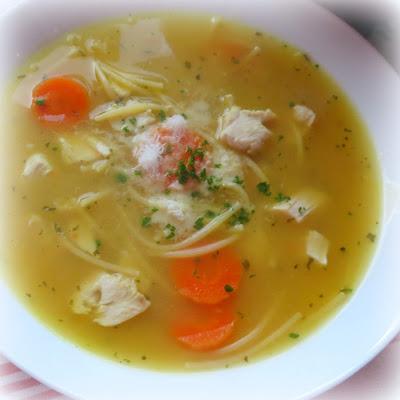 This is a fabulously tasty chicken soup, with fresh flavours!  It uses chicken stock along with lemon juice.  You might think the lemon would be overpowering, but it really isn't.  It adds a lovely layer of flavor that is quite pleasant!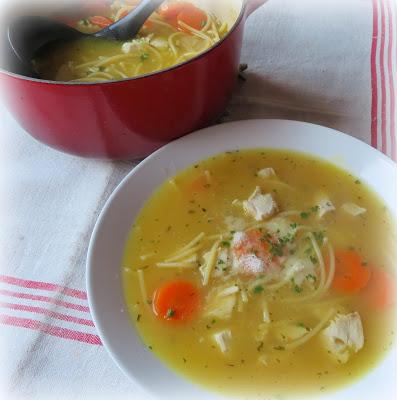 It also uses already cooked chicken, so you can use leftover chicken, chicken from a rotisserie bird, or you can poach chicken.  I always have poached chicken in the freezer ready to use.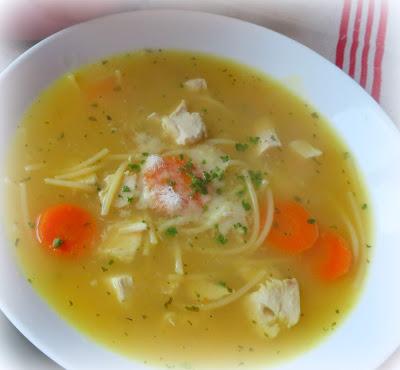 One optional ingredient is a Parmesan cheese rind.  I always have them in my fridge. We eat a lot of Parmesan cheese, and I always grate my own.  Grating your own is so much more delicious than buying already grated.  They add things to already grated to make it free flowing.  When I was growing up we always had the one in the green can.  We didn't know any better and were happy with that.  As an adult I have come to love and appreciate the real, unprocessed product, and I always save the rinds from them.  I keep them in a jar in the refrigerator.  They are great for using in flavouring soups and sauces!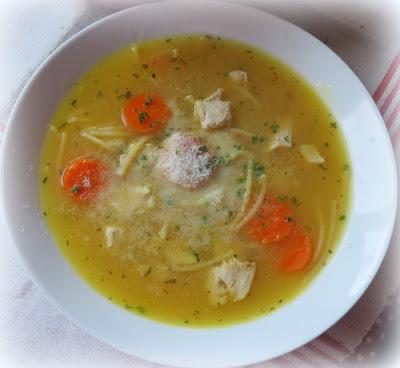 You will want to break the spaghetti up into 2 inch pieces.  That's very easy to do.  Just wrap it up in a tea towel and then, grabbing both ends of the wrapped towel, pull it sharply down over the edge of your counter.  You might have to do it in sections.  I find this technique works best when your bundle of spaghetti is no larger around than a one pound coin (about 1 inch).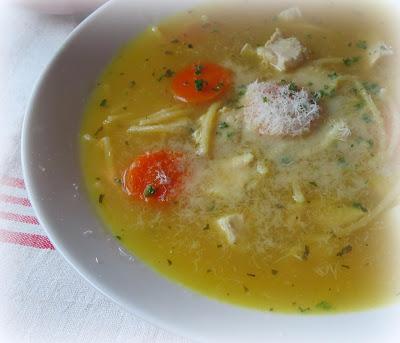 Your spaghetti will break up into perfectly sized bits.  Easy peasy.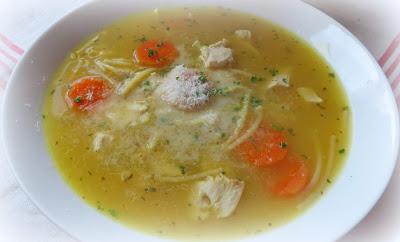 You don't want really long strands of spaghetti in this  . . . its soup and you won't be eating it with a fork!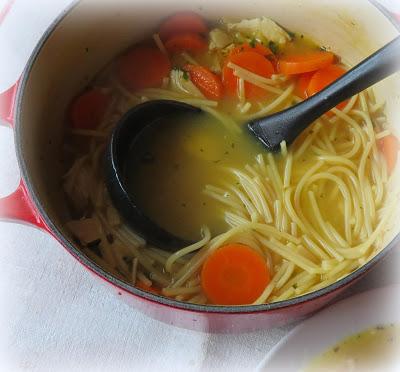 This soup is well flavoured, delicious and satisfying . . .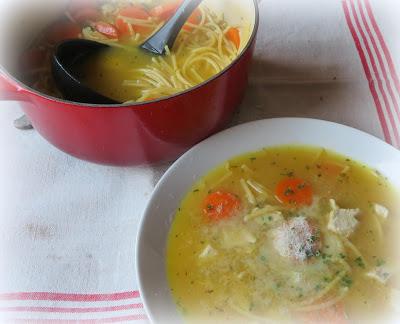 Served in heated bowls with some crusty bread and a scattering of more cheese on top, it is a wonderful belly warmer.  Hearty and healthy without any fat, except for the cheese!
Yield: Serves 4
Author: Marie Rayner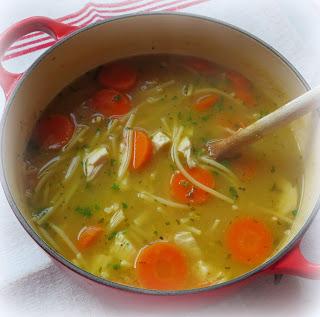 Lemon & Chicken Soup
prep time: 15 mins
cook time: 25 mins
total time: 40 mins
This soup is so simple to make.  Its quick, easy and is very delicious, low in fat and makes good use of leftover cooked chicken.
ingredients:
1.5 liter of chicken stock (6 cups)80ml fresh lemon juice (the juice of 2 large lemons)(Bring your lemons to room temperature and roll themon the counter firmly before juicing to extract as muchjuice as possible)2 medium carrots, peeled and sliced into coins1 broken bay leaf1 Parmesan cheese rind (optional, but nice)225g spaghetti, broken into 2 inch pieces (8 ounces)450g cooked chicken, diced (about 1 pound)handful of chopped fresh flat leaf parsley225g grated Parmesan cheese (1 1/4 cups)salt and black pepper
instructions:
Measure the stock and lemon juice into a large
saucepan. Bring to the boil. Add the Parmesan rind (if using), bay leaf,
 and carrots. Simmer until the carrots are crispy tender, 5 to 6
minutes.  Add the broken pasta and cook for a further 6 to 7 minutes
until al dente.  Stir occasionally.  Add the chicken and heat through. 
Remove and discard the cheese rind and bay leaf.  Stir in half of the
cheese and the parsley.  Taste and adjust seasoning as required with
salt and pepper.  Ladle into heated bowls.  Top each with some of the
remaining cheese and serve immediately.
Created using The Recipes Generator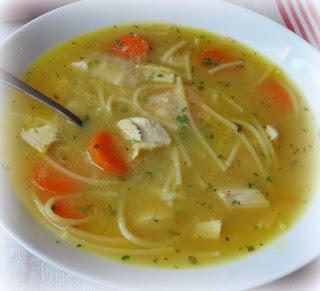 Degustabox is running a Giveaway competition until the 19th of January (2019) where anyone who has purchased a Degustabox has the opportunity to win a free box for each  themselves and a friend.  To be in it to win it just follow the steps below:
1. Follow the Degustabox Instagram account @degustabox_uk2. Post a picture of the December box, or a picture of you enjoying some of the products in the box.3. Tag your post with #degustaboxnewyear and tag one of your friends who you think would like to receive a free Degustabox.  Your friend will also have to follow their Instagram account @degustabox_uk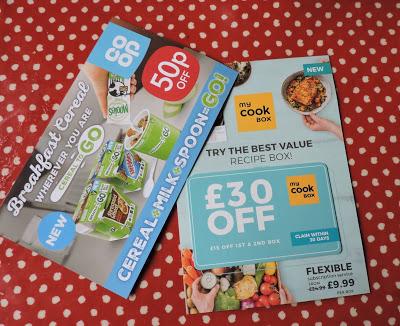 DEAL:
Get your £5 off your first box, plus get free bonus item and delivery! Use coupon code
HELLOSUBSCRIPTION18. 
 In the US but just looking for fun? Use code
HELLOSUBSCRIPTION7
to get your first US box for $12.99! You'll also get free shipping and a free bonus gift!
So, that was the December Degustabox - a nice selection of products as always. We loved it. The price of each Degustabox is £12.99 (including delivery). To order your box, visit www.degustabox.com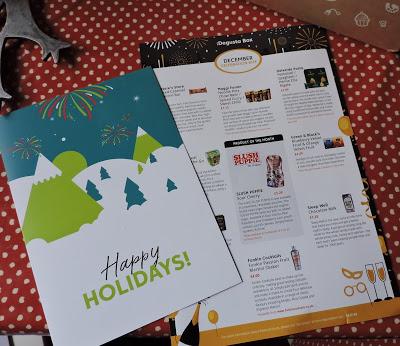 Many thanks to Degustabox UK for sending me this box. I have to say I really look forward to getting my box each month. There are always lots of things in it to enjoy and new products to try out. I highly recommend. You can also tailor the boxes to your own likes and dislikes by filling in your own Taste Profile.  Do you like the sound of this box? Why not sign up now! I find them to be really good value for money spent and I really enjoy trying out new products that I have not tried before.  
Follow them on Facebook 
Follow them on Twitter 
Note - Although I was sent a box free of charge any and all opinions are my own.
Bon appetit!