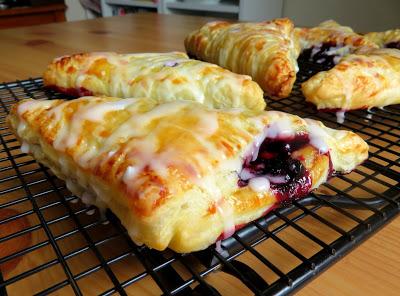 Lemon Blueberry Turnovers . . .  is there any more delicious flavor combination on the earth than the combination of lemon and blueberry?? I think not  . . .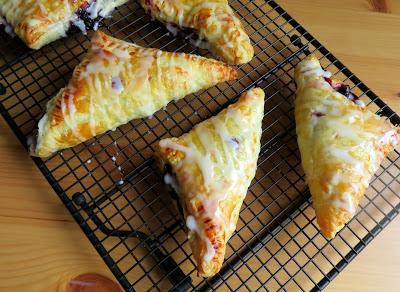 Combine that with flaky buttery puff pastry and you have a marriage made in heaven!  This is the perfect time of year to be enjoying blueberry treats!  What is a turnover but a little pie, and these ones are so easy to make!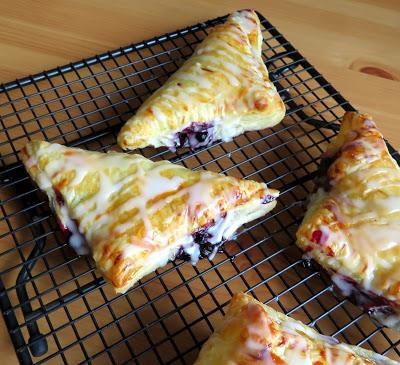 The filling is very simple to make and they cook in literally minutes, which makes them perfect for the summer months when you don't want to be heating up the kitchen!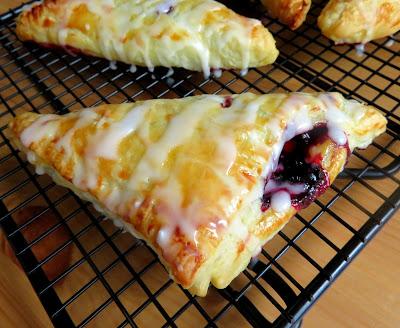 You only need a few ingredients as well. Puff pastry. Blueberries. Bueberry Jam. Lemon Curd. Plus an egg wash to brush over and seal the edges.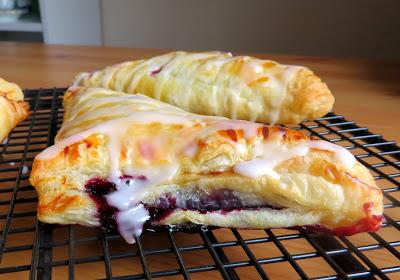 The glaze is simple as well, just icing sugar and lemon juice  . . .  perfect.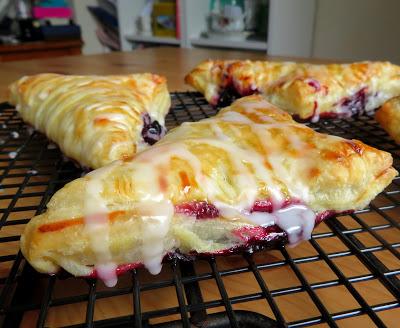 I always have puff pastry in the freezer and lemon curd in the refrigerator. I also always have blueberry jam. I use Bonne Maman . . .  Wild Blueberry Jam . . . it reminds me of home.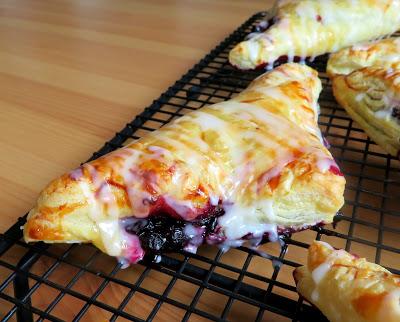 I spent many a summer bent down low picking wild blueberries for my mother. Hot and painstaking work. They grow low to the ground.  It takes quite a few to fill a bucket, but their flavor is exemplary.  Cultivated ones never quite come up to the flavor of the wild berry.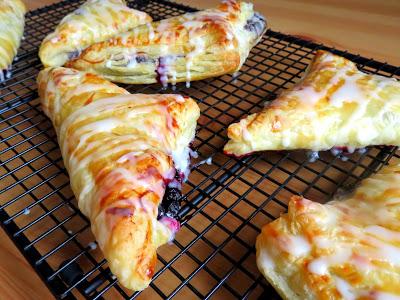 Mom never made jam with them, just pies. I used to make jam and pies and cakes, muffins, etc. You could usually buy big crates of wild blueberries at the farmers market. They did cost a lot more than the ones you picked yourself, but  . . .  sometimes you know, its just worth it.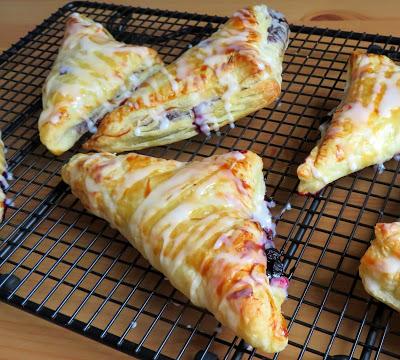 We grow our own cultivated blueberries in our garden, but when I saw frozen wild blueberries for sale on Ocado, I jumped at the chance to buy a bag. They were not cheap but I knew their flavor would be amazing.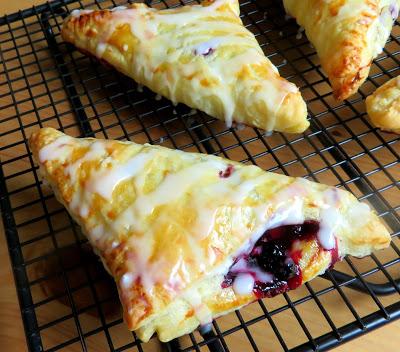 I sacrificed some of them to make these lush turnovers today.  Mixed with a bit of wild blueberry jam, they made for an excellent filling.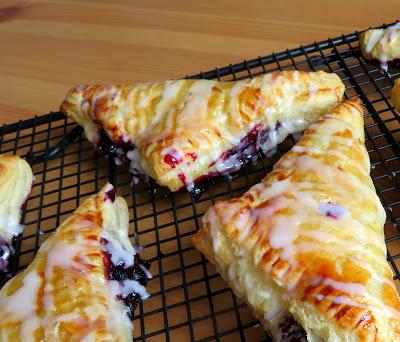 I also added some lemon curd  . . .  because you know, blueberries and lemon . . .  perfect.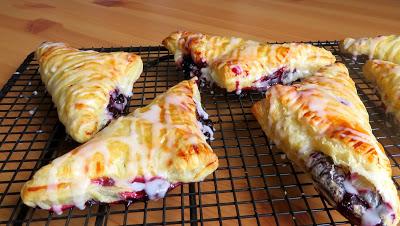 This was the perfect blend of tart and sweet  . . .  perfect.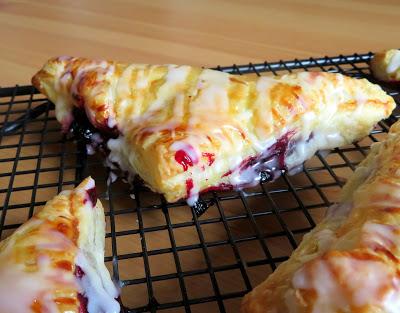 Although I did brush the squares of puff pastry well with an egg wash to help seal the edges and gild the top, I had blow outs . . . which upset me a bit  . . .  but then I realised . . .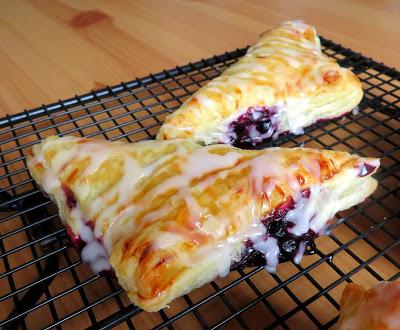 The little blown out bits add to their beauty!  And they get nice and sticky as well, which is why you really need to use baking paper and then scoop them off to a cooling rack pronto!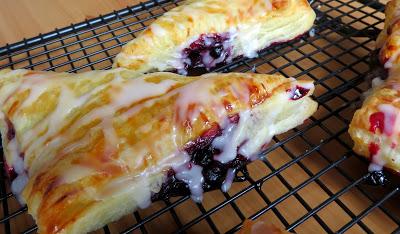 There is no mistaking that these are blueberry turnovers!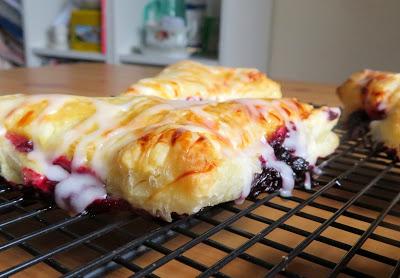 That combination of sweet/tart filling  . . .  that flaky buttery pastry  . . .  the sweet lemon glaze  . . .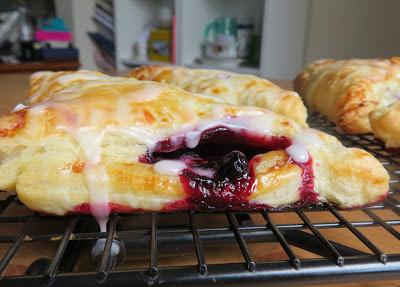 Doesn't this just look like a pair of sweet kissable blueberry filled lips?  Mmmm . . .  kiss  . . .  kiss!!  
Lemon Blueberry Turnovers
Print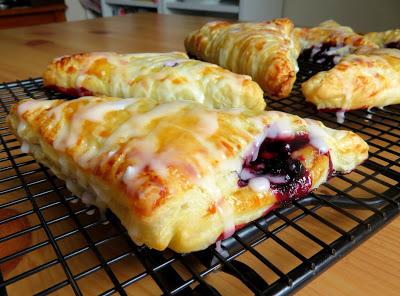 Yield: 6 - 8 turnovers
Author:
Marie RaynerLemon and blueberry are one of the nicest combinations. These are quick and easy and oh-so-delicious!
Ingredients:
125g fresh or frozen blueberries (1 1/4 cup)
1 heaped dessert spoon of wild blueberry jam (about 1/3 cup)
6 - 8 TBS good quality lemon curd
1 sheet of puff pastry
1 large free range egg yolk beaten with 1 TBS cream
To glaze:
65g icing sugar (1/2 cup)
1 TBS lemon juice
Instructions:
Preheat the oven to 200*C/400*F/ gas mark 6. Line a large baking sheet with baking paper. (Do not skip this step.)
Stir the blueberries together with the blueberry jam.
Unroll the puff pastry. Cut into 6 to 8 even squares (depending on the size of your sheet).
Beat the egg yolk together with the cream.  Brush the edges of each square with some of this.
Place 1 TBS of lemon curd on one half of each pastry square.  Top with about 2 TBS of the blueberry mixture. Fold the half without the filling over to cover the filling and press the edges sealed with the tines of a fork. Place onto the baking sheet leaving plenty of space between.  Make a few steam vents in the top of each and brush the tops of the turnovers with the remaining egg wash.
Bake for 15 to 20 minutes until well risen and golden. Scoop off onto a wire rack to cool completely.
Whisk together the icing sugar and lemon juice until smooth. Drizzle decoratively over top of the turnovers.   Allow to set before serving.
Best served on the day.
Did you make this recipe?
Tag @marierayner5530 on instagram and hashtag it #EnglishKitchenCreated using
The Recipes Generator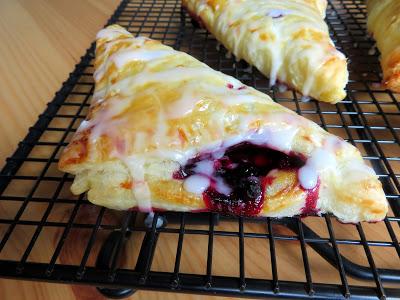 These are quite simply beautiful. To look at. To eat.  To enjoy!  Happy weekend! 

Follow my blog with Bloglovin