It's no tightly kept secret that I love margaritas. LOVE them. Something about the bite of tequila combined with citrus and some sweet and salty elements altogether make for one of my favorite cocktails. I have been making this margarita for years and it will probably always be my favorite but it's not something that you can whip up in 5 minutes. It's best when the ingredients are steeped for several hours so having the urge and getting that urge satisfied means a long period in between…enough time to change your mind! This Lemon Basil Margarita is like opposite day…made in minutes as long as you have the ingredients in the house. You know I have the booze but now I'm got a pot of basil too and it was begging me to be used in a margarita. I have a Meyer lemon tree too but it's not quite there yet!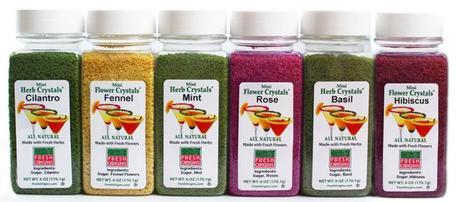 When I was asked by the folks at Fresh Origins if I would like to sample some of their cocktail rimmers I'm sure it's surprise, surprise that I said YES!! The delicate crispy, crunchiness and unique flavors are derived from whole fresh herbs and edible flowers combined with cane sugar.  They're available online at Gourmet Sweet Botanicals and are a great tasting fun addition to your bar essentials! I had planned to garnish this Lemon Basil Margarita with it's namesake ingredients of lemon and basil but the fun part was using the Basil Cocktail Rimmer. I combined the basil rimmer with my standard sugar/salt mixture because well, for me, a margarita NEEDS salt and it was perfect. Just like the basil in the cocktail; it was subtle but definitely there; a little unexpected surprise for your tastebuds.  I've also got a mini bottle of Hibiscus, Mint, Fennel, Cilantro and Rose; I promise they'll be showing up again; they taste great and are such a pretty element too.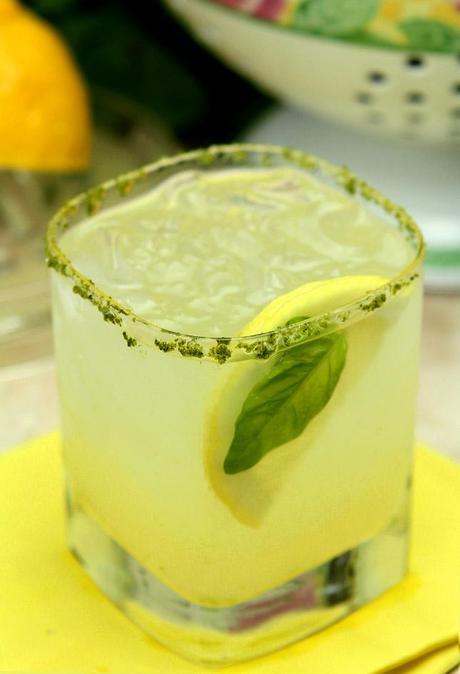 See…pretty huh? I thought so and as much as I love my old girl this Lemon Basil Margarita is closing in behind!


Lemon Basil Margarita
Prep Time: 5 minutes
Cook Time: 5 minutes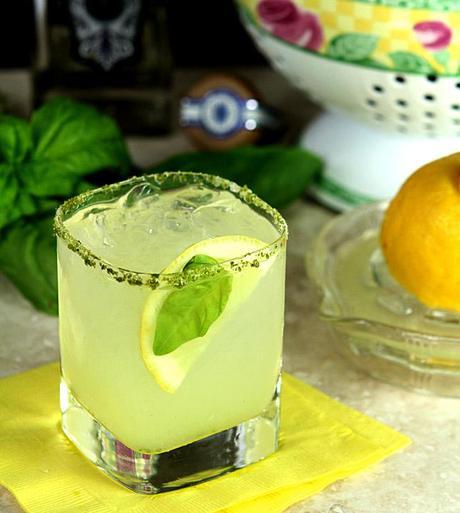 Simple syrup is a combination of sugar and water that has been heated enough for the sugar to melt and then chilled before using.
If you are going to start making your own cocktails, I advise making a batch to keep on hand. One half cup sugar and one half cup water until water boils and you can no longer see the sugar crystals; then cool and keep in fridge. It keeps a long time and is easier than making a small amount each time you craft a cocktail.
Ingredients
1 1/2 oz Blanco Tequila
1 oz Cointreau
1/2 oz Fresh Lemon Juice
1/2 oz Fresh Lime Juice
1/2 oz simple syrup
3 Basil Leaves
For Garnish:
Sugar/salt combination for the rim
Lemon slice
Basil leaf
Preparation
Rim the glass with a combination of sugar and salt or if using the Fresh Origins botanicals a combination of half sugar/salt mixture and half botanicals.
Tear the basil and combine it in a shaker with the rest of the ingredients. Add ice; shake well and then pour into an ice filled rocks glass over a strainer. Garnish with basil and a lemon wheel.
Notes
Cook time only if you are making simple syrup.
2.5
http://www.creative-culinary.com/lemon-basil-margarita/
This recipe brought to you by Creative Culinary | A Food and Cocktail Blog | Website: www.creative-culinary.com
I was provided with samples of the Fresh Origins Cocktail Rimmers however all commentary is my own.