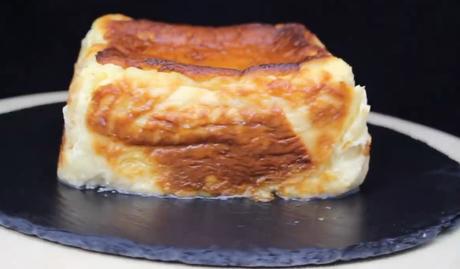 The cheesecake is prepared during the Easter period typically in the regions of central Italy.
The original recipe has been published on my blog in Italian Il Mondo dei Dolci as a result of my several years of residence in that European country.
I have published more than 5,000 recipes in it so if you dare to translate them and modify some of the ingredients, related to each country, you can do it freely.
A very tasty salty cake. /

It is a very tasty savory cake, which is usually accompanied with eggs and salami during the appetizer or Easter breakfast.

In our case we have a very particular variant: we add lemon, raisins, almonds and rum to the classic cheesecake.

How? Here is the secret revealed.

for 8 people.

For the mass:

1 tablespoon of lemon juice

For the cream with cheese and lemon:

250 gr fresh Philadelphia cheese





Soak the raisins in 2 tablespoons of rum and let them marinate overnight.
Let the butter soften at room temperature, along with the fresh cheese.
Toast the chopped almonds in the oven at 110 ° for about 10 minutes.
Sift the flour and grate the lemon zest.
Preheat the oven to 170 °.
Prepare the shortcrust pastry.
Work the butter until you get a homogeneous cream, then add the sugar and continue working.
Add the zest and lemon juice.
Mix well.
At this point, add the sifted flour all at once and continue stirring.
Place the pasta in a pan lined with parchment paper.
After gently pressing it with a spoon, pierce the surface of the pasta and its edges with the tips of a fork.

Para el queso crema y el limón.





Bake at 170 ° for about 25 minutes.
In due time, remove from oven and allow to cool.
For the cream cheese and lemon.
Put the butter and cheese in a bowl.
Work with a whisk until obtaining a thick and homogeneous cream.
Add the sugar and mix.
Pour the beaten eggs 2-3 times mixing.
Pour a tablespoon of rum, lemon juice, zest and mix.
At this point also add the raisins and finely chopped almonds and mix.
Now cover the cake with the obtained mixture, smoothing the surface with a spatula.
Bake at 170 ° again for about 30-40 minutes until the cake appears golden on the surface.
Once cooked, remove from the oven, turn off and let the cake cool on a wire rack.
Lay parallel strips of wax paper over the cake.
Sprinkle the icing sugar over the free parts and divide the entire square of the cake into three equal parallel parts.
At this point, cut down each dessert rectangle on many sandwiches.

Original article published in HIVE https://hive.blog/hive-120586/@belen0949/tarta-de-limon-y-queso-con-pasas-almendras-y-ron-lemon-and-cheese-tart-with-raisins-almonds-and-rum-esp-eng

Don't have a Hive account yet? Sign up for free here! Join in the fun and make money by publishing and commenting.

#