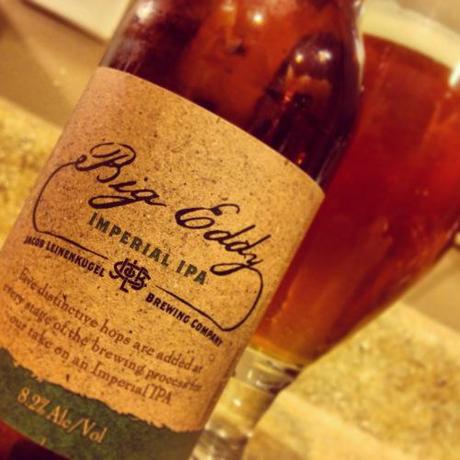 We already know Leinenkugel can make a damn good Russian imperial stout, so what about an additional end of the beer spectrum?
Another entry into their "Big Eddy" series, Leinenkugel's imperial IPA is good, but falls a bit short of what you might typically expect from an American imperial IPA.
But that might not necessarily be a bad thing, depending on the drinker. It's got an 87 on Beer Advocate.
The hop aroma of this beer is sweet and pungent on first sniff – not far off from the intensity of Dogfish's 120 Minute IPA. Big Eddy has a ton more noticeable fruity notes at the very front – orange peel, grapefruit, some lemon – and just a dash of pine. That's thanks to the use of five strong-armed American hop varieties: Warrior, Cascade, Simcoe, Amarillo and Citra. There is plenty of malt on this beer's nose, however, inspired by sweet, biscuity Munich and Caramel malts. Finally, the back-end of each sniff is infused with a hard citrus bite accompanied by smells of pineapple and mango. It's impossible to miss the 8.2 percent ABV boozy aroma at the end.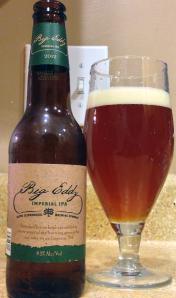 But it's the flavor where this beer really stands out – for good or bad. The Big Eddy imperial IPA is most definitely fruity and bitter with a tropical, mango finish accompanied by cane sugar and bubble gum. However, the hop intensity found in the beer's smell just doesn't show up at all in the taste. I found pleasant hints of orange and a little pine, but the malt of this IPA goes toe-to-toe with the hops, something you rarely, if ever, see in an American IPA like this. Lots of bread-based sweetness from Munich and Caramel malts will do that to you.
The key here? Balance. Something you just don't find with IPAs. What this means is if you're a huge hop-head like me, skip this beer and stick to something from Sierra Nevada or Dogfish. If you're a beer fan, but aren't crazy about IPAs, this may be worth trying. The bitterness may be a bit rough at first, but ultimately the balance of malt and hops wins out and makes for a smooth, easy drinking experience.
Big Eddy IPA stats:
Malt: Munich, Caramel and Pale Ale
Hops: Warrior, Cascade, Simcoe, Amarillo and Citra
Adjuncts/Additives: N/A
ABV: 8.2 percent
Brewery: Leinenkugel Brewing Company of Chippewa Falls, Wisconsin
+Bryan Roth
"Don't drink to get drunk. Drink to enjoy life." — Jack Kerouac