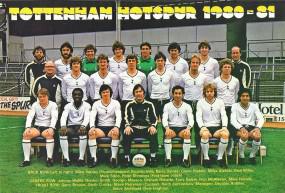 Today's installment will be a double as many will be checking out the North London Derby. The first team is the 1981 Tottenham Hotspur side that won the FA Cup against Manchester City in one of the more memorable finals to have been played at legendary Wembley Stadium. The FA Cup final would go to a replay for the first time in 11 years; but in the end it left some memorable moments.
The 100th edition of this tournament would go down to the wire as Spurs would go ahead with a Ricky Villa goal. City would then take the lead with two unanswered goals. The first one was a great volley by Steve McKenzie that equalized the score just three minutes after Villa opened the scoreboard. Kevin Reeves would put City ahead in the second half from the penalty spot.
Garth Crooks would equalize the proceedings for Spurs, but in the 70th minute Villa would have one of the memorable moments of his Spurs career as he would score what many considered was the goal of the century.
Here was their starting XI: Aleksic, Hughton, Miller, Roberts, Perryman; Villa, Ardiles, Archibald, Galvin; Hoddle, Crooks
Meanwhile John Bond trotted out: Corrigan, Ranson, McDonald, Reid, Power, Caton, Bennett, Gow, Mackenzie, Hutchison, Reeves
The first match was a 1-1. This would force a replay that following Wednesday at Wembley and