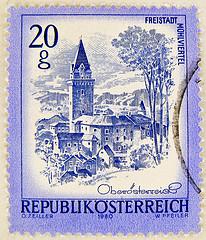 photo: Stampolina
Austrian beers come in many styles.
Whereas its Bavarian neighbours were constrained by a regulation passed in 1516 that deemed beers should only contain water, barley and hops, this was not the case for Austria. Accordingly, many small  breweries with their own distinctive characters were established.
Freistadt Beer
The tiny city of Friestadt near the Bohemian (Czech Republic) border, with only 7,500 resident population, is the epitome of uniqueness in Austrian breweries.
The old Medieval town – founded in 1220 – is the only 'Braucommune' (brewery in communal ownership) in the Europe. All who own a house within the city walls also own the brewery.
Freistadt (literally free town) was at the crossroads  - where the great Danube enters the Bohemian lands – of the salt and iron trades in the Middle Ages. Remains of the era can still be seen in the outer and inner walls, towers and gates built in 1363 and 1393.
Standing just off the main square is Schloß Freistadt (Freistadt castle), built in 1363 and remodelled over time – partly because of the ferocity of 2 episodes of fire (1507 and 1516), when many of the timber framed houses were destroyed.
Until 1770, brewing of Freistadt beer was mainly undertaken within the residents' own homes. But between 1770 and 1780, the new Braucommune was built within the ancient walls of the castle.
Today the brewery produces 9 different types of beer, of which 2 to note are:
Junghopfenpils – a delicate and fragrant beer with 4.8% alcohol and a tasty treat
Oktoberbier – a full-bodied ale with a fruity hop flavor , malty aroma and 5.0% alcohol.