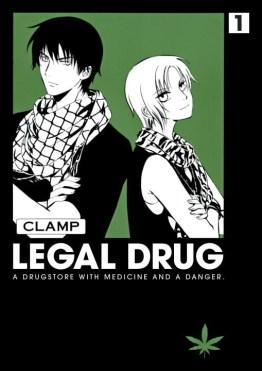 Name: Legal Drug
Genre: Supernatural, Shonen-ai, Mystery
Artist: CLAMP
Publisher: Kadokawa Shoten (JP),  Dark Horse (US)
Serialized In: Monthly Asuka
Original Release Date: September 30, 2014
Ah, CLAMP. The doujinshi circle turned all female manga-artist powerhouse and I have an on and off relationship over the years. There's classic CLAMP that I grew up on and can't help but at least like, like Magic Knight Rayearth and Card Captor Sakura, CLAMP I love like xxxholic, and CLAMP I wish I could like more like Tsubasa and Wish. For me, fully diving into CLAMP meant untangling the Tezuka-esque universe they've created, complete with crossovers and painfully incomplete stories. Still, Dark Horse has done an excellent job in recent years with their CLAMP omnibus re-releases, and it helps an on-the fence waffler like me take the risk of yet again tempering the fire in my CLAMP relationship. The verdict? CLAMP has still got it.
The set-up for Legal Drug, at least how our two main characters initially meet, seems pulled straight from from the back copy blurb of any contemporary yaoi one-shot. Kazahaya Kudo is close to death, near frozen on a cold, snowy night when he is scooped up and "rehomed" at the slightly shady but welcoming Green Drugstore. Kazahaya's "savior" comes in the form of one aloof Rikuo Himura. The two make up half of the Green Drugstore "family," with store manager Kakei and his flirtatious right-hand man Saiga serving as the surrogate parents (indeed CLAMP imagines this very scenario in a later side comic). And while we get the occasional glimpse of customers browsing the store — normally squealing teenagers giddy over the aloof Rikuo — far more time is spent with Rikuo and Kazahaya going on strangely odd "missions" given to them by Kakei. Kazahaya definitely thinks things are a little weird, and he definitely can't stand Rikuo one bit, but… he needs the extra cash!
Legal Drug, after it's initial set up chapter, is mostly episodic, with the boys running to and fro to fulfill Kaikei's supernaturally-tinged requests. One the strengths of series is that it quickly establishes the dynamics between all four men — Kazahaya's and Rikuo's love/hate relationship, Kakei's and Saiga's less (or maybe more) ambiguous romantic relationship — and it's fun to watch those dynamics play out as Kakei has everyone do his bidding. In fact, Legal Drug distinctly reminds me of a mix between Fumi Yoshinaga's Antique Bakery — a story about four unrelated men running a bakery — and another supernatural CLAMP series, xxxholic. Antique Bakery featured men of various walks of life who find a "family" in one another, while the love/hate/"I need you to reach my full potential" relationship between Domeki and Watanuki in xxxholic is almost identical to the relationship between Kazahaya and Rikuo. Having the relationship dynamics established early helps give some continuity to the series; since we have what was originally three volumes packed into one omnibus there's a lot to take in here. Thankfully the series doesn't forget to slowly throw out pieces of background information and characterization, even as the missions get weirder — like catching invisible lightning bugs or chasing a lost cat. All the while we're tipped off that something far more complex is going on; both Kazahaya and Rikuo seem to have magical powers that only reach their full potential when they're with one another, and both seem to looking for women they've lost.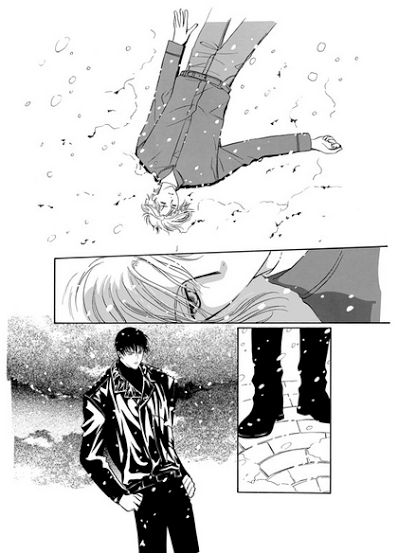 Another entertaining thing about this series is that CLAMP doesn't shy away from the slash/boys love implications permeating Kazahaya and Rikuo's relationship. The last mission in this volume has the boys infiltrating an all boys' school, culminating in Kazahaya eventually dressed as a bride — no subtlety there. The entire arc feels like a an extended "wink, wink, nudge, nudge" from CLAMP to their fans, and while I'm not really a BL fangirl, the tongue and cheek nature of it all is something I can appreciate. Add to that couple of stand out moments from Kazahaya regarding consent — he's teased for being "innocent" but is adamant about not touching or approaching anyone without his or her approval — and I could have read chapter after chapter of these characters getting into various messes.
Thankfully, I'm picking up Legal Drug not long before the release of the series' sequel Drug & Drop (coming in January, also from Dark Horse), as the original run was left in limbo for a long while. While I'll still say CLAMP is generally hit or miss for me, Legal Drug is definitely one of the better manga I've read this year — a hit all around.