Leftover Mashed Potato and Corn Pancakes are light and fluffy, and extremely moreish. They are a great way to use up leftover mashed potato, and ideal served with sour cream for a quick and easy lunch or dinner.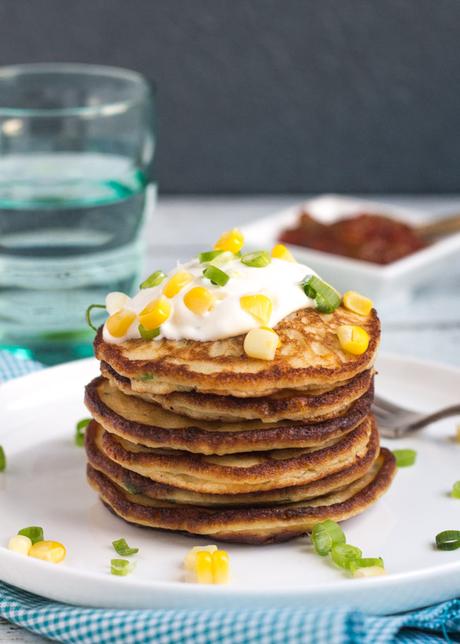 Did you know that it is possible to freeze mashed potato? When it defrosts though, it looks watery and grainy, and you will think I have completely lost my mind. Trust me; with gentle heat and a little patience, that watery mess turns into creamy mashed potato in far less time than it takes to make from scratch.
I reheat my frozen mashed potato in a saucepan, stirring frequently, until it hits a temperature sweet spot. It turns from a watery mess to a cohesive solid quite suddenly. One minute you are stirring grainy potato, and pondering whether you really do have time to make it from scratch because obviously I am delusional. The next minute, a potful of solid mashed potato.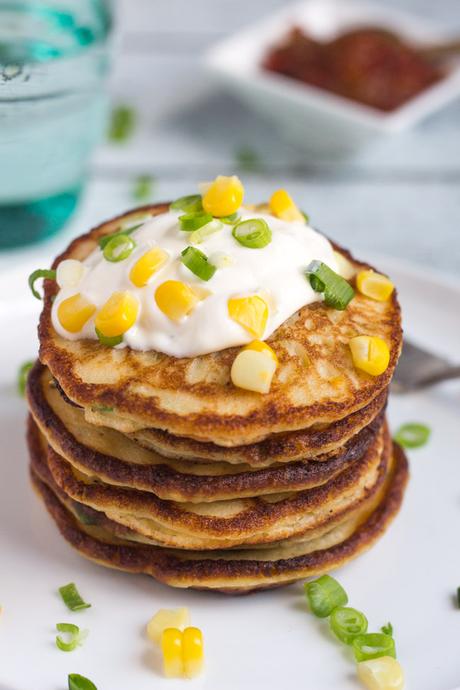 If you don't have time to stand over a pot, place the cold mash in a covered baking dish in the oven. Stir occasionally whilst it heats, and it will eventually come back together. You can also reheat it in the microwave, stirring it between zaps to ensure it reheats evenly.
Mashed potato makes a great side dish for a hearty soup or stew, meat pies, or even a piece of crumbed fish. It is so useful that I have taken to cooking twice the amount of potatoes I need for dinner just to ensure an extra side dish in the freezer.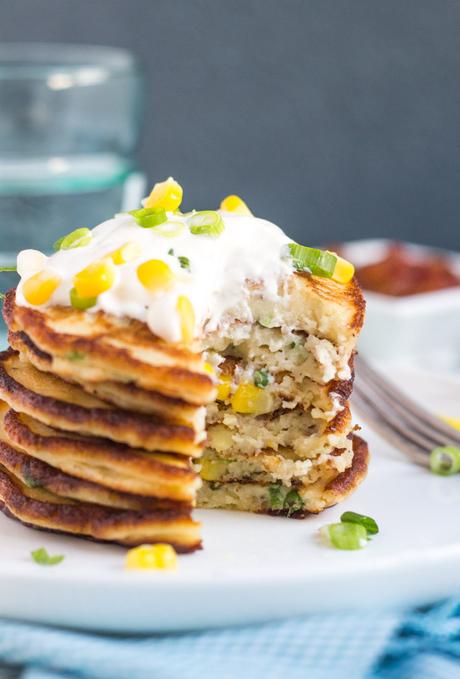 What do you do though, when left with only a small amount of mashed potato? Not nearly enough to bother freezing. I suggest that you turn it into mashed potato cakes, or whip up these leftover mashed potato and corn pancakes.
The first time I made these pancakes, The Princess and I demolished the whole batch in one sitting. They are fluffy and light, and very moreish. You can substitute wholegrain flours into the recipe, however the pancakes will be denser and lose their delicate flavour. I tried a few different flours, and have decided that plain white flour works the best here. Use a gluten-free baking flour for a gluten free version.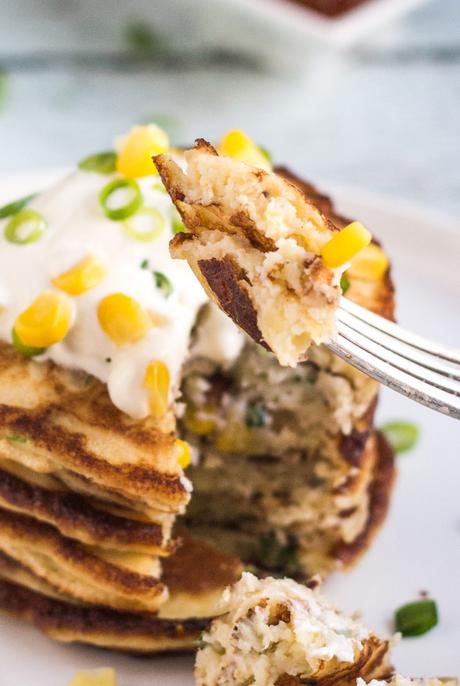 The pancakes are best served straight from the fry pan, although you can keep them warm in a low oven whilst cooking the remainder of the batch. I have reheated them, however they become slightly denser when re-warmed. We like them served with tomato relish and sour cream. Add a simple green salad and you have the perfect light lunch or dinner.
Use up #leftover mashed #potato in these quick & easy Potato & Corn Pancakes.... Click To Tweet

Leftover Mashed Potato and Corn Pancakes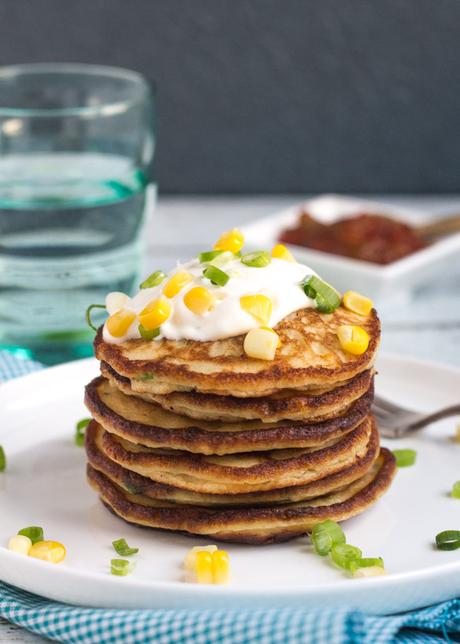 Author: Tania @ The Cook's Pyjamas
250g (1 cup) cold leftover mashed potato
75g (2/3 cup) plain flour or gluten free plain flour
1 teaspoon baking powder
2 eggs
125ml (1/2 cup) milk
1 spring (green) onion, finely sliced
75g (1/3 cup) corn kernels
Salt & pepper
Olive oil or ghee for frying
Whisk the eggs and the milk together. Set aside.
Place the cold mashed potato, flour, baking powder, and salt & pepper in a large bowl.
Mix the flour into the potato. The mixture will look quite lumpy.
Add about half of the milk mixture to the potato.
Whisk thoroughly to stir the milk into the potato, which should remove the lumps.
Add the remainder of the milk mixture, stirring until you have a smooth batter.
Stir through the spring onion and corn.
Heat a fry pan over a medium heat.
Add enough olive oil/ghee to the fry pan to cover the base.
Spoon 2 -3 Tablespoons of batter for each pancake into the fry pan. The amount you use will depend on how large you want your pancakes.
Cook the pancakes for 2 -3 minutes, or until they are golden and solid enough to flip.
Turn the pancakes, and continue to cook for another 2 -3 minutes, or until the other side is golden.
Continue with the remainder of the batter, adding more oil/ghee to the pan as required.
Serve immediately, or keep warm in a low oven whilst you finish cooking the remainder of the pancakes.
So tell me, do you have a good use for leftover mashed potato? Do you have anything unusual you normally freeze?