"That's a nice plant to grow in the garden just for its own sake. I think I might do a painting of that one," said my wife Pam this morning. Though it isn't bearing any fruit at the moment, our Lebanese eggplant has begun to flower, and it's a handsome plant, worthy of an artist's attention.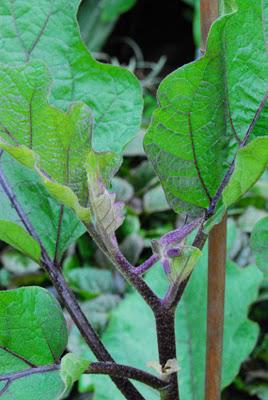 There's a lovely purpley-pink tinge to the flower buds, flowers, the stalks and the central veins of the broad leaves of this Lebanese eggplant.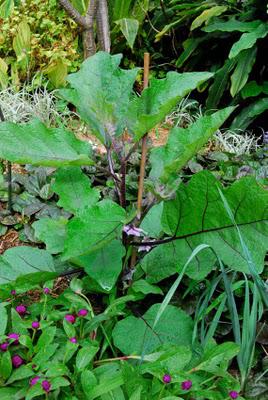 The plant label promised that it would reach about 1m tall, so it's halfway there now. I planted some little annuals called Gomphrenas at the same time as I planted the eggplant seedling, as I thought a pinky purple scene would look pretty. So far so good!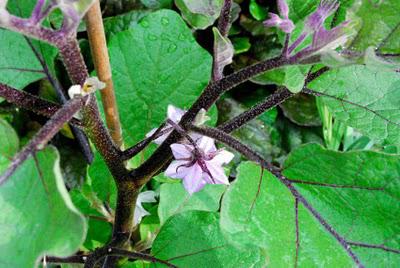 The flowers themselves point down towards the ground, and hopefully some long, thick, sausage- shaped, purpley-black eggplants will be dangling from this spot sometime in late January.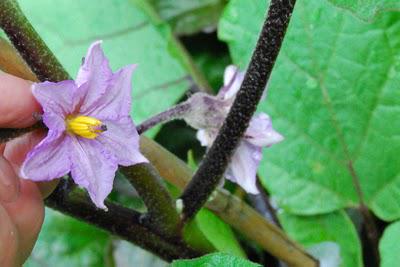 Turn a flower up for a peek and it has that tell-tale look that other members of the Solanum genus, such as potatoes, have. It's a simple bloom that has a brief heyday of beauty, but with that colour it's a class above a humble white spud flower.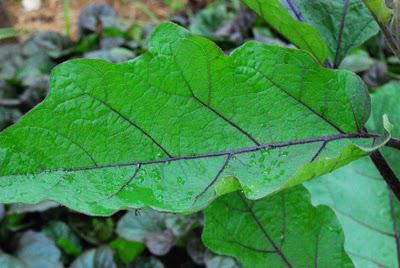 As I mentioned earlier there's a purplish tinge to the dark veins that run along and across each leaf. They're a big part of what makes this plant such a handsome thing. Growing it isn't too hard. It's the usual story of give it fertile, well-drained soil, lots of sunshine and regular water. The plant label says to give it an extra feed when the fruits start to swell, and avoid over-watering as the fruit nears maturity. In a typically wet Sydney summer, that might be where I come unstuck!
Pam and I are not big eggplant eaters, but we do like them occasionally. I just like to grow all sorts of vegies, just to see how the plants grow and look. I'm sure we'll find some new ways to enjoy our home-grown eggplants. I am rather fond of the dip called Baba Ghannouj, so here's the recipe I use (it's based on the one from the Complete Middle Eastern Cookbook, by Tess Mallos, but not so garlicky).
1 medium sized eggplant, about 375g
1/4 cup lemon juice
1/4 cup tahini (a sesame paste product used a lot in Lebanese cooking)
1 clove garlic
salt to taste
1 tablespoon olive oil
Pierce the eggplant all over with a skewer (to stop it bursting), then place it on a rack in a 180°C (350°F) oven for about 35-40 minutes, turning it once or twice to ensure even cooking.
Remove from the oven and let it cool slightly, but do peel off the skin while it's still very warm. Discard the skin, roughly chop the flesh, then put the flesh in a blender, along with all the other ingredients, and whizz till it forms a paste.
Use it as a dip with flatbread or crisps, or serve it as a side dish in a spread with cooked meats, salads, flatbread etc.
Note: if you can be bothered to cook the eggplant over a smoky char-grill, the eggplant will take on a smoky flavour which some people say is the hallmark of a great baba ghannouj. I'm not wild about smoked flavours myself, but there you go.
Finally,
if you enjoy Lebanese food too, there's a great food blog by a Sydney-based Lebanese cook that's well worth visiting. It's called

The Food Blog

and right now, today, he's making pistachio ice-cream.