Continuing my experiments with paintings on paper, I left the smooth white satin finish of the watercolor paper untouched to create the negative space in this new painting. When making my abstract drawings, the paper automatically becomes the background and provides the negative space.  When painting, I usually cover the whole surface. 
I began this painting with cadmium yellow, applying it with a brush in a free, expressionist manner.  Next I did the same with cadmium red light, and then with dark permenent green. 
To better define the shapes as well as the negative spaces, I drew lines with the same colors.  I also used the yellow lines to create more texture and highlights.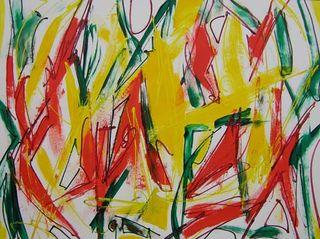 Paper Painting #14, 24" x 18" acrylic on watercolor paper.