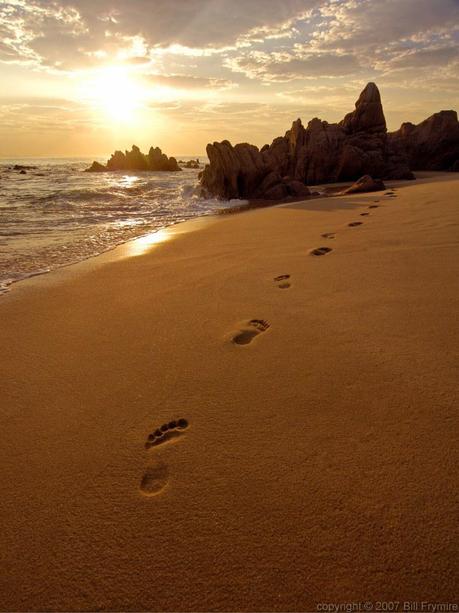 Wasn't it the great intellectual philosopher, cigar-smoking moustache-sporting ever-pacing, Groucho Marks who once said, "I don't have a photograph, but you can have my footprints. They're upstairs in my socks."
It's this idea of leaving our MARK IN THE SAND; our name, our home, our legacy: that's what's ruining this once beautiful planet.
The aim of Nature, and it's a good aim, is to leave no trace. This has a basically tactical purpose; to remain hidden from our predators and to not advertise ourselves to our prey.
"Yeah, but, Mike, we're not in Nature..."
Exactly, mankind has INVENTED a new nature. It's called Civilisation. And it breaks all the rules of Nature to allow it to seem superior.
And it's not.
It's really not.
How can something that has SLAVES and WHORES and WHIPPING BOYS and TAXES and RENT and RATES and PROFIT and WAR and PRISONS and FACTORIES and FINES and TERRORIST CELLS and FALSE FLAG TERROR and TORTURE and INDOCTRINATION and MIND GAMES and CORPORATE ESPIONAGE and PRIVATE MERCENARIES and ORGANISED CRIME and ORGANISED RELIGION and ORGANISED MILITARY SPORTING FIXTURES and THE LADDER OF CAREER and THE LURE OF MORE MORE MORE and ADVERTISING and THE THREAT OF BLACKMAIL and FINANCIAL RUIN and ME ME ME and HORSE HAS BOLTED JUDICIAL SYSTEM and ARBITRARY RULES OF THE NEED TO KNOW GAME and ROADS and SEWERS and CASTLES be called Natural.
All these great man-made inventions, these fantasies of cleverness, leave a massive shit stain across what should be beautiful landscape FOR ALL TO ENJOY, NURTURE, PROTECT. We've lost our connection with Nature; we've become cock-centric, cunt-centric, self-centric.
When planet-centric is where a race that's so technologically advanaced as ours should be.
And don't think I'm on some sort of Hippy Drug-taking Slacker vibe here. I'm not on about living in the wild with only our wits about us. Because modern man's ascent from the trees to the towerblock has proven that he can't cut it out there. He doesn't have the tools; the claws, the fur, the stamina of the hunting trade. He's just a big brained softie.
But that's still to his advantage. He can spend time THINKING about where his race, his genetic lineage, is going. At what speed. At what cost. To what end.
Stop for a minute.
What's the most important thing in your modern life?  MARKET SHARE, wrong answer!
Remember, NATURE evolved over millions of years. It lost the dinosaurs; it lost continents, to arrive at a wonderful cornucopia of mammallian diversity that mankind is annihilating in centuries of "'holier than thou' civilisation". Mankind came along with his brain, his big thinking machine, and applied it to THE WRONG TOPIC. He concentrated on how he could OWN a piece of this planet (though I still have no idea who he's buying his plot from) and the more he owned the more he wanted. Empires grew like filthy viral sputum. So, he THEN FINALLY started to apply the ruthless DOG EAT DOG rules of nature, as he interpreted them, for his own eg-shameless needs. He murdered the Free Energy movement because you can't meter free energy. He murdered earth lungs, the forests for warships and grazing land. He had his NAME and he had his MINIONS and he had his LAWS to proetct that which he thought was his, and his alone. Not realising that ONCE YOU PUT A MARK ON IT, you kill it.
Once you put your industrial mark on a living planet YOU KILL IT.
Man will (undoubtedly ignore this Free Planet message) do what he is told by his historical elders and betters, he will hark back to the past to suit his agenda. He will fight more wars for more control of asset and territory. He will enslave more people behind the lie of reason. He will murder more children so that his own can eat a bigger burger and more fries for less bottom line cost, and more genetically modified ruin to his body.
Sure, man will leave his mark upon this earth, sure, but it will be his epitaph.