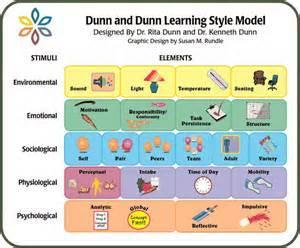 From learnabledkids.com
In 1967 Dunn and Dunn they presented a learning styles model that focused on five categories: environmental, emotional, social, physiological, and psychological. They believe that learning styles change and develop over time.
Dunn and Dunn stated that teachers need to help students and make changes so that all students can learn.
Changing the layout of the classroom or how students work are just a couple of examples. They use "contract activity packages" to make this work. 
You might also be interested in
Gardener: multiple intelligences theory
Gregorc: abstract, concrete, random, sequential 
Honey and Mumford: activist, reflector, theorist, pragmatist
How boys and girls learn differently: different ways of thinking between genders
Kolb: converger, accomodator, assimilator, diverger
Meyers-Briggs: sensation, intuition, feeling, thinking
VAK: visual, audio, kinesthetic