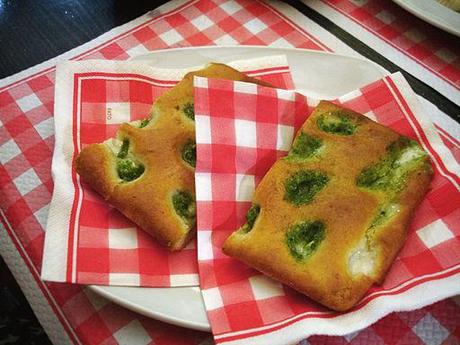 Focaccia with pesto (Photo credit: Wikipedia)
learning Italian language
Do you know what these words are? I'm sure most of us are all familiar with these. In fact, these are also being used as one of the adopted words in English. Surely, you have known these words even before you decided to go to an English language school.
Ok, so here are some of the important words of Italian language. Brace yourself!
Pizza
Surprised of the simple Italian word? This is one of the Italian words that we also apply in English. As detailed by the site that gives this splendid idea, the pizza is a of focaccia bread called picea dates back to the Roman Empire.
Cappuccino
If you love coffee, no matter where you go or what you do, cappuccino is a very common word you should know derived from Italian language. It's one of the best flavors among coffees, and surely you will want to taste this by yourself. It's actually a mixture of espresso and frothy milk named because its soft nut-brown color resembles that of the habits of cappuccini monks, as detailed by its source.
The next eight words will just be generally identified. It wouldn't hurt doing so since we're all familiar with this. As a general learner of English language, who would not know the worlds like spaghetti, espresso, mozzarella, tiramisu, lasagna, and risotto? These are purely originated from Italian language and whether you are a beginner or not, you ought to know these words because these are important.