Associating your holiday with language learning would probably a great holiday experience, above all, when you're in pursuit to learn a Japanese language. It's incomparable to explore a new country like Japan, see its charming sites, whereas engaging in developing your knowledge and ability to speak Japanese in greater degree.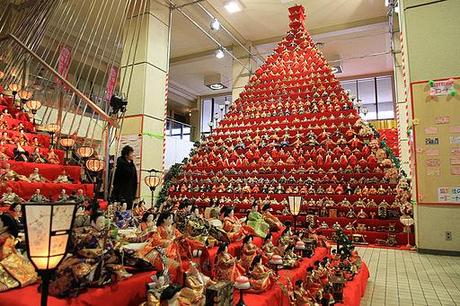 Konosu Doll Festival (Photo credit: 京浜にけ via Wikipedia)
If you're hunting for an amazing holiday in Japan, do not pass the "Hinamatsuri" (Japanese) or "Doll's Festival" (English), which is held every during 3rd day of the March annually. This celebration is also refers to "Peach Festival" (English) or "Momo no sekku" (Japanese), because of the season's peach blossom as indicated in the old lunar calendar.
The historical belief about Hinamatsuri or Doll's Festival
Dates back from 1603 to 1867 to Edo Age, they believed that hina dolls as they called were said to possess bad omen powers and spirits. In that period of time, a vast number of people believed "Hina-nagashi", a Japanese custom that was deemed to drive hina dolls under the river once the bad spirits were collected in the dolls, transferring the young girls' troubles they are trapped within the dolls under the river.
The celebration of the event
When March 3 comes, people in Japan celebrate the Doll's Festival by honoring a day of prayer for the young girls' happiness and their growth. This is a popular Japanese tradition that is still active up to this day with the Shimogamo Shrine. Every year they send dolls to the river and this time for the hopes of keeping the children safety. When the people in the celebration have cleaned, the Shimogamo Temple monks will collect the dolls and then destroy them by fire them at the temple.
Moreover, this special holiday in Japan offers a wide variety of experiences together with crafts, music, sports and to learn a Japanese language. These activities are operated by specialists all over the world who are advocates to the local environment and communities.
If you want an intense language program, on the other hand, you can learn Japanese in Japan. The diversity of natural beauty of Japan will surely brings satisfaction in your learning while on holiday.