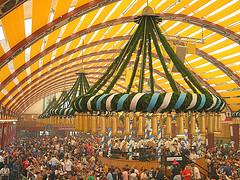 Image by StrudelMonkey via Flickr
"Gaining knowledge of another language is crucial to this particular way to international awareness."
This quote was taken from an article written from a certain website that understands the importance of learning German language. The article clearly emphasizes how "German language has been extremely acknowledged to supply an improbable benefit for any person that strives to understand it," if I may quote some of the strongest statements it projects. Clearly, like any other foreign languages, the importance of German makes the learner its beneficiary of his own investment.
So to you, you might probably ask in yourself, why on earth people have to be encouraged to learn German language? I mean, if German would be compared to other languages, especially English, what makes German a more suitable option to learn above other foreign languages? Have you ever asked yourself with this?
Well, to the person who completely understands the importance of communication to bridge language barriers, learning foreign languages is indeed very essential. We are in the society that we live today because we enjoy the "peaceful community" that we often seem to overlook. Take note that on the past decades, history records a very atrocious war. Some of it, by all means, happened because there was plainly miscommunication. But today, since there's now a verbal allegiance between foreign countries through speaking common languages, life is a lot easier than we ever think.
Imagine a person as ordinary as you, decides to bridge a language gap between you and the native German speakers, it would result to another verbal allegiance. You actually make the world even smaller, and life, as what I've said earlier, will be a lot easier.
Traveling, studying, or employing to German-speaking countries are usually the reasons why people choose to learn German abroad. Considering its advantages in terms of education, tourism, and employment, seekers can really find their promise land in it.
So don't hesitate to make the most of German language. Investing to it by learning German abroad or online is like a sowed seed. You will reap what you will sow, anyway. And to understand its benefits means to spend certain amount of finances as well. If you really want to acquire the excellent and quality learning results then take the best option. In due time, you will reap its harvest; just like a seed planted on the ground. It was, at first, buried; yet, with proper nurture and cultivation, the planter enjoys the fruits.