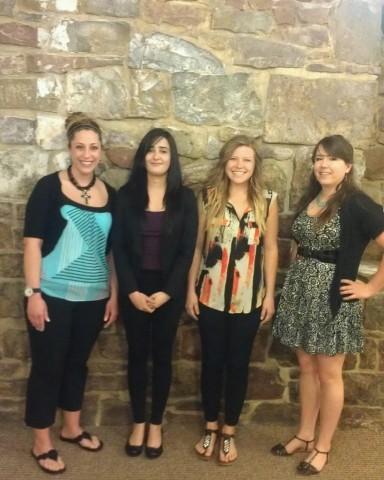 Aliya Ahmed is a CIPE ChamberLINKS participant at the Colorado Women's Chamber of Commerce in Denver, Colorado.
It's been three weeks now since my arrival here in the Unites States for CIPE's 2014 ChamberLINKS program. It gives me immense pleasure to be fortunate enough to participate in this year's program; I am excited to experience the differences between Pakistan and the United States, as well as to learn the best practices chambers in the U.S. are adopting. After my selection, I was anxious to further augment my knowledge about the work of chambers in foreign countries by joining the Colorado Women's Chamber of Commerce.
The most inspiring aspect of the ChamberLINKS program for me is that it is in line with my professional goals, which are to learn as much as I can about chambers' work and acquaint myself with the latest trends in the field, contributing to my overall mission and professional skills.
I have been placed with the Colorado Women's Chamber of Commerce & Industry (CWCC), which is located in Denver. CWCC, established in 1988, is a progressive chamber actively engaged in providing opportunities and visibility for women in business through relationship development, education, mentorship, partnership, and alliances.
I am shadowing Director of Events Katie Knorr, with whom I partake in daily chamber operations such as planning meetings, events, and conferences.
During my three weeks here, I have had the opportunity to attend the ATHENA International Awards Gala, luncheons, and a few other events organized by CWCC. All these events gave me a unique perspective on how businesses — specifically women-led firms — are actively participating in economy-strengthening activities in the region and how the chamber is playing a role in promoting policies that support a positive business environment.
It was also interesting to learn how the chamber interacts with lawmakers, which are key players in developing a business-friendly environment. These experiences have given me the chance to become acquainted with the CWCC practices essential to both creating a strong economic community for businesses and helping them generate leads and referrals for expansion. Moreover, the experience made me learn the components necessary to be considered for favorable business environment.
At luncheons and other corporate networking events, I have met a number of influential people who have made significant achievements in their personal and professional lives, and have supplemented my knowledge with their real life lessons.
Among these, a few dominant personalities include Senior Vice President & Chief Operating Officer of Kaiser Permanente Colorado Nancy Wollen, Founder of Mountain West PEST & Educational Specialist at Colorado State University Sandra McDonald, and Founder of Moxie Exchange Movement & Girl's Leadership Program Maureen Berkner Boyt. These interactions have broadened my horizon and provided me with a notion of bringing positive energy into the areas in which I will be working. It gave me the inspiration to welcome challenges and turn them into opportunities. Indeed, this is a valuable experience to take back home to aid me in serving my organization even better than before.
In addition, the city of Denver has a very vibrant social scene, and I am enjoying Colorado culture and its fun-filled weekends. I've been treated so kindly, and a number of times friendly people around town stopped me and made me smile, which has been a truly enjoyable part of my experience with local people. I find Denver to be a very laid back and pleasant city.
I strongly believe that learning is a continuous process, and I still have so much to learn. After my fifth week with the CWCC, I am eagerly looking forward to seeing the other ChamberLINKS participants and CIPE staff in Washington DC, where we will exchange experiences and learn from each other.
I am greatly thankful to the ChamberLINKS program for giving me this fabulous opportunity.
CIPE's ChamberLINKS Program matches rising young stars from chambers of commerce and business associations around the world with similar organizations in the U.S. Aliya Ahmed is a part of the program, placed at the Colorado Women's Chamber of Commerce in Denver, Colorado.