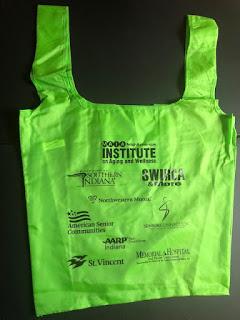 The 12th Annual MAIA swag bag
This year was the fourth time that I have attended the Mid-America Institute on Aging and Wellness.
Here is this year's conference preview, which included four fabulous, nationally recognized keynote speakers and 40 amazing local experts who led discussions/activities in concurrent sessions on August 8 & 9 - 2019.
The hosts are
University of Southern Indiana.  
Many organizations on USI's campus support this annual event, but a special shout out goes to the USI Outreach Office, the College of Nursing and Health Professions, led by Dr. Ann White, dean. And The Center for Healthy Aging and Wellness, led by Dr. Katie Ehlman.
SWIRCA & More 
They are an Indiana Area Agency on Aging (and more), located in Evansville in SW Indiana but SWIRCA & More covers six Indiana counties: Gibson, Perry, Posey, Spencer, Vanderburgh, & Warrick. 
I have written previously about the 40 or more MAIA speakers featured each year that I have attended since moving to the tristate of IL, IN, KY. (You find links to my MAIA reviews / previews at the very end of this post.)
However, this is the first time I am writing about the sponsors and exhibitors.
I learn valuable information from them each year that I attend. Representatives are very kind to talk with me as I move from table to table in the exhibition hall between sessions.
This year I talked in depth with people at two tables:
One Sponsor:
 AARP Indiana  (See below.)
One Exhibitor
: Exibitor CareNotes, a work of Saint Meinrad Archabbey. (See below.)
This Year's Sponsors
Keynote Sponsors:
AARP Indiana  Northwestern Mutual (Platinum Speaker Sponsor)
Corporate Sponsor 
American Senior Communities Memorial Hospital and Health Care Center,
        sponsored by the Sisters of the Little Company of Mary, Inc. Senior Connection St. Vincent Hospital, Evansville
Break Sponsor
Sheets, Charles & Charles - Elder Law Attorneys
On Thursday, August 8th, I spent several minutes talking with the volunteers at the AARP Indiana table. AARP Indiana was one of the sponsors of MAIA as a whole.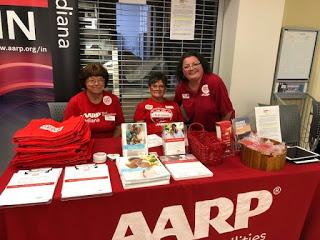 They also sponsored the opening keynote speaker, Emily Allen, senior vice president of the AARP Foundation.
Joe Kendall introduced Allen. Kendall volunteers with AARP. He was the 2017 recipient of the Andrus Award.
We are delighted to have him as a member of the MAIA Planning Committe as well.
The Q&A session following Allen's speech was conducted by AARP Indiana state director, Sarah Waddle
Some of the local services listed on the AARP local chapter Evansville site include the following: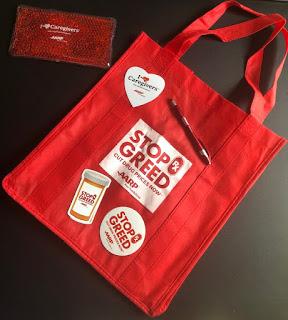 Conference AARP Swag
Volunteer Opportunities
Caregiving Resources
AARP Livability Index
Senior Assistance
Driver Safety Classes
Free Tax Preparation Services
Senior Community
Service Employment Program
If you live in the US, you can probably find these services in your area.
Use the AARP Locator to find the AARP chapter nearest you.
This Year's Exhibitors
Exhibitors
Anthem
CareNotes, a work of Saint Meinrad Archabbey Caregiver homes Charles Ford Retirement Communities of New Harmony Deaconess
Evansville Protestant Home The Good Samaritan Home Hamilton Pointe Hearing and Speech Associates, Inc. 
Heart to Heart Hospice
Heritage Center and Horizons Rehabilitation ProRehab Specialty Home Health Care
On Friday, August 9th I was delighted to speak at length with Vicki Gehlhausen of CareNotes.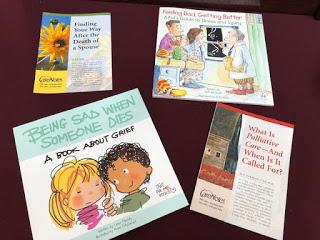 Two CareNotes (upper L & lower R)
and two children's books. 
She showed me a number of pamphlets and booklets created to support people addressing challenges such as chronic health challenges, caregiving, and grief.
I teach a class at USI each Spring Semester called Death, Dying & Bereavement.
Vicki directed me to some publications on that topic (pictured at the right).
(I'm going to share this particular collection of publications with members of the local meetings of the Death Cafe and the local meetings of the Death & Donuts group.)
CareNotes are designed to be very easy to read with large print typeface, brief explanations, and eye-catching images.
Two of these publications in the photo above are CareNotes: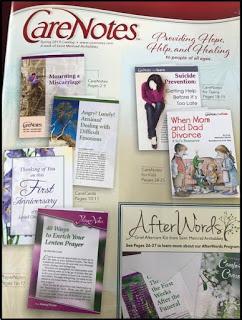 I got a paper copy of the CareNotes Catalog.
You can request one online. 
The one with the sunflower in the photo above is titled "Finding Your Way After the Death of a Spouse." 
The one with the barn in the photo above is called "What Is 
Palliative Care
--And When Is It Called For?"
I was able to look at a handful of their publications.
See their online listing of publications to learn more.
CareNotes is a nonprofit organization, a work of Saint Meinrad Archabbey.
The abbey is located in Spencer County, Indiana (located off I-64 between Evansville, IN and Louisville, KY).
If you need a respite from life's challenges, know that Meinrad Archabbey offer retreats. You do not have to be a member of the Catholic faith to do so.
Find out more about CareNotes by visiting their Facebook page or their homepage. Follow the abbey on Twitter @SaintMeinrad
I hope to see you at the next MAIA! 
I look forward to spending time at the next Mid-America Institute on Aging and Wellness talking with sponsors and vendors.
You can view THIS LINK for MAIA updates. 
MAIA previews usually appear each year on this site around April prior to the annual August event. 
Related:
2016 MAIA summary
2017 MAIA summary
2018 MAIA summary
2019 MAIA preview