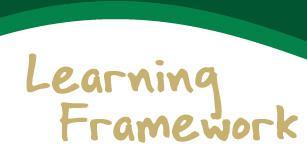 In its simplest form, the Learning Framework is a diagrammatical representation of all the learning and development activities for a role, structured in the ideal order.
There are many benefits to establishing such a framework.
The benefits of the process of establishing a Framework are:
All learning initiatives and resources are organised into a functional structure. By establishing a Framework you have an integrated coordinated approach to learning throughout the whole organisation.
There is a visual and tangible focus for discussion and agreement. By getting agreement from key people about what each role requires, you then have consensus about what each role is required to learn in order to be competent in their job. This avoids the disintegrated approach that many learning departments face from department managers demanding training in an ad hoc fashion.
It takes advantage of existing learning material and resources that the organisation has already implemented and which are working well.
Framework Modules can use a variety of delivery methods – workshop, on-the-job, experiential, self-paced, on-line – as is most appropriate for each topic.
Generic topics are developed as generic resources so that there is less duplication of effort throughout the organisation.
Gaps in content and resources available are quickly identified and can be addressed in order of priority.
Modules and content can be prioritised for development – as time, cost and value allow.
The benefits of the resulting Framework are that it:
Leads all staff to full competence
Provides a consistent and comprehensive approach to developing staff
Co-ordinates all learning initiatives for a particular role
Makes it easy for the manager to develop staff, using the resources provided,
Can be used to train new staff or upskill existing staff
Different employees may follow different paths within different timeframes, as required to meet the needs of their area and for the needs of succession planning
Development can be self-initiated by those wanting to get ahead.
A wide range of organisations have implemented Learning Frameworks to organize all their learning and development initiatives to maximise on-the-job competence.
Whatever industry you are in, the same principles apply – corporate, public service and not-for-profit have all benefited from a structured approach to the learning and development of staff.
Author: Sussan Ockwell Article Source: EzineArticles.com
© 2011, ©Active Consultants 2011. All rights reserved. Copying in part or in entirety only permitted by written consent
Republished by Blog Post Promoter