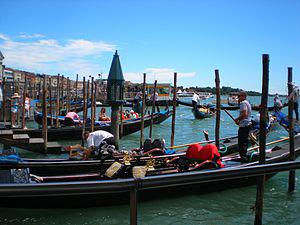 Image via Wikipedia
Learning a new language will always be crappy at first, especially when you learn language so different compared to your own native tongue. But the good news is, when you are founded with English language, learning other foreign languages like Spanish, French, and Italian are not really very difficult for you to start with—especially when you learn Italian language.
So before taking a serious and formal education with Italian language, let's just begin to learn the basic common phrases of Italian language. The lists below are common phrases that a typical foreigner should learn in speaking to Italian language speakers.
I don't speak Italian – non parlo Italiano
Do you speak English? – Parla Inglese?
I don't understand – Non capisco
Excuse me – Mi scusi
Please repeat- Può ripetere?
Where are you from? – Da dove viene?
I am from the United States – Sono statunitense
I speak a little Italian – Parlo Poco Italiano
Yes – Sì
No – no
Mrs – Signora
Miss – Signorina
Mister – Signor
I'm sorry – Mi dispiace
It's not necessary – Non è necessario
Of course – Certo
Today – Oggi
Tomorrow – Domani
Yesterday – Ieri
Why? – Perché?
Same here – Anch'io
Maybe – Forse
How do you say in Italian? – Come si dice in Italiano?
Slower please – Più lentamente, per piacere
Very interesting, isn't it? If you want to know how these words are pronounced then the concern of learning it from a language school is a great recommendation. Try to master its spelling, arrangements of punctuation marks, and Italian translation. This is a good start for basic language learning, right? Avail these words by familiarizing them right away!